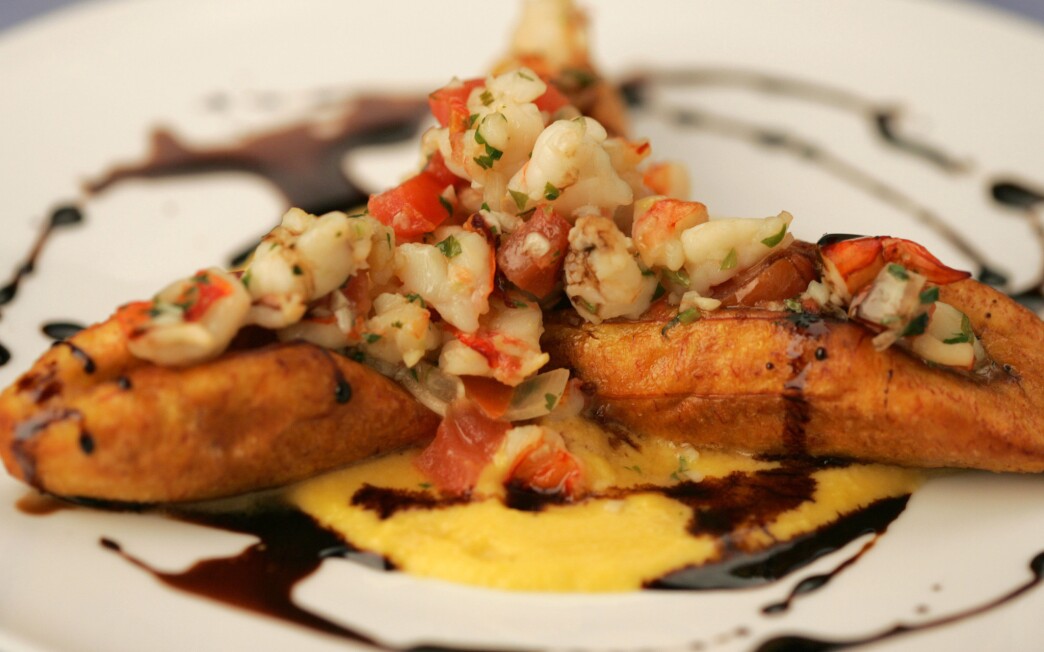 Print Recipe

Print Recipe
Dear SOS: The shrimp tostones appetizer at Cafe Verde in Pasadena is delicious, unique and addictive. I've taken several out-of-town guests to enjoy the dish, and they all rave as well! I would love to have the recipe.
Dena Crowder
South Pasadena
Dear Dena: Cafe Verde's tostones appetizer is a colorful composition that combines a variety of textures and flavors, making for a dish that is both interesting and enjoyable. The sauce is made from squash blossoms, instead of butternut squash, when they are in season.
Sauce
1
In a large, heavy-bottom saucepan, melt the butter over high heat and add the garlic and squash. Cook until the garlic is aromatic, then add the white wine and onion and reduce the heat to medium-low. Cook until the squash is tender and the white wine reduces to a glaze, about 15 minutes.
2
Stir in the broth, cream and thyme and cook until the liquid reduces by one-third, 6 to 8 minutes. Remove from heat, remove and discard the thyme and puree the sauce.
3
Strain the sauce and place it back in the saucepan. Season to taste with salt and pepper and thin if desired with additional broth. Set the sauce aside in a warm place. This makes about 2 cups sauce, more than is needed for the remainder of the recipe. The sauce will keep up to a few days, refrigerated (heat before serving).
Shrimp filling
1
In a large saute pan, melt the butter over high and stir in the garlic and cook just until the garlic is aromatic, 1 to 2 minutes. Stir in the shrimp and pico de gallo, then stir in the wine, and cook until the wine (and any liquid from the pico de gallo) reduces and the shrimp is opaque, 2 to 3 minutes. Remove from heat and set aside.
Balsamic reduction
1
In a small saute pan, reduce the balsamic vinegar at a very gentle simmer until reduced to a thick, sauce-like consistency, 8 to 10 minutes. Remove from heat and cool before using. This makes about one-third cup sauce.
Tostones assembly
1
Peel the plantains and cut each into thirds. Hollow each third out with a melon baller to form into a canoe shape.
2
Heat a large frying pan filled with one-half inch of oil over medium heat. Pan-fry the plantains until golden and tender on all sides, about 6 to 8 minutes. Remove and drain on a rack or a paper towel-lined plate.
3
To plate, divide the sauce among each of 4 plates. Place 3 plantains on each plate, and spoon the shrimp filling into the plantains, dividing the filling evenly between the plates. Drizzle the balsamic reduction lightly over each plate and serve immediately.
Get our new Cooking newsletter.
You may occasionally receive promotional content from the Los Angeles Times.