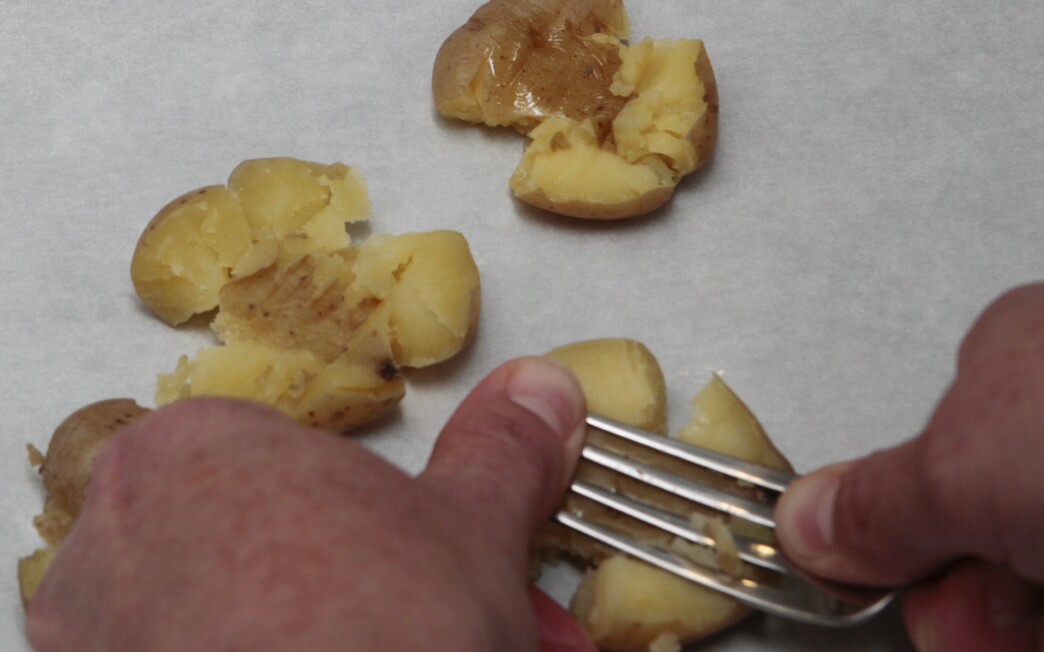 Print Recipe

Print Recipe
Take everything you love about a French fry -- that crisp, golden-brown crust enveloping an oh, so fluffy interior -- and flatten it.
In fact, go ahead and smash it.
Lately, I've been frying up smashed potatoes, and they're everything I could want in a French fry and more. Each bite is like a tiny taste of culinary nirvana: crunchy yet delicate, full of flavor. Not to mention, smashed fries are the perfect width for dipping into your favorite sauce.
And they're so simple to make. Boil a batch of small new potatoes, then carefully smash them with a fork. Pan-fry them in a shallow layer of oil just until the outer layer is richly golden, then gently lift them out, careful to remove any leftover crispy bits from the oil as well. (Aren't the crispy bits at the bottom always the best part?)
You'll probably be tempted to eat them straight out of the frying oil, but spare your fingers and taste buds the burn. Give the fries a minute or two to cool on a rack, enough time to sprinkle them with a little salt as you admire their rustic beauty. Then dig in.
In case you were wondering, this is not a healthful dish. So go ahead and embrace your creation. Gild the lily.
Start with a cool ranch dipping sauce. Rich and creamy, it's garlicky but tamed somewhat by a little vinegar and spice. A handful of chopped fresh herbs help to round out the harmony.
Or turn your snack into something a little more substantial: poutine. In the unofficial comfort food of Canada, fries are topped with cheese curds and gravy in a delicious mess. Cheese curds, which are popular in the Midwest, are mild and firm yet a little more salty than cheese, and they have a distinctive "squeak" when you bite into them. But if you can't find them, substitute grated cheese -- cheddar or mozzarella will work fine. Then ladle over warm gravy to complete the dish.
If you're going to gild the lily, might as well do it right.
--
Start with the right potato
Here's how you make smashed fries.
* The kind of potato makes a difference when it comes to texture. Depending on the type, the fries might be a little more creamy (when made with many waxy and new potatoes) or more fluffy (when made with banana fingerlings, blue or purple potatoes).
* Use a fork to smash, instead of something flat. A fork will give the potatoes a more textured surface -- ridges and valleys -- and those little crispy bits.
* Where French fries are typically fried twice -- once at a lower temperature to blanch, then again at a higher temp to crisp -- smashed fries are boiled first and fried only once.
* You can boil the potatoes up to a few days in advance, then refrigerate them until you're ready to fry (perfect when planning ahead for company).
* A neutral oil -- canola, vegetable or peanut -- works just fine for frying, bringing out the rich flavor of the potatoes themselves. But feel free to be inventive. Lard is magical, and bacon fat is downright divine (surely, you have some lying around). And if you can find duck fat, I promise you'll never want to fry in any other fat again. It's the frying fat of the gods.
1
Place the potatoes, water and salt in a large, heavy bottom saucepan. Bring the water to a boil over high heat, about 10 minutes. Reduce the heat to a simmer and cook the potatoes until they are just tender when pierced with a knife, 15 to 20 minutes more.
2
Drain the potatoes and set aside until cool enough to handle. (The recipe can be prepared to this point up to three days in advance; refrigerate the potatoes until needed, then continue with the recipe.)
3
Using a fork, gently smash the potatoes. The thicker the smashed potatoes, the fluffier the fries; conversely, the flatter the potatoes, the more crisp the fries. Set the smashed potatoes aside while you heat the oil.
4
Fill a heavy-bottom deep saute pan with oil so the oil comes up the sides of the pan by one-half inch. Heat the oil to a temperature of 350 degrees; the oil will shimmer in the pan.
5
Fry the potatoes in the oil until crisp and golden, about 2 minutes, careful not to crowd the potatoes (fry a single layer of potatoes at a time; this will need to be done in batches). Drain the potatoes on a rack until all of the potatoes are fried.
6
Season the smashed fries with additional salt to taste, and serve immediately.
For additional flavor, substitute duck fat, lard or bacon fat for the frying oil. Duck fat is available at select gourmet and cooking stores, as well as online.
---
Get our new Cooking newsletter.
You may occasionally receive promotional content from the Los Angeles Times.