Smoky Tomato Farro Grain Bowls with Tuna and Olives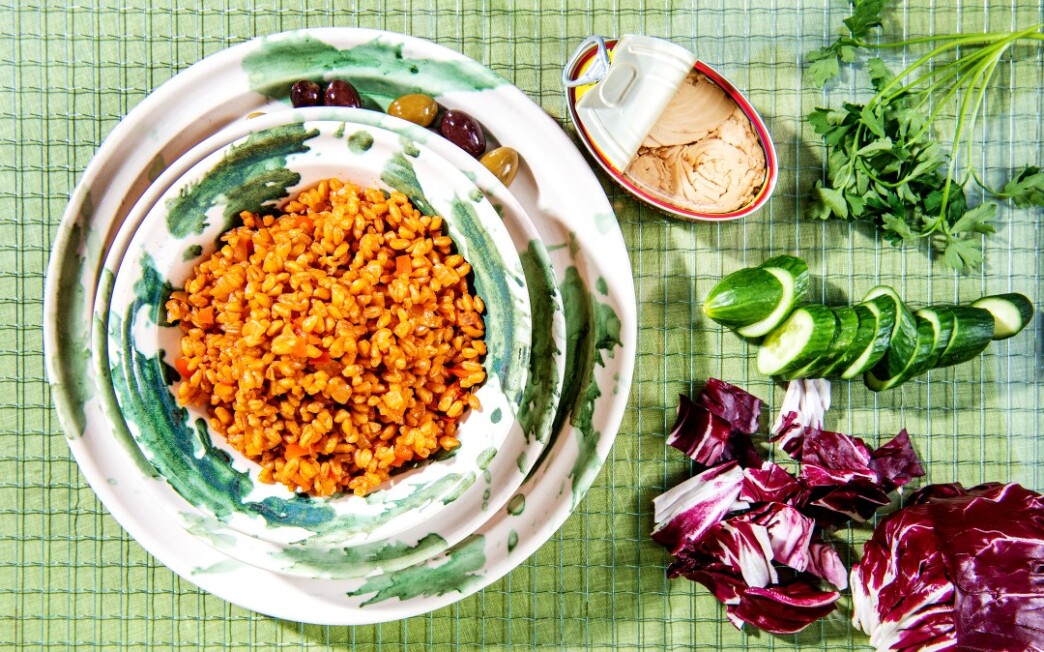 Print Recipe

Print Recipe
You can top the farro with anything you'd like. Try other proteins such as beans or meat, leafy vegetables such as arugula, crunchy vegetables like fennel or carrots, herbs such as cilantro and a fatty element like nuts. If you can't find hot smoked paprika, you can substitute a combination of ¾ teaspoon smoked or regular paprika and ¼ teaspoon cayenne pepper.
1
Heat the oil in a large saucepan over medium heat. Add the onion and bell pepper, season with salt and cook, stirring occasionally, until a little tender, about 5 minutes.
2
Add the garlic, paprika and a pinch of salt and stir well for 1 minute. Raise the heat to high and stir in the farro. Add the vinegar and cook, stirring, until the acidic smell burns off. Add the tomato juice and 1 ¼ cups cold water. Cover and bring to a boil. Reduce the heat to low and simmer, stirring and scraping the bottom of the pot occasionally, until the farro is tender and the water is absorbed, 20 to 25 minutes.
3
Remove from the heat and let sit covered for 10 minutes. Gently fold the farro to evenly mix all the ingredients, then let cool to room temperature.
4
Divide the farro among bowls and top with the tuna, olives, radicchio, cucumber and parsley. Drizzle with olive oil, then splash with a little vinegar and sprinkle lightly with salt before serving.
Make Ahead:
The farro alone can be refrigerated in an airtight container for up to 1 week. The assembled grain bowl can be refrigerated in an airtight container for up to 8 hours.
---
Get our new Cooking newsletter.
Your roundup of inspiring recipes and kitchen tricks.
You may occasionally receive promotional content from the Los Angeles Times.