Sopa de bolitas de tortilla (tortilla ball soup)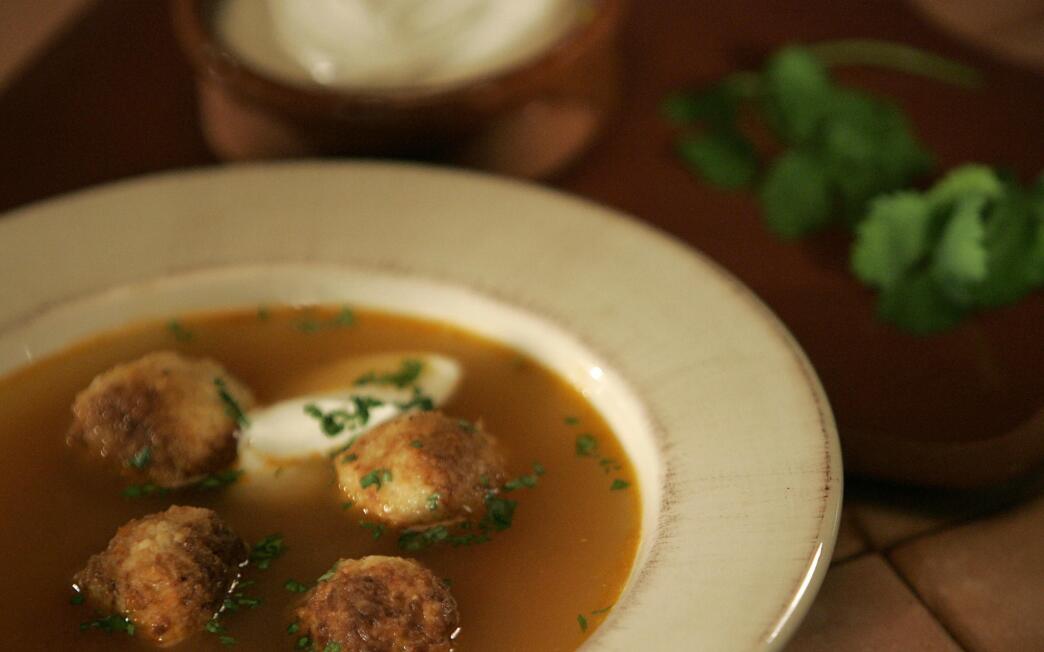 Print Recipe

Print Recipe
A great tortilla soup can be a revelation -- rich with an intriguing roasted-corn flavor, vibrant with color and toasty, tantalizing aromas.
Classic tortilla soup, the way you'd find it in Mexico City, is simply good chicken broth combined with roasted tomatoes, onion, garlic, chiles and tortillas, cut into strips and fried. It's wonderfully satisfying, "a sort of soul food soup," as Mexican cooking authority Diana Kennedy puts it.
In California, it's often made with a tomato base thickened with ground tortillas, but there are variations, such as a bean soup enriched with crunchy strips of fried tortillas.
"To be really authentic, the soup should have only a little white onion, raw not cooked, blended with roasted tomato," says Kennedy, speaking from her home near Zitacuaro in the state of Michoacan.
The blend is fried, "to intensify the flavor," she says. "Then it goes into the broth." In addition to chile and tortillas, the soup ought to include epazote. "A tortilla soup without epazote is not worth eating, to my mind. But I'm a purist," she says.
Oddly, no one knows where tortilla soup came from, not even Kennedy. "It's certainly not all over Mexico," she says. "It's in the center, around Mexico City, the home of tortilla soup."
Although Dan Strehl, culinary historian and translator of "Encarnacion's Kitchen" (the 2003 cookbook drawn from Encarnacion Pinedo's 1898 California cookbook "El Cocinero Espanol") can't pinpoint the arrival of tortilla soup in California, it had certainly made its way north by the mid 20th century. It appears in "Elena's Famous Mexican and Spanish Recipes," published in San Francisco in 1944. That recipe, by Elena Zelayeta, doyenne of Mexican cooking in California, is a simple combination of broth, tomato puree and tortilla strips, to which she added mint leaves.
In Southern California, tortilla soup has been on the menu at 80-year-old Ojai Valley Inn longer than anyone on the staff can remember; it started to appear in haute versions in other restaurants in the 1980s, when regional Southwestern flavors were championed by chefs such as John Sedlar.
Today, compelling tortilla soups can be found at several Los Angeles Mexican restaurants. Jaime Martin del Campo and Ramiro Arvizu of La Casita Mexicana in Bell riff on a classic central Mexican version by pureeing guajillo chiles along with tomatoes. They grind fried tortillas with the mixture too, which amplifies the corn flavor.
The version served by Carlos Haro of Casablanca Restaurant in Venice is adapted from a recipe by cookbook author Alicia Gironella De'Angeli of Mexico City, whom he engaged as a guest chef in the 1980s.
Roasted vegetables and chicken stock, lightly thickened with beans, is the base, then chopped cilantro, fried tortilla strips and raw onion are added to the broth, along with a garnish of cool queso fresco and crunchy roasted chiles.
Cafe Verde in Pasadena has a terrific rendition composed of ground tortillas and roasted vegetables. It's spicy with chile and topped with crisp tortilla strips and cool strands of sour cream.
Kennedy includes an unusual version -- sopa de bolitas de tortillas (tortilla ball soup) in her 2000 book, "The Essential Cuisines of Mexico."
Tortillas are dried, then turned into crumbs in a blender and mixed with cotija cheese, milk and egg. Formed into small balls and fried, they're briefly simmered in the broth they're presented in. They're a bit like a hush puppy to bite into, but with their own unique flavor.
"Oh, God, I love it," says Kennedy. We do too.
Tomato-chicken broth
1
In a blender, puree the tomatoes, onion and garlic to a smooth sauce. Place the oil in a large saucepan and add the tomato mixture. Cook about 5 minutes, until the sauce has reduced somewhat.
2
Add the chicken broth and bring to a boil. Simmer for 10 to 15 minutes. Add the epazote during the last minute of cooking. Adjust the seasoning.
Dumplings and assembly
1
Break the tortillas into small pieces and grind to fine crumbs in the blender in batches. You should have about 1 1/2 cups of crumbs.
2
Place the crumbs in a bowl and add the hot milk, cheese, egg and salt. Knead the dough well with your fingers; the mixture will be crumbly. Set it aside for several hours or refrigerate overnight to allow the tortilla particles to soften.
3
Again knead the dough well, adding the cold milk. Form the dough into one long piece. Divide this into 12 pieces and divide each piece in half. Lightly moisten your hands and roll the 24 pieces into balls about 1 inch in diameter.
4
Heat the oil in a skillet and fry the balls in batches very gently, turning them from time to time until they are golden brown, about 5 minutes. Drain well on paper towels.
5
Reheat the broth. Add the tortilla balls and bring the broth to a boil, then reduce the heat and simmer about 2 minutes. Serve in individual bowls, allowing four balls per serving. Top each with a spoonful of the sour cream and some chopped cilantro.
Adapted from "The Essential Cuisines of Mexico" by Diana Kennedy. Leave tortillas out on a rack overnight to dry out. The crisper they are, the easier to blend into fine crumbs.
---
Get our new Cooking newsletter.
You may occasionally receive promotional content from the Los Angeles Times.