Soy-brined turkey
Yields
Serves 12 (with leftovers)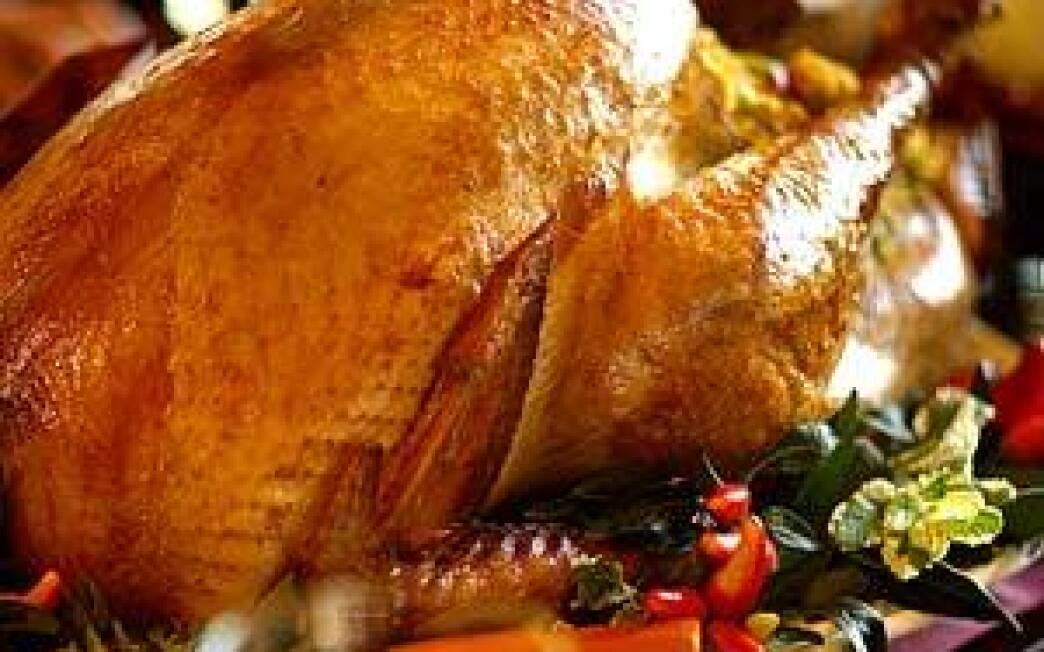 Print Recipe

Print Recipe
Soy sauce along with the usual brine cooks the skin to dark perfection and the flavors are somehow more complex and unified.
From the story: To the table and be slow about it
1
Combine the kosher salt, tamari, sugar, thyme, allspice, pepper flakes, fennel seeds, cumin seeds and peppercorns in a stockpot large enough to hold the turkey. Add 2 gallons cold water. Bring to a boil, then remove from the heat and cool completely. Add the garlic and ginger.
2
Rinse the turkey inside and out. Lay it breast-side down into the cold brine. Refrigerate 12 hours, then turn the turkey so that the legs are immersed in the brine. Refrigerate 12 more hours.
3
Heat the oven to 500 degrees. Remove the turkey from the brine and drain well, then wipe clean; pat dry. Discard the brine.
4
Loosely fill with stuffing. Lay on a rack in a roasting pan. Rub with soft butter. Season with salt and pepper. Roast 30 minutes.
5
Reduce the heat to 350 degrees. Roast, basting every 30 minutes with pan drippings, until a meat thermometer inserted in thickest part of the breast registers 180 degrees, about 3 to 3 1/2 hours.
6
Remove the turkey from the oven and spoon the stuffing into a heatproof dish. Cover the turkey with a tent of foil and let it sit 30 minutes before carving.
To make gravy, remove the turkey and set the roasting pan over two burners on medium heat. Stir 2 tablespoons of flour into 2 cups of cold water; whisk into pan drippings until thick. Add water if too thick, more slurry if too watery.
---
Get our new Cooking newsletter.
Your roundup of inspiring recipes and kitchen tricks.
You may occasionally receive promotional content from the Los Angeles Times.