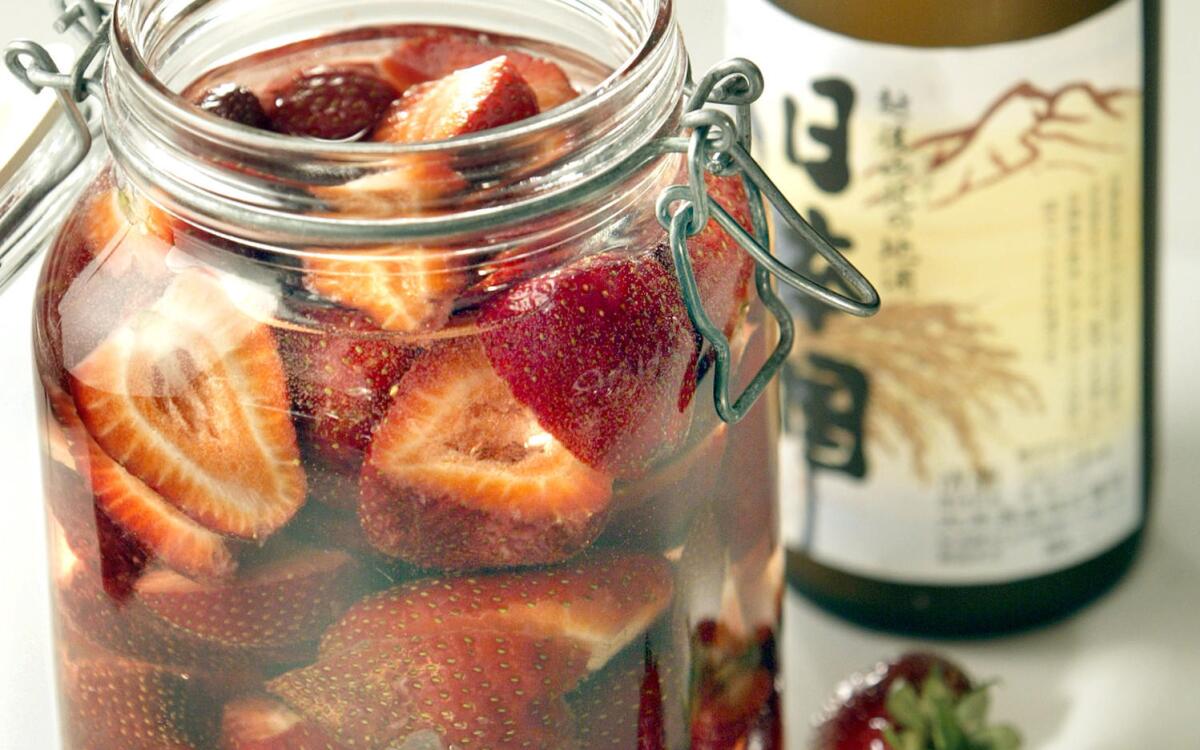 Print Recipe

Print Recipe
The best new idea in cocktails for spring -- fruit-infused sake -- is all about freshness. Take a spirit with a short (two-week) shelf life, infuse the freshest fruits in it, and the result is colorful, refreshing and downright delicious. Which fruits? Bartenders who have been experimenting with these light, aromatic aperitifs are trying each seasonal fruit as it comes into farmers markets -- pears, blood oranges, strawberries -- but no one's tried them all yet, the drink is so new.
I discovered fruit-infused sakes as they started popping up at restaurants in San Francisco and Southern California, but they're just the thing to serve at home. If you can make a pot of tea, you can infuse sake. It's not only an excellent aperitif but also a good match with spicy dishes such as satay or curry -- and if you're looking for a change from mimosas, it's a wonderful choice for brunch.
I serve raspberry sake with my wife's country-style ribs, brew a fragrant pineapple sake to serve with tuna carpaccio drizzled with sesame oil, and surprise dinner guests with an intermezzo of strawberry sake that, like a fruit granita, is a lovely palate cleanser.
My wife and I first tried fruit-infused sake at Ponzu, a pan-Asian restaurant in San Francisco, when our Uma Thurman look-alike waitress suggested a carafe of the blood-orange sake to accompany our starters of nan with spiced pear chutney, sweet potato and taro French fries, and a trio of Malaysian satays.
The faintly sweet-smelling sake, with its subtle but clean citrusy taste, was perfect with our appetizers. It didn't overwhelm the food but complemented it. But mostly it was eminently drinkable, utterly delicious. I just had to try one of the other flavors. When Uma brought me the litchi-infused sake, with its faint floral aroma almost like wild forest strawberries, I asked her who was behind the fascinating drinks.
Rob Robinson, the former owner of San Francisco's Infusion restaurant, known for its vast menu of fruit-infused vodkas, has been at Ponzu and experimenting with sake for six months. It's still very much trial and error, he told me.
Unlike most spirits, sake can spoil, Robinson explained, so though it's easy to make fruit-infused sake at home, it's important to work in small, quart-sized batches (most large bottles of sake are between 720 and 750 milliliters, or about 3 cups). All you do is wash and slice the fruit of your choice, put it in a glass container with the sake and other flavorings, and let it sit at room temperature for two to six days.
How sake is labeled -- daiginjo, ginjo or junmai -- is determined by how finely the sake rice is milled, but we don't need to get into that.
Robinson suggests using an inexpensive junmai sake because, he feels, it has a cleaner, more neutral flavor. His strawberry-infused sake uses a mild junmai that retails for about $5 for a 720-milliliter bottle. It would be a fun alternative to the more traditional juice and Champagne pairing for brunch.
As a rule of thumb, use two parts sake to one part fruit, though you'll want to adjust that depending on your own tastes and the intensity of the fruit. For instance, raspberries produce an intensely flavored infusion while pears are much more subtle.
Telling friends back in L.A. about my discovery, I learned that Troy Thompson, the executive chef at Jer-ne Restaurant in the Marina del Rey Ritz-Carlton, has also been experimenting with infused sake. He's done vanilla bean- and plum-infused versions, but he told me his favorites are citrus-based infusions. Of course I had to run right over and taste them.
Thompson's yuzu-infused sake is fresh and clean, with something of a juniper berry aroma to it (almost like gin). Served well chilled in a martini glass, it's a refreshing cocktail that happened to perfectly complement a crab and asparagus dish I sampled with it, an achievement I can imagine only Champagne being able to match.
Thompson's recipe for citrus-infused sake specifies premium sake (daiginjo or ginjo), to stand up to the tangy citrus. Though the martini glass is the obvious choice, you could also serve it in well-chilled cordial glasses.
*
Sweet-sour combo
At Sutra Lounge in Costa Mesa one recent evening, our server brought us complimentary glasses of pineapple-infused sake with our appetizer of chile-spiced tuna tartare served in a cone of nori (seaweed).
At first sip, the pineapple sake seemed a little cloying, but once I took a bite of the diced raw tuna concoction, the sweet-sour combo of the sake enhanced the spiciness of the chile and the saltiness of the fish and nori. And the pineapple sake quickly became addictive.
As it turns out, the restaurant had just begun serving fruit-infused sake that evening. Partner David Griffiths told me, "Like everyone else, we're still experimenting with this."
Sutra's pineapple-infused sake incorporates sugar and additional flavorings -- vanilla beans, lemon juice -- to better complement the restaurant's spicy foods.
Added sugar is a matter of personal taste. Robinson believes in using just the fruits and the sake, but other mixologists add sugar instead of more fruit.
Because everyone's making this up as they go along, there's no right or wrong way of doing it.
Taste the fruit you're using first to gauge its level of sweetness, then experiment to find the right combinations of fruit, sweetening and other flavors for your taste.
*
Infuse to taste
How long the infusion process takes depends on what Robinson refers to as "the sponginess of the fruit."
Pineapple and strawberry, for instance, take only a couple of days, while coconut could take twice as long. "You just have to start tasting it after a couple of days and see what you think," Robinson says. "It's done when the fruit flavor is as intense as you want it."
Though almost any fruit can be used, those with higher water content don't work as well. Thus melons are a bust, as are blueberries. Dried fruit like apricots, however, work well.
Once the sake is infused, refrigerate it and plan to drink it within a week or so. "Like fresh strawberries, it doesn't last forever," Robinson says. "But that's part of what makes it special."
1
Pour the sake into a glass container. Wash the strawberries. Remove the stems and cut the berries in half lengthwise or quarters if large. Add the strawberries to the sake and stir. Seal the container.
2
Let sit at room temperature for 2 to 4 days, tasting after the second day. Note: The fruit will lose its color, but that's OK.
3
To serve, refrigerate until chilled, then strain out the berries. Best served well chilled but not on ice.
Adapted from Ponzu restaurant in San Francisco.
---
Get our new Cooking newsletter.
Your roundup of inspiring recipes and kitchen tricks.
You may occasionally receive promotional content from the Los Angeles Times.