Summer Herb Meatballs with Avocado Dip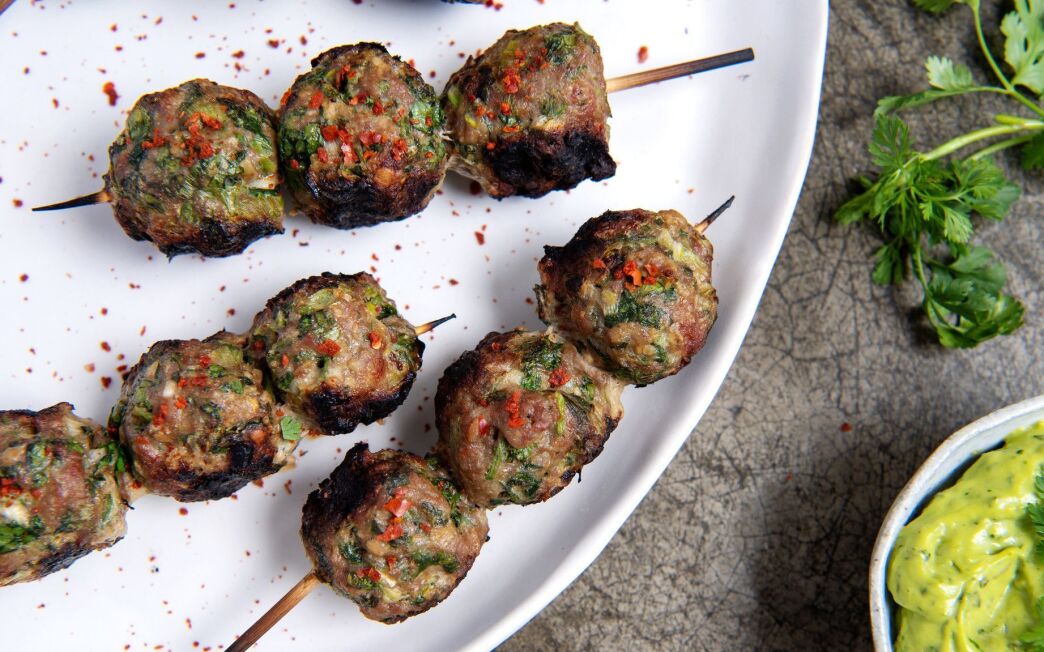 Print Recipe

Print Recipe
Inspired by the kebabs and keftes of the Middle East, these meatballs include aromatic spices and a dip. Puréed avocado delivers a similar creamy coolness without any dairy.
1
Set up a charcoal grill for direct heat grilling or heat the burners of a gas grill on medium-high. (Alternatively, heat a large skillet or grill pan on a stove-top over medium-high heat.) If using bamboo skewers, soak 8 in a shallow dish in cold water.
2
Pulse 2 cups of herbs in a food processor until finely chopped. Or, chop the herbs by hand. Reserve 1 tablespoon sliced scallions.
3
Mix the oats, egg, beef, cumin, finely chopped herbs, sliced scallions and 1 ½ teaspoons salt in a large bowl with your hands until well blended. Roll the mixture into 24 balls (about 1 ounce each). Slide 3 balls onto each skewer.
4
Grill, turning once, until charred on the outside and cooked through inside, 8 to 10 minutes. Transfer to a serving dish. Sprinkle with Aleppo pepper if desired. Let rest while preparing the sauce.
5
While the meatballs rest, purée the avocado, lemon juice, remaining 1 tablespoon sliced scallions, remaining half cup herbs, and 1 teaspoon salt in the same food processor used to chop the herbs. Or, you can finely chop the herbs by hand and smash and mix everything together until smooth. Transfer to a serving bowl and serve with the meatballs.
Make Ahead:
The meatballs can be rolled, skewered, and refrigerated for up to 1 day. The avocado dip can be pureed, covered with plastic wrap, and refrigerated for up to 1 day.
---
Get our new Cooking newsletter.
You may occasionally receive promotional content from the Los Angeles Times.