Sweet potato puree with hazelnut souffle top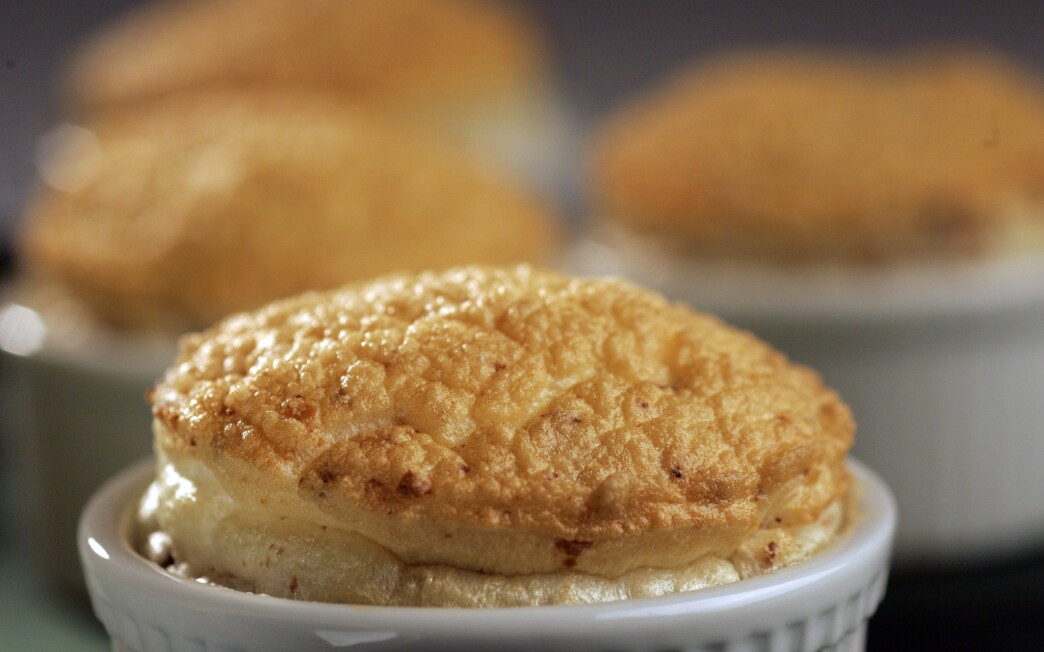 Print Recipe

Print Recipe
I've always associated the color orange with Thanksgiving. Before I moved to California, I lived in a house with a huge tree out front that turned a flaming shade of the color every autumn. And by Thanksgiving, I was so sick of raking up those dead orange leaves that I didn't care whether I ever saw that color again. Granted, that little phobia didn't do much for the color scheme on my holiday table, but back then that seemed a small trade-off.
Today, of course, I live where leaves have the good sense to stay on the trees almost year-round. Now, thankfully, I can enjoy the orange colors of autumn right where they belong -- on my dinner plate.
Some of the sweetest and most distinctive tastes of fall come in the color orange: pumpkins and other winter squash, sweet potatoes, persimmons, the first mandarins.
Winter squash are among the most versatile vegetables around. Start with the most basic preparation: Cut them in half, scoop out the seeds and roast them at 400 degrees (cut-side down in a little water in a jelly roll pan) until the flesh is so soft the squash collapses, about an hour. Scoop the meat out of the shell and whip it with some butter and a little cream to make a smooth puree. Fold in some shredded raw apple or add a hint of warm spices such as clove and ground ginger to the puree to make a filling for ravioli or cannelloni.
Thin the puree with stock and you've got a nice soup, particularly when the squash is sweetened with dark maple syrup and spiced with roasted chiles, paprika and New Mexican red chile powder. Or for a more traditional take, puree the squash and chicken stock with a base of sauteed leeks and garnish it with some fresh sage leaves you've crisped in hot oil.
You can also peel the squash, cut it into cubes and roast or steam. If roasting, give the cubes a turn in some good chile powder and moisten them with pumpkin seed oil first. There are two tricks to peeling: having a good, sharp vegetable peeler, and choosing squash that are smooth-skinned, such as butternut, rather than those that are deeply ridged, such as acorn.
Arrange steamed squash in a buttered gratin dish. Add just enough cream to moisten (because squash is lower in starch than potatoes, it won't thicken as much liquid), top with grated Gruyere and bake until everything is bubbly.
Whether you choose the starchier golden variety or the denser, sweeter dark orange one, sweet potatoes are just as easy to prepare as winter squash. Roast them on a cookie sheet in a 400-degree oven for 30 to 40 minutes or in a 375-degree oven for an hour. Puree the pulp in a food processor with a nub of butter and a grating of nutmeg. Rather than apple, add small cubes of ripe pear. Sweet potatoes also make a wonderful gratin: Moisten them with cream flavored with a little bourbon and top with chopped toasted pecans.
One of my favorite sweet potato dishes is a twist on the old favorite of sweet potatoes baked with marshmallows. Seriously, this is really good: Instead of the marshmallows, top an orange-scented sweet potato puree with hazelnut souffle.
Fall is ripe with orange fruits, such as persimmons. The smaller Fuyus can be eaten when they are hard. Cut them into wedges and toss them with lime juice and cilantro leaves for a salad or side dish, or toss them with sugar, a hint of orange liqueur and chopped toasted walnuts for a dessert.
The larger, acorn-shaped Hachiya persimmons need to be ripened to the point of squishiness before they can be eaten. But once that's done, all you need to do is slit the skin in quarters so that the peel opens out like petals, then stir the pulp inside and top it with some bourbon-flavored whipped cream and chopped toasted nuts.
And then there's citrus: Though the bulk of the harvest starts in December, mid-November is the perfect time for Clementines and Satsumas, the first of the mandarins. Both are seedless, or nearly so.
All you need to do to get them ready for the table is peel them. Well, you can go a little bit further. Rub off any pith, then arrange the sections in a bowl and pour over them honey that's been warmed with minced rosemary or lavender leaves.
That's one combination of orange and leaves that I can handle.
1
Heat the oven to 375 degrees. Put the sweet potato on a cookie sheet and bake until a knife easily pierces the meat to the center, about 1 hour. Meanwhile, generously butter six (one-half cup) straight-sided ramekins or individual souffle molds. Remove the sweet potato from the oven and set aside until cool enough to peel.
2
Peel the sweet potato and cut it into chunks. Puree it in a food processor with the egg yolks, brown sugar, orange zest, butter and salt until the mixture is smooth. If necessary, stop and scrape down the sides of the work bowl and continue pureeing. This makes about 2 cups puree.
3
Divide the mixture evenly among the six buttered ramekins. Tap firmly on the counter to settle the mixture evenly. (The recipe can be prepared ahead to this point and refrigerated tightly covered.)
4
Beat the egg whites using a portable or stand mixer until frothy. Add the cream of tartar and continue beating until stiff peaks form. The egg whites will be ready when they form well-defined pointed peaks that stand straight up and retain their shape, several minutes.
5
Sprinkle the chopped hazelnuts over the egg whites and gently fold them in. Divide the egg white mixture evenly among the ramekins, spooning them in a soft mound over the sweet potato mixture. Shake the ramekins gently from side to side to distribute the egg whites evenly.
6
Place the ramekins on a cookie sheet and bake until the tops are puffed and golden brown in spots, 18 to 23 minutes. A sign of doneness is when the souffle becomes extremely fragrant. Don't over-bake, or the center will be dry. Remove from the oven; serve immediately.
From Russ Parsons. You can use either the dark-skinned sweet potatoes commonly referred to as yams, or the lighter-skinned type.
---
Get our new Cooking newsletter.
You may occasionally receive promotional content from the Los Angeles Times.