Trout stuffed with spinach and mushrooms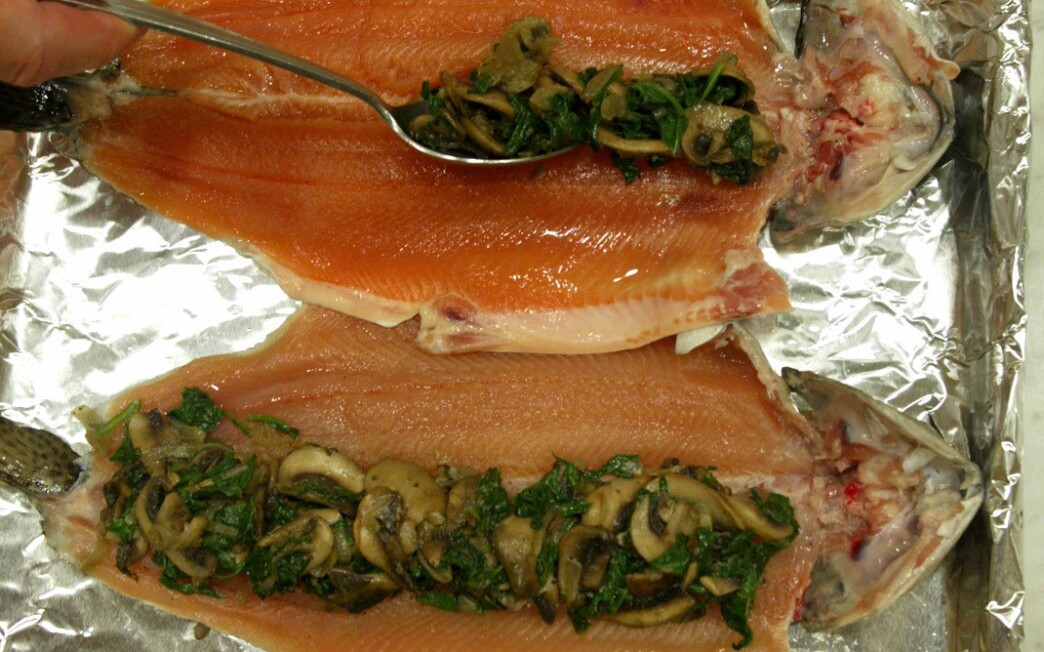 Print Recipe

Print Recipe
Dear SOS: I ate wonderful trout stuffed with spinach and mushrooms at the Wawona Hotel in Yosemite National Park. Could you obtain the recipe from the chef there?
Lillian Johnson
Santa Ana
Dear Lillian: This delicious treatment for trout calls for stuffing, then breading and baking the fish. At the Wawona, it's a light entree served on a bed of sauteed vegetables. The restaurant uses red-fleshed trout, but it's good with any kind of trout.
1
Heat the oven to 375 degrees.
2
Cook the shallots in 2 tablespoons of the butter in a large pan over medium heat until translucent, about 3 minutes. Add the mushrooms and continue to cook another 5 to 10 minutes.
3
Add the spinach, kosher salt, pepper and nutmeg; continue cooking until the spinach is wilted, about 2 minutes. Transfer the mixture to a colander to drain; cool completely.
4
Place a small amount of filling inside the cavity of each fish. Combine the flour and salt on a flat plate, put the eggs into a shallow dish or pie pan. Combine the bread crumbs, tarragon, thyme and white pepper on another flat plate.
5
Dredge each stuffed trout in flour, shaking off the excess, then dip it in the eggs and then into the bread crumb mixture, pressing the crumbs onto the trout so that they will stay.
6
Bake the fish until it flakes with a fork, about 8 to 10 minutes.
7
While the fish is baking, melt the remaining 4 tablespoons butter in a small pan over low heat. Add the chopped nuts and cook the butter until it's golden brown.
8
To serve, place the trout on a serving platter and drizzle with the brown butter and pecan mixture.
---
Get our new Cooking newsletter.
You may occasionally receive promotional content from the Los Angeles Times.