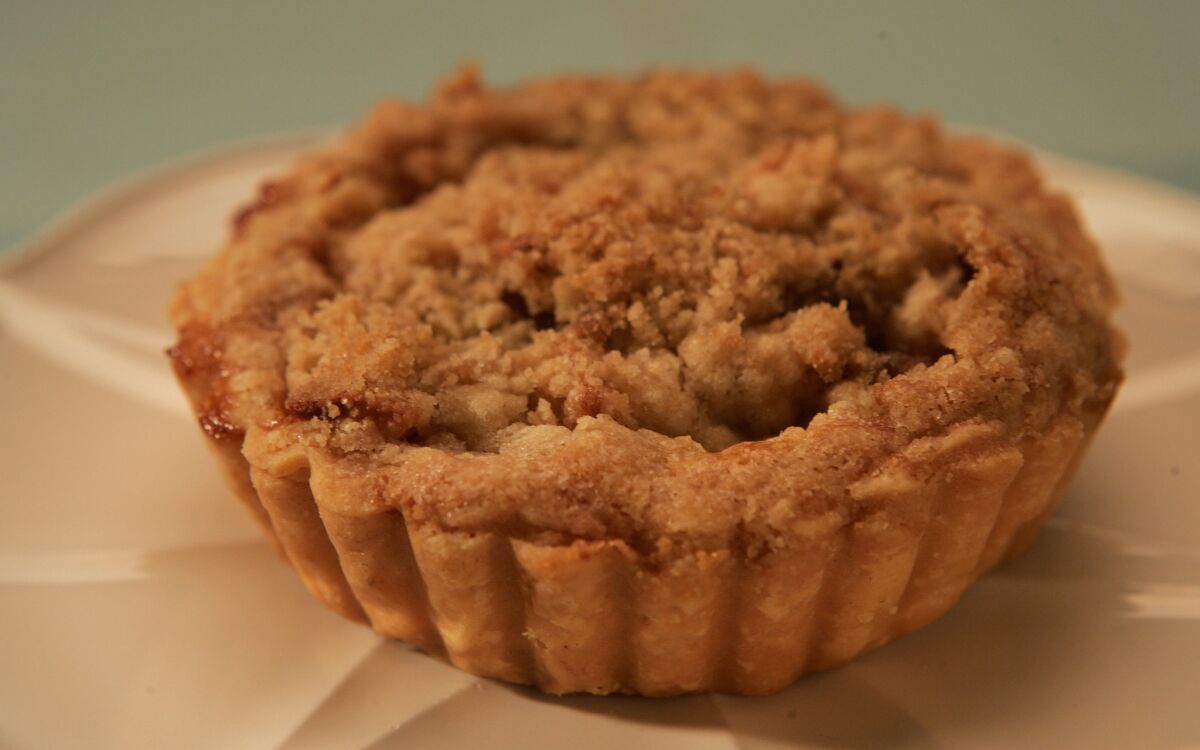 Print Recipe

Print Recipe
At the end of last winter (when it was hard to find local apples), a reader requested the warm apple crumble pie from Josie Restaurant in Santa Monica, calling it "one of the best desserts I've ever had." Now farmers market stalls are again filled with apples, and you can find great baking apples such as Pink Lady. Pastry chef Jonna J. Jensen makes the filling with a combination of heirloom apples dressed with lemon, sugar and a touch of cinnamon. The pate brisee makes for a deliciously buttery crust.
Pate brisee
1
Cut the butter into half-inch cubes and dust with about one-fourth cup of the flour. Chill until the butter is very cold and firm.
2
Place the remaining flour, sugar and salt in a food processor and pulse to combine. Add the chilled butter mixture and, using quick pulses, process until the butter pieces are the size of peas.
3
Add the ice water 1 tablespoon at a time and continue to pulse until the mixture barely comes together and you can still see large streaks of butter.
4
Gently press the mixture together to form a circle about one-half-inch thick. Wrap well with plastic wrap and chill for at least 1 hour.
Crumble topping, apple filling and assembly
1
For the topping, combine the butter, one-fourth cup sugar, brown sugar, one-half cup flour and one-eighth teaspoon cinnamon in the bowl of a standing mixer. Using the paddle attachment, mix on low speed until the mixture starts to come together. (The butter will still be in large pieces.) Chill for at least 1 hour.
2
Heat the oven to 350 degrees. Place the apples in a bowl. Add the remaining one-fourth cup sugar, lemon juice, the remaining one-fourth teaspoon cinnamon and remaining 2 teaspoons flour and toss together.
3
Cut the dough into four equal pieces. Roll each to a round about one-eighth-inch thick. Gently line four individual deep-dish pie pans with the dough. Add the apple mixture and top with the crumble topping. Bake for 55 minutes to an hour, until the crumble is golden brown. Serve warm or at room temperature with vanilla ice cream.
The recipe requires four individual deep-dish pie dishes. The restaurant uses fluted tin brioche molds.
---
Get our new Cooking newsletter.
Your roundup of inspiring recipes and kitchen tricks.
You may occasionally receive promotional content from the Los Angeles Times.