Watermelon curry (matira)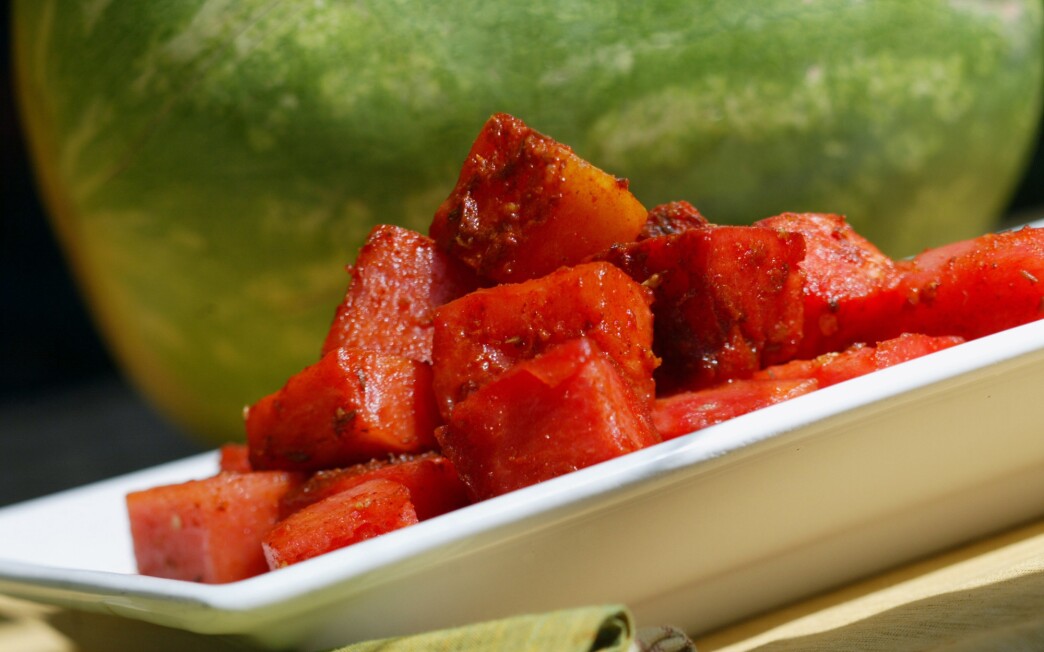 Print Recipe

Print Recipe
Last year I made a drop-dead Indian dinner: a lamb curry that took four hours to cook, a majestic pilaf full of toasted whole spices, a rich Moghul coconut-lime soup and a raft of fresh chutneys and side dishes. Everybody was very impressed, and afterward all the guests were begging me for a recipe.
A recipe. They all wanted the same one. And after all my work, it was the very simplest dish I'd made. It takes less than 10 minutes to cook.
But it was also the strangest item on the menu. It was a watermelon curry. No kidding, a real curry, flavored with a typical Indian mixture of turmeric and sweet and hot spices, except that it was made with chunks of watermelon instead of meat. It even had pureed garlic in it.
I studied my guests' eyes; were they just going for the weirdness here? Did they only want a novelty to surprise their friends with? No, it was true love. They'd genuinely fallen for this dish.
It really is something. The sauce is watermelon juice boiled down to a thin syrup and cooked for a bit with all those loud spices before you saute your watermelon chunks in it. The combination of ingredients makes for an amazing explosion of flavors in your mouth, as if you're chewing on some exotic sort of Pop Rock.
There was a certain difficulty with it. We couldn't figure out whether this dish was basically an appetizer, a salad, a side dish, a curry or a dessert. It could serve as any of them.
Even a main dish. After you eat it, you actually feel as if you've consumed something substantial for a while, though it was just watermelon after all, and watermelon is the essence of lightness. It's 95% water.
Cookbook writer Camellia Panjabi calls this a dish of Rajasthan, the state that contains the Great Indian Desert. I have to take her word, because Rajasthani cuisine is one of the least known in this country.
But what's the story here? Do they happen to have a lot of watermelon in Rajasthan? With all that desert lying around, do they just want a curry that is also a thirst quencher? Was this recipe devised by a home economist hired by the Rajasthan Watermelon Growers' Assn.?
Well, however it came to be invented, this is a brilliant dish. Try it at your next barbecue. Its unexpected combination of flavors will stand out against that familiar background like fireworks.
1
Cut up the watermelon, remove the rind and seeds and chop the flesh into 1-inch cubes. (You'll need about 10 cups.)
2
Puree 1 cup of flesh to make juice. Add the paprika, ground red pepper, turmeric, coriander, garlic and salt to taste.
3
Heat the oil in a skillet over high heat and fry the cumin seeds 20 seconds. Immediately add the juice. Lower the heat and simmer until the liquid is reduced by one-third, about 5 minutes.
4
Add the lime juice and sugar to taste. Cook 1 minute. Add the watermelon pieces and cook over low heat 3 to 4 minutes, tossing to coat until heated through.
Is it an appetizer, a salad, a side dish, a curry or dessert? From "The Great Curries of India" by Camellia Panjabi.
---
Get our new Cooking newsletter.
You may occasionally receive promotional content from the Los Angeles Times.