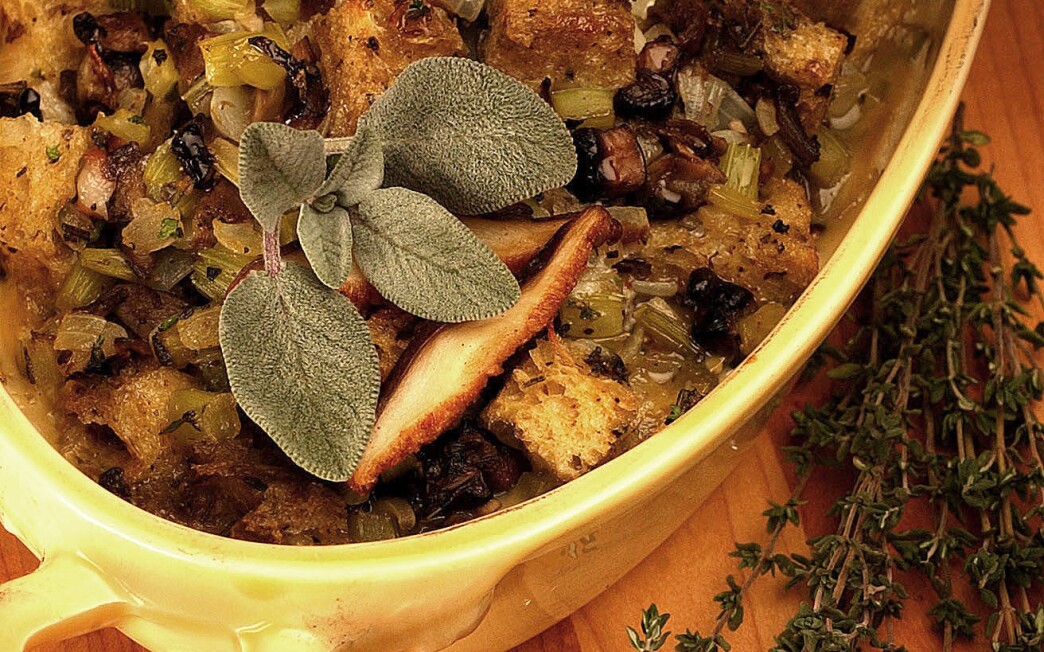 Print Recipe

Print Recipe
Chef Jennifer Naylor of Granita Restaurant in Malibu uses a sourdough batard to make the bread cubes and recommends using fresh chanterelles or black trumpet mushrooms with the dried porcinis. You may substitute fresh shiitake and oyster mushrooms.
From the story: Dinner, well-dressed
1
Rinse the dried porcini mushrooms and soak them in 1 cup of hot water for 30 minutes, then drain them and chop, reserving the liquid.
2
Heat 2 tablespoons of the olive oil in a saute pan over medium heat and add the onions, celery and pancetta. Cook until the vegetables become translucent, about 10 minutes. Remove the pancetta and vegetables from the pan and place in a medium bowl; set aside.
3
Heat the remaining olive oil in the pan. Add the fresh mushrooms, garlic, shallot and thyme and season to taste with salt and pepper. Cook until the mushrooms darken, about 5 minutes. Spoon the sauteed fresh mushroom mixture into the bowl with the porcini mushrooms and stir to combine.
4
Place the bread cubes in a large bowl. Add the nutmeg, parsley, sage, rosemary, eggs and mushroom and vegetable mixtures. Slowly add the porcini soaking liquid and the chicken stock and mix all ingredients together. Adjust the seasoning.
5
Butter a 13-by-9-inch baking dish and fill it with the stuffing. Top with 4 tablespoons of the butter and bake in a 350-degree oven for 45 to 55 minutes, until the top is crisp and golden brown.
6
In a small saute pan, melt the remaining butter. Slice the reserved mushroom and add it to the pan. Cook until golden brown on both sides and place on the stuffing as a garnish.
7
Serve immediately or cool completely before refrigerating for later use.
Adapted from chef Jennifer Naylor of Granita Restaurant.
---
Get our new Cooking newsletter.
You may occasionally receive promotional content from the Los Angeles Times.