On a picturesque night at Arcadia High School, the king and queen of California track and field in the sprints put on a show for fans who enjoy watching dazzling speed at the Arcadia Invitational.
Christian Grubb of Sherman Oaks Notre Dame and De'Anna Nowling of Calabasas left little doubt they are the fastest athletes in California.
Grubb won the 100 meters in 10.40 seconds, tying former Hawthorne great Henry Thomas for the seventh-best time in Arcadia history and setting a personal best.
From his first race this season, Grubb has been exceeding expectations with seemingly weekly improvement. Bound for Arizona State to play football and run track, Grubb turned in an impressive time overshadowed only by a smile that was so wide you'd have thought he won a state title.
"It's just all practice, hard work and effort that I keep putting in every day, and I just take care of my body," he said.
Notre Dame coach Joe McNab, who has developed three state champions in the 100, could have a fourth in the making.
"He's getting better," McNab said. "He's extremely talented. I always thought he had potential."
Grubb finished third in the 200 in 21.07. Micah Williams of Oregon Benson Tech finished first in 21.03.
Nowling, the defending state champion in the 100, won in 11.54 seconds, after she anchored the Calabasas 4x100 relay team to a winning time of 46.07. Nowling also won the 200 in 23.64.
Headed to Miami, Nowling said she is pleased with her times in preparation for the CIF Southern Section and state competitions ahead.
"I'm actually running the times I finished my season with last year, so it's making me feel I'm in the right spot," she said.
Justin Robinson, a junior from Missouri Hazelwood West, could be a future star in the 400. He won his event in 46.22, the fourth-fastest time in Arcadia history and the top mark in the nation. Solomon Strader of Valencia West Ranch finished third in 47.28.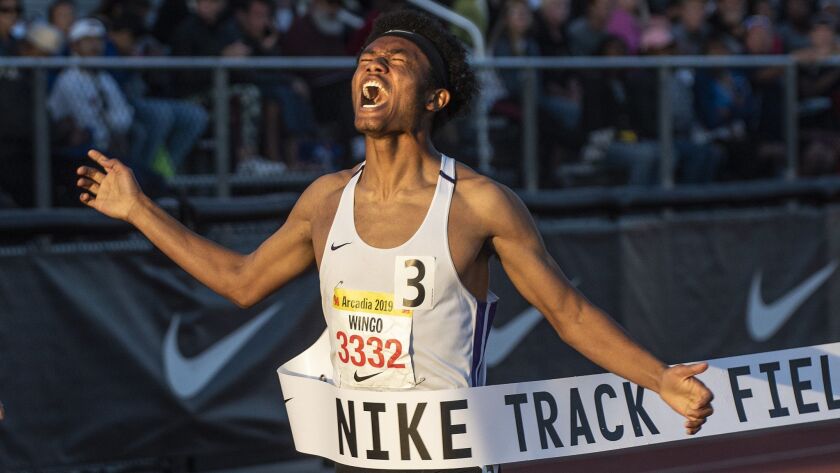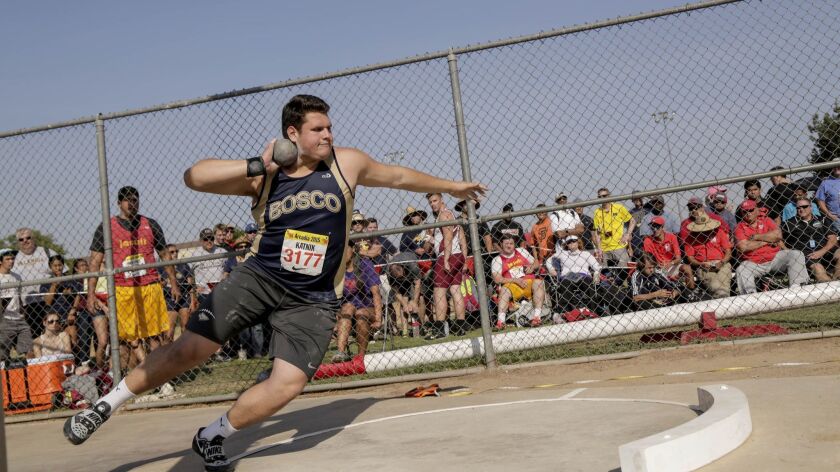 Chloe Cunliffe from West Seattle, Wash., set a national outdoor record for girls in the pole vault when she cleared 14 feet 8 inches on her first attempt. Sophomore Paige Sommers of Westlake Village Westlake took second at 13-5, a state-best height.
In one of the more intriguing finishes, Brayden Borquez of Studio City Harvard-Westlake was on the verge of winning the 300 hurdles. But on the final hurdle, he knocked it down and fell onto the track.
And yet, he looked like a baseball player trying to get his hand in to touch second base on a steal. He crawled across the finish line to claim third place in 38.07.
Newbury Park's Nico Young won the 3,200 with a time of 8:40, best in the nation this season and breaking a 43-year Arcadia record. In the girls' mile, sophomore Audrey Suarez of Pasadena Mayfield finished second in 4:52.08.
Sign up for our daily sports newsletter »
Twitter: @latsondheimer
---