Boys' basketball finals: Santa Margarita beats Chino Hills in OT for Division 1 title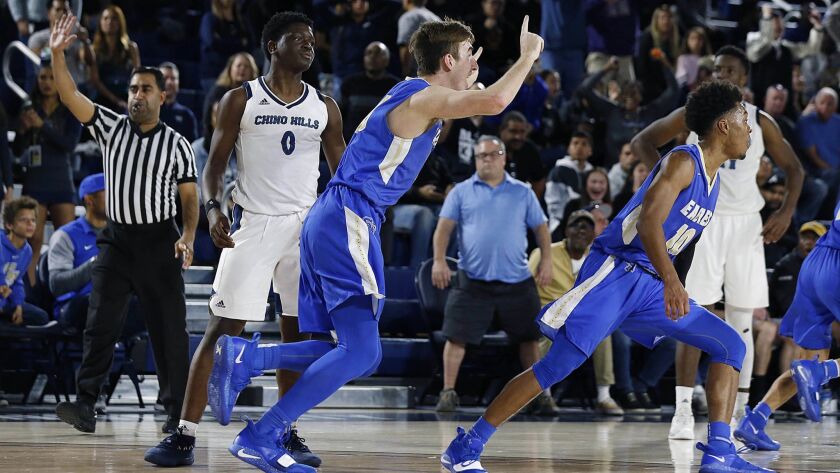 Sitting in his seat at Cal Baptist with an ankle in a cast and an IV in an arm feeding him antibiotics to combat a staph infection, Coley Kyman, the father of Santa Margarita's Jake Kyman, was in pain throughout the Southern Section Division 1 final against Chino Hills on Saturday.
Then he saw his son make a three-pointer with eight seconds left in regulation to send the game into overtime. After the Eagles got a basket from Max Agbonkpolo with 1:10 left in overtime to prevail 62-61, Kyman and his wife, Michelle, were more than proud.
"I don't feel anything," Kyman's father said. "Michelle and I were crying."
Michelle won an NCAA title in women's volleyball playing for UCLA in 1991. Coley lost in the NCAA volleyball final with Cal State Northridge in 1994. Now Jake finally got his ring, drilling his only basket of the second half to set up a takedown of defending champion Chino Hills. He finished with 14 points.
"When it came my time to shoot, I did and it went in," Jake said.
Down by 12 points in the fourth quarter, Santa Margarita rallied behind the USC-bound Agbonkpolo, who finished with 23 points. The Eagles' 6-foot-11 Shengzhe Li and reserve Tyler Hanna combined to make life difficult for Chino Hills' Onyeka Okongwu, who scored 29 points but shot seven for 22 from the field.
"We knew we were going to take everything we could to guard him," Santa Margarita coach Jeff Reinert said. "He's special."
Said Chino Hills coach Dennis Latimore: "They played the best defense we faced all season long."
Santa Margarita (23-10) had been well prepared from its nonleague schedule, having faced the likes of Temecula Rancho Christian, Las Vegas Bishop Gorman and Mouth of Wilson (Va.) Oak Hill Academy. "These guys have had an unbelievable experience," Reinert said.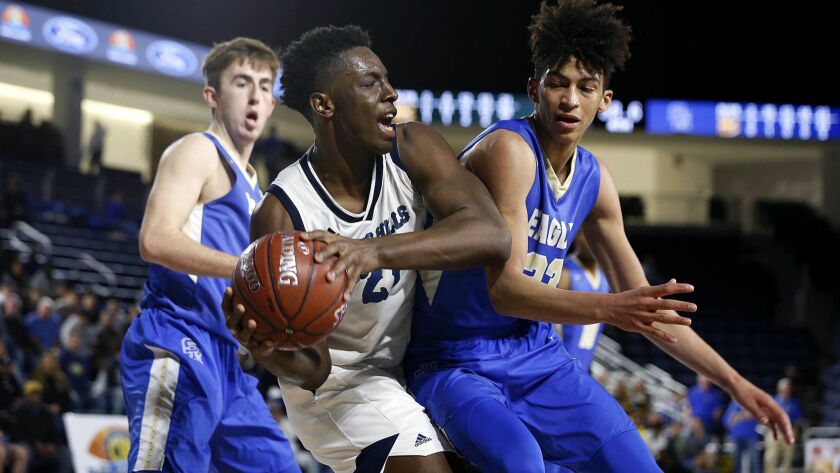 Southern Section Division 2AA
Joshua Christopher put on a show, contributing 24 points and 14 rebounds to lead Lakewood Mayfair past Rancho Cucamonga 62-53.
City Section Division I
Seniors Chris Howard and Jesse Bannout each scored 18 points to lead Granada Hills to a 71-54 victory over Los Angeles University at Southwest College.
Southern Section Division 3AA
Balanced scoring enabled Rolling Hills Prep to defeat Santa Clarita Christian 56-49, giving another title to coach Harvey Kitani. JT Tan had 12 points and 10 rebounds. Vaughn Flowers and Benny Gealer added 12 points each.
Southern Section Division 3A
San Juan Capistrano Valley Christian defeated Palm Springs 43-33 behind Riley Petronis, who finished with 15 points at Azusa Pacific.
Southern Section Division 2A
Sedrick Altman finished with 21 points to lead Colony past La Canada 50-47. Ryan Graves scored 15 points for La Canada.
Sign up for our daily sports newsletter »
Boys' Division 4AA
Fairmont Prep 52, Newport Beach Pacifica Christian 49
Southern Section Division 4A
Snookey Wigington scored 17 points and Tyler Powell had 15 points and seven rebounds to lead Los Angels Ribet Academy past Burbank Providence 56-45 at Colony. Jonas Holt had 14 points for Providence
Southern Section Division 5AA
Christian Oliver made 10 of 12 shots and finished with 23 points to help Oxnard Santa Clara defeat Newport Coast Sage Hill 68-52 at Godinez.
Southern Section Division 5A
Bryce White scored 32 points as Upland Western Christian defeated North Hollywood Oakwood 73-57 at Azusa Pacific. Aidan Oliver had 27 points and 17 rebounds for Oakwood.
Twitter: @latsondheimer
---
Get the latest on L.A.'s teams in the daily Sports Report newsletter.
You may occasionally receive promotional content from the Los Angeles Times.