Column: Chino Hills takes Division I title over Logan despite Onyeka Okongwu's foul trouble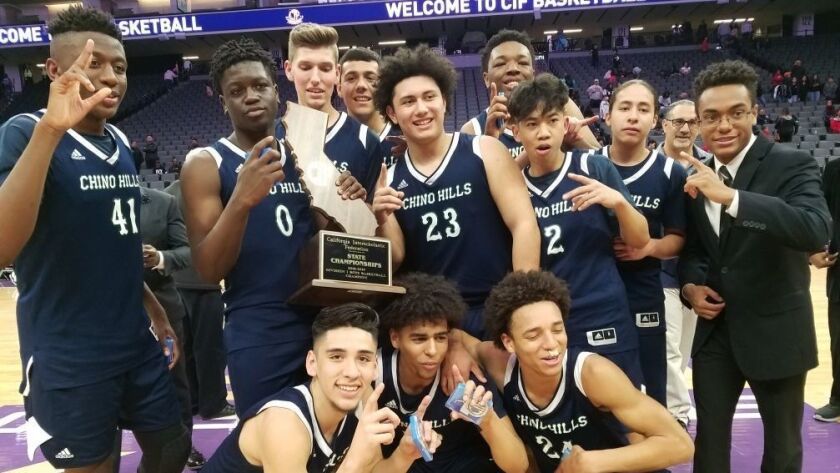 Reporting from Sacramento —
Onyeka Okongwu, Chino Hills' intimidating 6-foot-9 senior, briefly had to head to the sideline after blood was found on his finger in the second quarter of Friday night's CIF Division I state championship basketball game at Golden 1 Center. He nonchalantly wiped it away and returned to the court against Union City James Logan.
In four memorable high school seasons, from going 35-0 while playing with the Ball brothers as a freshman to staying at Chino Hills to graduate with his neighbors and friends, very little has disturbed Okongwu, who's usually the coolest player on any court.
But something happened with 1:30 left in the third quarter that rocked Okongwu and Chino Hills. He fouled out on an offensive foul. Chino Hills hasn't done well trying to hold leads with Okongwu in foul trouble. Now the Huskies had to protect a 15-point lead without Okongwu for 9 1/2 minutes.
The lead was reduced two points with 1:31 left, but Chino Hills (25-10) somehow was able to hold on for a 69-63 victory.
"I'm at a loss for words," said Okongwu, who was the first player to charge the court to congratulate his teammates as the final buzzer sounded. "Me and my boys have gone through a lot. I feel amazing."
Okongwu finished with 26 points, 15 rebounds, five assists and three blocks. But like last season's Division I final when Okongwu fouled out and the Huskies won, they had to find others to come through in his absence.
Will Pluma had 18 points. Anthony Bell scored 12 points. Sophomore Uduakobong Essien, forced to play after Nick Manor-Hall fouled out, scored with 45 seconds left. Aibigho Ujadughele, another rarely used reserve, made a free throw when Chino Hills was desperately trying to maintain its lead.
"It was a collective effort," Bell said. "We know who our best player is. But we had to win without him."
Okongwu, who had only two fouls at halftime, picked up three fouls in the third quarter to foul out, enraging coach Dennis Latimore.
"That is unbelievable to foul out the player of the year in the third quarter," he said.
Logan (27-7) was as frustrated as Chino Hills. The Colts picked up a technical for having a wrong player number in the scorebook. They were called for 26 fouls, with three players fouling out. Brah'Jon Thompson led Logan with 19 points. Gabriel Hawkins scored 16 points.
Chino Hills came away with a 41-28 halftime lead even though Okongwu wasn't particularly sharp. He missed his first three shots and made only six of his first 14. But the Huskies know it's only a matter of time before he makes an impact. By the end of the half, he had 19 points, nine rebounds, four assists and three blocks. The Huskies' lead grew to 19 points in the third quarter until Okongwu's fouls gave Logan hope for a comeback.
"I'm so proud," Okongwu said of his teammates.
In Division V, Bakersfield Foothill defeated Mt. Shasta 78-66. Sophomore point guard Jaden Phillips scored 25 points and Elijah Seals added 22 points. UC Davis-bound pitcher Kaden Riccomini scored 29 points for Mt. Shasta.
In Division III, Ryan Langbord had 23 points and 17 rebounds to lead La Jolla Country Day to a 67-39 win over San Francisco University.
Sign up for our daily sports newsletter »
Twitter: @latsondheimer
---
Get the latest on L.A.'s teams in the daily Sports Report newsletter.
You may occasionally receive promotional content from the Los Angeles Times.