Column: Sierra Canyon advances to championship game with lopsided victory over Corona Centennial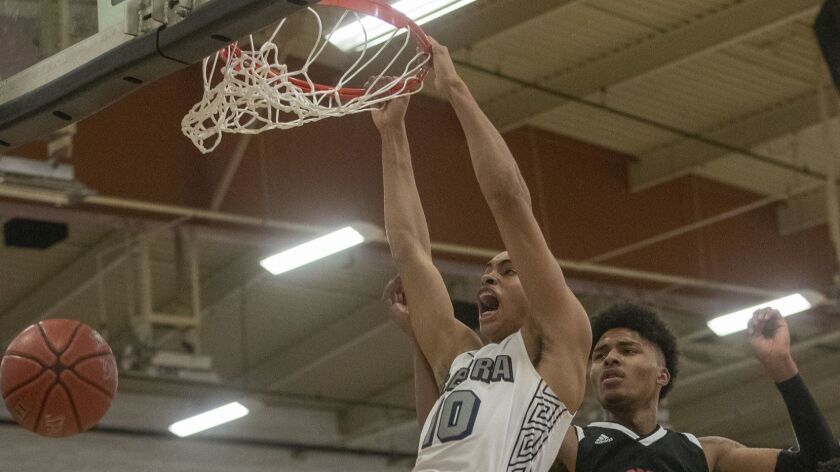 K.J. Martin was jumping so high in his bright pink shoes Friday night that even his father, Kenyon, a former NBA player sitting in a courtside seat, would have been no match.
The 6-foot-7 Martin slammed home seven dunks en route to a 26-point performance to help Chatsworth Sierra Canyon earn a spot in next Saturday's Southern Section Open Division championship game with a 75-58 victory over Corona Centennial at Calabasas.
The Trailblazers (27-3) finished 3-0 in their pool and will play Torrance Bishop Montgomery in the championship game. Bishop Montgomery defeated Etiwanda 72-65 to finish 2-1 in its pool with Temecula Rancho Christian. The Knights' victory over Rancho Christian last week sends them to the final.
"He needs to keep those pink shoes on all the time," coach Andre Chevalier said.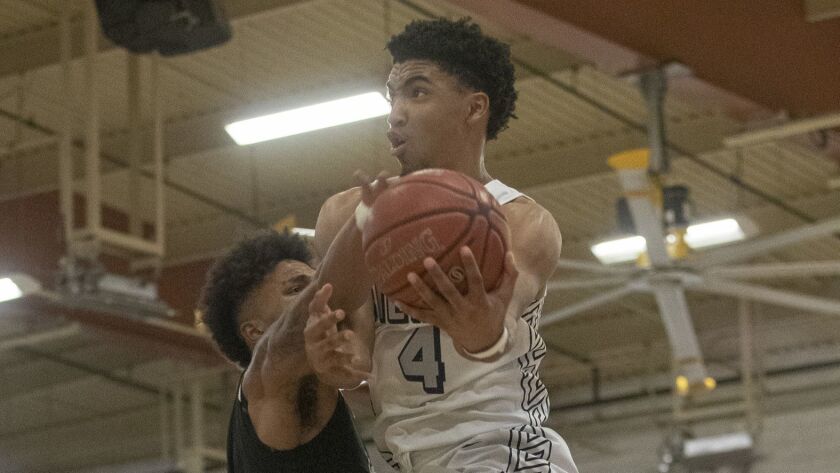 Sierra Canyon fans might want to start booking plane tickets to Sacramento for the CIF state championship Open Division final next month if the Trailblazers perform like they did in the first 10 minutes.
"When we play unselfish, nobody can beat us," Martin said.
The Trailblazers surged to a 31-9 lead in what Chevalier said was the best stretch of basketball his team has played all season. They were unselfish and showed a team-first attitude.
"They found their roles again," said Chevalier, who earned his 300th coaching victory. "Their passing was masterful."
There were five dunks, precision passes and lots of athletic moves. Cassius Stanley kept finding his teammates open.
"I had a lot of fun," Stanley said. "I just wanted to win."
Centennial (26-5) offered little opposition, a surprise development from a team that has played one of the toughest schedules in the Southland.
The Huskies finally started to put up a fight in the third quarter when DJ Davis connected on three three-pointers and scored 13 points. The deficit dropped to 57-45 before Scotty Pippen Jr. made a three-pointer to halt their momentum.
Bishop Montgomery's ability to reach the final despite being the No 8 seed is another tribute to veteran coach Doug Mitchell. The Knights defeated Etiwanda even though they played without injured guard Josh Vazquez. Nick Schrader scored 21 points and Gianni Hunt 15. They were helped by Rancho Christian holding off Moreno Valley Rancho Verde 54-51.
City Section
University advanced to the City Section Division I final with a 51-50 win over Fremont. Kobe Craig gave Fremont a one-point lead after scoring a basket with 15 seconds left.
But University's Jermine O'Dell came through with the game-winning shot in the final seconds at Birmingham. The Wildcats ended up knocking off the two top teams in the Coliseum League, Crenshaw and Fremont, to advance to the final.
University will play top-seeded Granada Hills in the final. Granada Hills defeated View Park Prep 73-54. Jesse Bannout scored 27 points for the Highlanders. Christian Johnson scored 20 points for View Park.
Sign up for our daily sports newsletter »
Twitter: @latsondheimer
---
Get the latest on L.A.'s teams in the daily Sports Report newsletter.
You may occasionally receive promotional content from the Los Angeles Times.