Cypress edges Harvard-Westlake for Southern Section Division 1 baseball title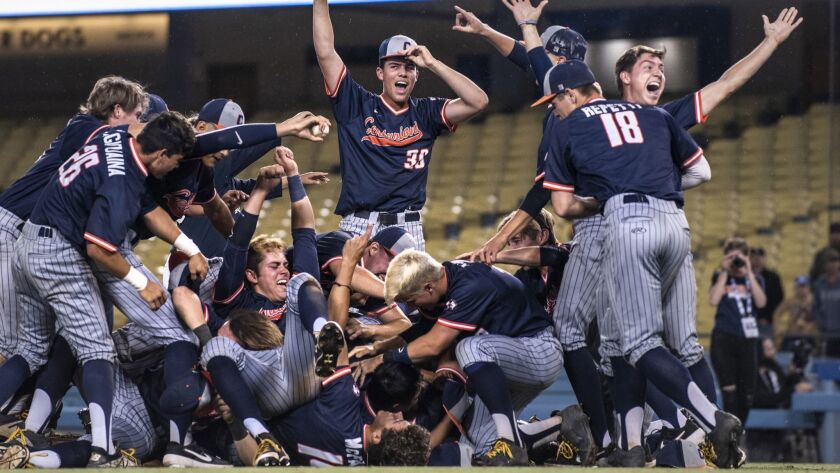 When Cypress High baseball fans look back on the team's memorable 2019 championship season, no one will forget the bulldog, take-no-prisoners mentality of unflappable pitchers Cameron Repetti and Brett Wozniak.
Coach John Weber called on them again and again, knowing each time they'd be ready. It was vintage Repetti and Wozniak on display Saturday night at Dodger Stadium in the Southern Section Division 1 championship game against Studio City Harvard-Westlake.
Bound for Cal State Fullerton and with a 1.29 earned-run average, the right-handed Repetti was eligible to pitch 51/3 innings and struck out six and did not walk any.
The left-handed Wozniak replaced Repetti with one out in the sixth inning. The junior with a 1.25 ERA finished off the Wolverines, getting the final five outs to pick up the save in a 2-0 victory.
"They did an amazing job," Weber said.
Said Repetti: "I've dreamed of this since I came to Cypress. We said we'd do it and we did."
Sign up for our daily sports newsletter »
It was earlier in the week that Wozniak started and Repetti closed in a 1-0, nine-inning semifinal victory over La Mirada. It has been this way all season. Wozniak is 10-0; Repetti is 11-2. They helped lead Cypress to a 31-3 record and the Centurions' third baseball title.
The hitting star was freshman catcher Luke Davis. He went three for three and drove in the runs with a single in the fourth inning and a double in the sixth.
He went into the game batting .267, but despite being a freshman, he embraced the Dodger Stadium experience as if he were a four-year starter.
"I'm definitely more comfortable when the pressure is on," said Davis, who hit a home run in the playoffs to give Cypress a victory.
Said Weber: "He's the No. 1 player in the country for his class. He's used to big situations."
Both teams came up with defensive plays to save runs.
In the bottom of the third inning, left fielder Elias Rios of Cypress threw out George Cooper at the plate trying to score from second base on a single between third base and shortstop.
In the fifth inning, Harvard-Westlake right fielder Sam Biller matched Rios, throwing out a runner trying to score from second base.
Sam Hliboki started for Harvard-Westlake and gave up eight hits in 52/3 innings.
Repetti was throwing hard and throwing strikes. He wasn't afraid to challenge Harvard-Westlake's top hitters. Pete Crow-Armstrong flied out, struck out and popped out. Drew Bowser grounded out and struck out. Tyler Ganus popped out and struck out.
"They're one of the best teams, if not the best, in the country," Harvard-Westlake coach Jared Halpert said. "I don't know the last time we've been shut out. They have a real good mix of pitches. They played a really clean baseball game."
Twitter: @latsondheimer
---
Get the latest on L.A.'s teams in the daily Sports Report newsletter.
You may occasionally receive promotional content from the Los Angeles Times.