Column: Twins Will and Sofie Kupiec's formula for success = MIT education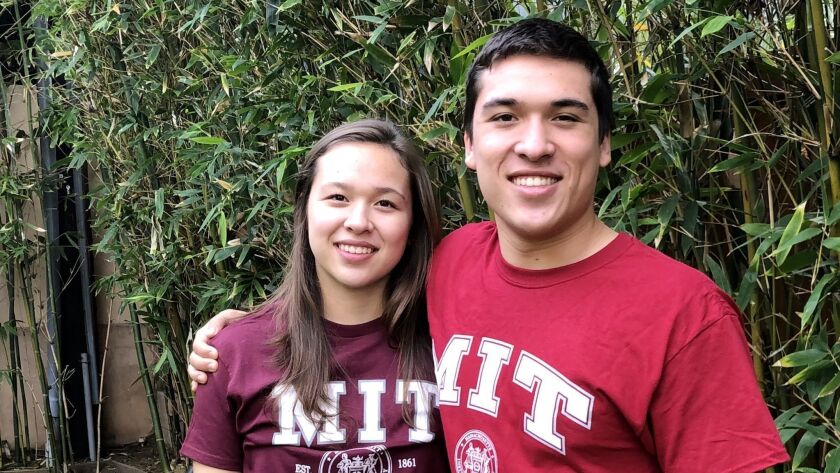 When it comes to sibling rivalries, twins Will and Sofie Kupiec have no peers in pushing each other to success. How else to explain the unique accomplishment of two 18-year-olds born one minute apart who will be going to MIT this fall after compiling identical grade-point averages of 4.3 at Los Angeles Loyola and El Segundo Vistamar, respectively.
"We're both very excited," Will said.
"I can't even begin to describe how over the moon I am," Sofie said.
It was a weekend morning last November when both learned their dreams had come true. Will, a lacrosse player, and Sofie, a volleyball player, set their alarms for 9 a.m. to go online to see if they had received early acceptance to MIT.
"I thought we were going to wait and open it together," Sofie said.
Will decided to jump the gun.
"I found out a couple seconds before," he said, getting his revenge for being born one minute later than his sister.
Sign up for our daily sports newsletter »
He got on his cellphone, logged in and saw his name. Then he went to Sofie's room to watch her open the file on her computer. (At least he didn't tell her he had been accepted until after she also saw her name.)
"Our parents didn't know we were awake," Sofie said. "We both yelled, 'We got in!' We had so many phone calls from friends and relatives."
What are the chances a brother and sister can get into MIT together in the same year?
As Sheldon Cooper from "The Big Bang Theory" might say, "Bazinga."
The seeds were planted years ago when their father, Kraig, used to take them to the California Science Center to stir their imagination or play math games with them while driving to Mammoth on ski trips.
"I always remember my dad saying the smartest people in the world go to Caltech and MIT. Aim for that," Will said.
Sofie said her father kept repeating on car rides that the most important formula was "distance equals rate times time."
Will graduates from Loyola on Thursday and is finishing up a semester in which he took AP computer science, AP calculus, AP literature, AP government and politics, and AP physics.
Sofie graduates from Vistamar next week. Both will be playing their respective sports at MIT. Will played on a Loyola lacrosse team that won the Los Angeles championship. Sofie was the league MVP in volleyball.
Both received 35 on the ACT. A perfect score is 36.
Will wants to become an aerospace engineer with a focus on rockets.
"I just always had an interest in rockets, planes and things that go fast," he said. "I just think they're real cool."
Sofie isn't sure of her major but likes computers and math. An injury as a sophomore forced her to change sports goals and put MIT in the mix as a college choice.
They're not going to room together but have agreed to hang out and keep in touch.
"We said we love to stay close enough for problems, like fixing my printer, but far enough to give us some space," Sofie said.
If there are any rockets blasting off from the dorm, she'll know Will is nearby.
Twitter: @latsondheimer
---
Get our high school sports newsletter
Prep Rally is devoted to the SoCal high school sports experience, bringing you scores, stories and a behind-the-scenes look at what makes prep sports so popular.
You may occasionally receive promotional content from the Los Angeles Times.