Prep receiver Chad Johnson Jr. is not shy about turning to his father for advice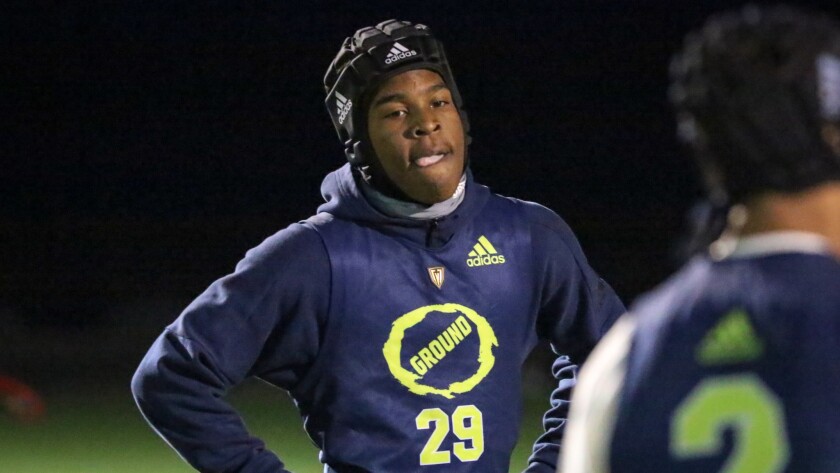 Chad Johnson Jr. doesn't take for granted that his father is a former NFL receiver.
The 6-foot-2 Cathedral High junior wideout credits Chad Sr. with teaching him everything he knows about playing the position.
"He had it all. He knew how to pick a DB apart," the younger Johnson said of his mentor. "If I have any questions about the game, I go straight to dad. 'Dad, if a [defensive back] does this, what do I do?' He answers me immediately. We can have hour conversations about picking the DB apart. It's fun and he teaches me everything I know."
Chad Sr.'s NFL connection played a part in his son's October commitment to Arizona State. Though Chad Sr. was never coached by Herm Edwards in the NFL, the two know and respect each other. The elder Johnson was quick to give his approval when Edwards showed interest in his son.
"I sat down with Herm and he told me the plan he had and I was like, 'Oh I could be a part of that plan,'" Chad Jr. said. "My dad knew Herm has the brains to win a championship and he told me that's a good decision, so I jumped in and made the commitment."
Chad Jr. liked the way Arizona State attacked defenses with its passing game in Edwards' first season. He would like to follow in the footsteps of Sun Devils wideout N'Keal Harry, who is expected to be one of the first receivers selected in next month's NFL draft. Johnson is two inches shorter, but thinks he could add weight to be a more physical weapon like Harry.
"I feel like I could be the next N'Keal. Put up jump balls, slants, anything," he said. " I can go up and get it. Just like N'Keal. I can break away from a DB. I can get separation. Everything that N'Keal had."
Johnson said his commitment to Arizona State is "very solid," but he plans to take all five of his official visits. He intends to visit Oregon, Oregon State, Purdue and Ohio State.
"I want to see the atmosphere at other schools," Johnson said. "I haven't signed anywhere yet, so you never know. If I see the atmosphere of the schools and it's something I like better than Arizona State, which [would be saying] a lot 'cause I love Arizona State. … If something tops Arizona State, it's got to be great."
West represented well
The West region continues to receive high marks in the industry recruiting rankings for the 2020 class. In the latest edition of 247Sports' site rankings, updated this week, five of the top 11 players in the country are from the West. More than a third of the top 25 players hail from the West, five from the Southland.
Bellflower St. John Bosco's DJ Uiagalelei jumped into the top five, moving up six spots to No. 3 overall. He is the top pro-style quarterback and top offensive player in the recruiting class. He isn't the only top quarterback in Southern California. Santa Ana Mater Dei's Bryce Young is the No. 1 dual-threat quarterback in the 247Sports rankings. He ascended 23 spots in the overall rankings to No. 16.
Upland's Justin Flowe is the No. 1 inside linebacker and No. 6 overall. Mater Dei playmaker Elias Ricks moved up two spots to join the top 10 and to overtake Arizona's Kelee Ringo as the top-ranked cornerback. La Habra's Clark Phillips III is the next cornerback behind Ricks and Ringo. He continues to prove himself on the camp circuit and saw his ranking climb 35 spots to No. 24 overall.
Receiver Johnny Wilson slipped out of the top 25 to No. 32, two spots ahead of Calabasas teammate Jermaine Burton. Burton gained 20 spots. Mater Dei offensive lineman Myles Murao also dropped out of the top 25. He lost 50 spots. His standing has been hampered by a season-ending injury during the fall that has kept him from being able to dominate the camp circuit, where he was one of the top underclassman linemen last year.
Corona Centennial speedster Gary Bryant Jr. moved from just outside the top 100 to inside the top 50. Harbor City Narbonne linebacker Jordan Banks and St. John Bosco's Kourt Williams both saw improvements of more than 100 spots, climbing into the top 200.
---
Get the latest on L.A.'s teams in the daily Sports Report newsletter.
You may occasionally receive promotional content from the Los Angeles Times.