A mean streak is paying off nicely for St. John Bosco offensive lineman Drake Metcalf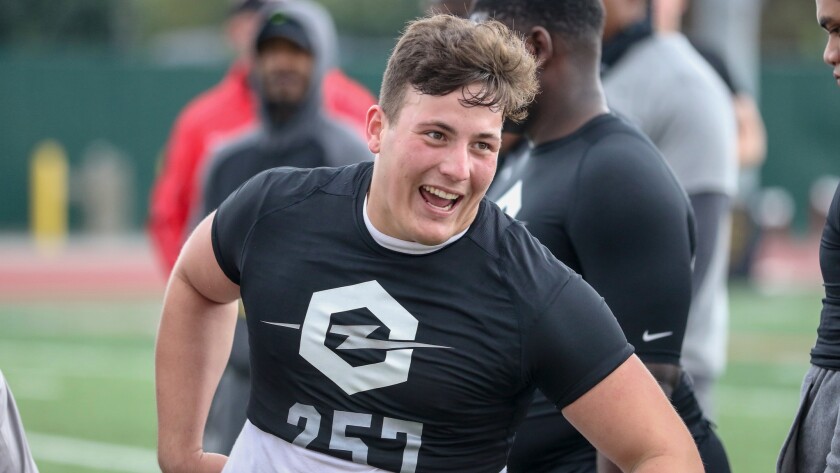 Drake Metcalf has the perfect offensive line mentality. The offensive anchor at Bellflower St. John Bosco High wants to be a bully on the field.
"I love beating the hell out of the dude across from me," Metcalf said. "It's just like gladiators, one guy beating on another guy and the winner is the last man standing."
Offensive linemen who are nasty get rewarded. Metcalf's offseason spoils have included scholarship offers from across the nation and the title of offensive lineman MVP at multiple camps. He was selected MVP of his position group at the Opening Los Angeles regional as well as Adidas Rivals Camp's stop in Southern California.
He likely would have received similar honors at Under Armour's camp in Mission Viejo if the camp provided position-specific awards. National analyst Greg Biggins selected Metcalf as 247Sports' offensive line MVP after the camp.
Metcalf "is so advanced technically and so strong that it's near impossible to beat him in this setting," Biggins wrote.
It was another satisfying day for Metcalf but nothing quite compares to Feb. 19. He and his mother, Robyn, drove to USC to meet with the coaching staff on an unofficial visit. It was a familiar trip. Robyn went to USC as did her sister Lisa. Drake has been going to USC events since he was a toddler. His grandmother, Pat, has had Trojans football season tickets for more than 50 years and was the unofficial "cookie lady" for Pete Carroll and his teams during his tenure as coach.
No campus visit ended quite like this one. USC coach Clay Helton informed Drake he was being offered a full athletic scholarship.
"It was just a crazy day," Drake said. "I've been going to USC's camps for the past three years since I was a freshman, busting my tail out there on the field, just working as much as I can to get that USC offer. For them to extend that offer was just a great feeling.
"To have my mom there with me when I got the USC offer was just a special moment. … She was really emotional and she broke down in tears cause she's always wanted to see me go and play there, so it was definitely an exciting moment for her and the family."
Sign up for our daily sports newsletter »
Helton tried to call Grandma Pat to give her the good news, but she didn't answer, so the Metcalfs went over to tell her in person. It wasn't long after they left USC's campus that Drake got another phone call. A Nevada Las Vegas coach was on the phone and presented Drake with another scholarship opportunity.
"UNLV, that's my dad's alma mater, they had offered me later that night like 45 minutes later," Drake said. "When I got my UNLV offer, my dad was thrilled as well. It was definitely a crazy day and a fun experience that I won't forget."
Other attractive options
North Carolina, Penn State, Indiana, Florida State, Utah State, Louisville and Stanford have all since told Metcalf has a scholarship awaiting following his USC-UNLV double dip. Football is important, but Metcalf wants to know what else the school has to offer.
"What am I going to get out of that school other than football because football only lasts so long," he said. "I definitely want to have something to do after I'm done with football that I'll be able to take care of my future family one day."
Stanford was a big offer because of the importance of academics to Metcalf. He recently took a trip to Penn State and fell in love with State College. He was back at USC over the weekend for the Trojans' junior day event with several top local prospects. Metcalf has other visits he wants to take. He noted North Carolina and Florida State in particular.
"I'm just planning all these visits and having fun with it while they're coming in," he said. "It's definitely a fun time right now."
---
Get the latest on L.A.'s teams in the daily Sports Report newsletter.
You may occasionally receive promotional content from the Los Angeles Times.