Column: It's time for spring football practice and the transfer game at high schools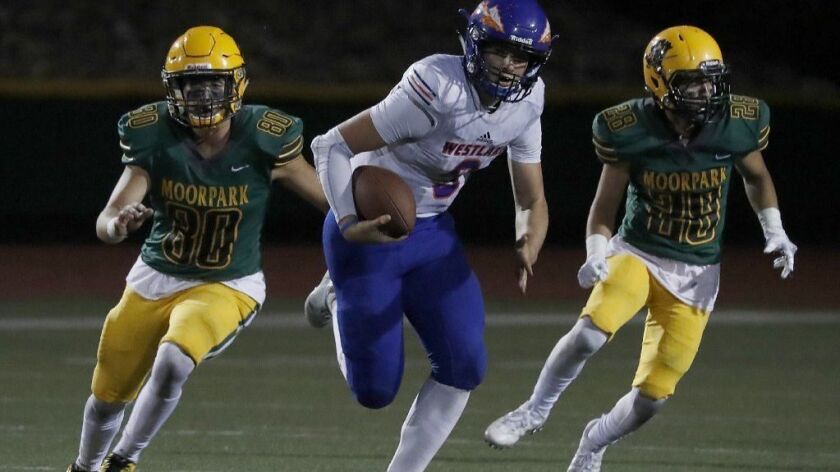 High school football spring practices used to be about coaches taking a look at players from lower-level programs while installing their offensive and defensive schemes for the new season.
They are so much more now. They've become unofficial tryouts, welcoming transfer students while seeing which returning players are going to stay or leave when the competition gets tough.
It's gotten to the point where playbooks need to be written in pencil or put on the web with a password for access because, depending on who wins the quarterback job, a security update could be required.
This spring is a particularly sensitive time for teams with multiple quarterbacks competing for a starting job, because the losers have been known to scatter come June 1.
"With all the privatized seven-on-seven teams, the street agents, kids changing seven-on-seven teams . . . to me we're losing what high school sports is about," West Hills Chaminade coach Ed Croson said. "We teach kids to persevere, to get through tough times. We teach commitment and loyalty. I think it's being lost."
If you attend a spring passing tournament, teams have wisely figured out that they need to play multiple quarterbacks or they may be left with just one — and no one wants to go into a season with a single quarterback for a sport in which injuries are expected.
Sign up for our daily sports newsletter »
It's a challenging balancing act for coaches because the CIF makes it so easy to transfer, and parents want their kids to play even if they're freshmen or sophomores.
There are five quarterbacks competing for playing time at Westlake Village Oaks Christian — two senior-to-be transfer students and three sophomores-to-be. Jameson Wang showed up from Studio City Harvard-Westlake and Patrick Roberg returned from Westlake Village Westlake.
"It's going to be good competition," coach Charles Collins said.
Asked if he wanted to bet his house that all five would still be at Oaks Christian by June, Collins declined.
"It's delicate," he said.
Gardena Serra might have the best trio of quarterbacks anywhere in returning starter Doug Brumfield and talented freshmen Maalik Murphy and Justyn Martin. Coach Scott Altenberg has made it clear that the best player will start. That's all a coach can really do is let competition determine a winner. Unfortunately, "waiting your turn" is no longer acceptable to many families.
Croson has his own competition about to begin. Jaylen Henderson transferred from Harbor City Narbonne, where he was unlikely to beat out All-City quarterback Jake Garcia. Now he faces a challenge from returnee Jack Costello and freshman Tyler Voss.
There are other quarterback transfers. Peter Costelli went from Santa Margarita to Mission Viejo; General Booty, originally from Texas, arrived at San Juan Capistrano JSerra after being at Corona del Mar; Lucas Lenhoff went from Calabasas to L.A. Cathedral, which lost quarterback Jared Heywood to Inglewood; Josh Stupin, who has been at Bellflower St. John Bosco, JSerra and Fountain Valley, is now at Villa Park.
Kevin Rooney, about to begin his 40th season as football coach at Sherman Oaks Notre Dame, said of spring practice, "Everybody starts anew. It's not real football. We can't determine starters until we get into pads. We all have our own standards and methods. We just want to be honest and upfront as we can be and hope they will compete and stick with it."
Norco is No. 1: There's little doubt that Norco is No. 1 in softball. The team is 23-0 and overcame a six-run deficit on Saturday night to defeat Orange Lutheran 7-6 in the championship game of the Michelle Carew Classic.
Sarah Willis hit a two-run home run in the sixth inning.
Twitter: @latsondheimer
---
Get the latest on L.A.'s teams in the daily Sports Report newsletter.
You may occasionally receive promotional content from the Los Angeles Times.