Column: City Section football coaches need to act now and force LAUSD to make changes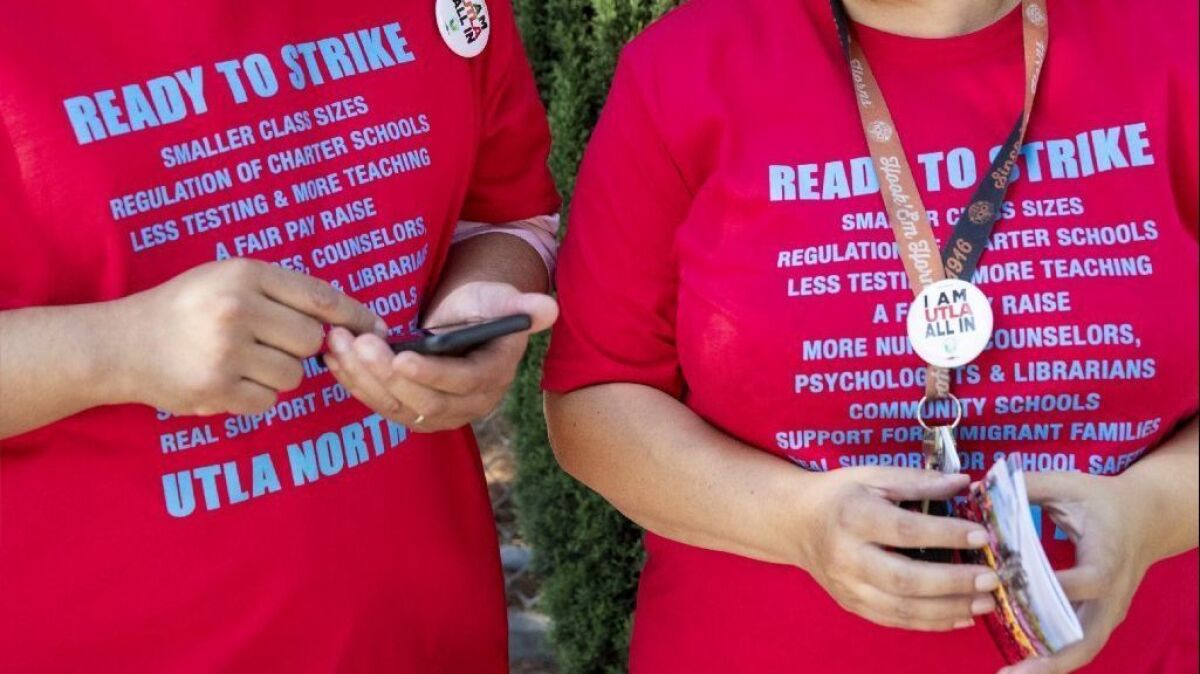 It was nearly 30 years ago when a nine-day strike by teachers in the Los Angeles Unified School District in May 1989 came close to wiping out the City Section baseball playoffs. A last-minute compromise allowed the playoffs to take place, and a champion was crowned at Dodger Stadium.
Now there's speculation United Teachers Los Angeles will go on strike again. Much has changed in the high school sports world, so the effects of a strike on LAUSD sports teams are uncertain.
In 1989, virtually all the head coaches were certificated teachers. In 2018, 61% of the LAUSD coaches are walk-ons. Among football coaches, just 23 of the 67 head coaches are teachers. In 1989, the stipend for head coaches was around $2,650. This season, the head football coach gets $2,811. That's right: In 29 years UTLA has done little to improve coaches' pay while being their representative.
Coaches, whether teachers or walk-ons, need to step up and use their moment of influence to force changes. If UTLA calls a strike, parents would pay a lot more attention if their son's or daughter's athletic contests are directly impacted. But if walk-on coaches decide their loyalty rests with their teams and life goes on, watch out.
LAUSD coaches have fallen far behind in how they are treated. In the Burbank District, football head coaches receive a stipend of more than $4,000, plus $185 for each playoff game. The Long Beach Unified School District stipend is $5,392.34. Charter schools El Camino Real and Birmingham pay their head football coaches $4,700 and $7,000, respectively.
Coaches' pay isn't on the UTLA or LAUSD agenda. UTLA is seeking a 6.5% raise for teachers retroactive to July 1, 2016. The district is offering a 3% raise that would begin a year later, followed by an additional 3% bonus that would become permanent if budget projections remain in the black. There's also disagreement about class sizes and charter schools.
Mediation has failed. Both sides have filed unfair labor practice complaints. As soon as a fact-finding legal procedure is completed, UTLA can call a strike at any time.
The City Section, in charge of sports playoffs, is making contingency plans. LAUSD has put out a resource guide for parents. The PR battle is underway.
City Section Commissioner John Aguirre said he will leave it up to individual schools whether practices or games can take place depending on safety concerns. He was around for the strike in 1989 and remembers that "it gets pretty crazy."
"We're hoping the district and teachers come to an agreement before any strike," he said. "If a strike occurs, we'll be ready to provide an accommodation of playing or not playing and being able to reschedule or not. There will be no forfeits during a strike."
If a strike occurs during the football playoffs that begin in two weeks, it could affect City Section participation in the CIF state championship bowl games. The CIF would not wait for a strike to end, Aguirre said.
Eagle Rock coach Andy Moran, president of the football coaches' association, said crossing a picket line would be a major obstacle for most coaches. He said when he coached at Marshall, "every person who crossed the picket line was pointed out to me. That was eight years after the strike."
There's speculation a strike might take place in late November at the earliest or in January. That would be during basketball season. Most charter schools have their own separate contracts with teachers and would not be affected. Birmingham Athletic Director Rick Prizant said his school intends to play games against non-LAUSD schools. Birmingham, El Camino Real, Granada Hills and Palisades could play their own charter competitions.
More likely, though, is that the sports season would come to a screeching halt because practices are unlikely to take place.
Manny Alvarado was the baseball coach at Granada Hills Kennedy in 1989. The playoffs were one day away from being canceled. Players felt abandoned by their striking coaches.
"It was uncomfortable on both ends," he said. "You had pressure from your players, 'Hey, we want to play.' Players and parents sympathize with their teachers' wants and needs, but want to play."
After the strike ended, three playoff games were held in a single week. Kennedy won the City title.
But to this day, Alvarado warns, "Strikes aren't fun."
Twitter: @latsondheimer
---
Get our high school sports newsletter
Prep Rally is devoted to the SoCal high school sports experience, bringing you scores, stories and a behind-the-scenes look at what makes prep sports so popular.
You may occasionally receive promotional content from the Los Angeles Times.