Column: The St. John Bosco-Mater Dei matchup is a private affair that is a public concern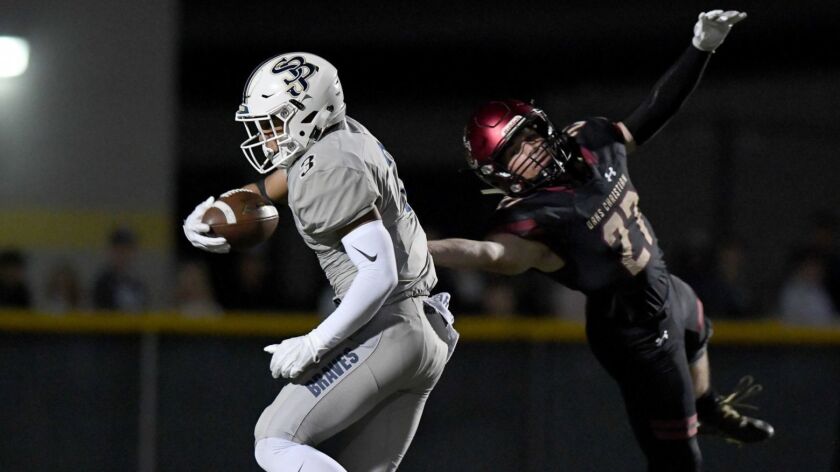 No one is going to deny that Bellflower St. John Bosco and Santa Ana Mater Dei have separated themselves from the more than 450 high school football teams in Southern California.
The Catholic schools are playing at 7:30 p.m. Friday at Cerritos College for the Southern Section Division 1 championship. It's the third consecutive season the Trinity League powers are playing for the title.
The big question is whether this is a cycle or a preview of what's already happened in Northern California, where Concord De La Salle is on the verge of winning its 27th consecutive North Coast Section title.
"Just from a physical looking standpoint, there's a difference," Corona Centennial coach Matt Logan said of the two schools. "It's tough for any team, whether private or public, to compete at that level. It's going to be like that for awhile."
St. John Bosco is 13-0; Mater Dei is 11-2 and owns the only win over Florida's IMG Academy, a true all-star team. The semifinals were a cakewalk for both. St. John Bosco defeated Westlake Village Oaks Christian 56-10. Mater Dei defeated Centennial 48-14. Each vanquished opponent was previously undefeated.
The matchup on Friday is enticing enough to attract some 12,000 fans to Cerritos College. That's good for high school football. But if the same two teams are always reaching the final, that won't be good. It raises questions about competitive equity and increases anxiety that public schools are falling further behind in the arms race to win championships.
"The separation between public and private is going to keep on widening," said Mission Viejo coach Chad Johnson, a former St. John Bosco assistant, in a text responding to the question "is this just a cycle?"
"The private schools have made tuition a nonissue for families," Johnson texted. "You just saw the last of the great public schools get dominated."
Said former Long Beach Poly coach Raul Lara: "I tell people right now I believe Mater Dei and St. John Bosco are a couple steps ahead of everyone else. The trend seems to be they're very successful and getting the players. I don't know how long this is going to last."
This isn't the first time that programs have become dominant. All it takes is a supportive administration, good coaches and good players. From 1993 through 2004, either Mater Dei or Long Beach Poly were involved in every Division 1 championship game except 1995.
There was the most unlikely of finals in 2005, when Los Angeles Loyola played Anaheim Esperanza. Since then, the Trinity League has become the best in Southern California, with the six schools investing money and resources while hiring top coaches and assistants in pursuit of success.
Orange Lutheran won the championship in 2006. Anaheim Servite won championships in 2009 and 2010. St. John Bosco hired Jason Negro in 2010 and has made the championship game six consecutive seasons, winning twice. Mater Dei won its first title since 1999 last season.
The big change, though, is that there are no more rebuilding years for the top teams. That's because transfers arrive annually to fill the positions of graduating seniors. St. John Bosco received players from Servite to fill holes on defense. Mater Dei needed a quarterback to replace current USC starter JT Daniels, so Bryce Young transferred from L.A. Cathedral.
Centennial is the only public school to break up the recent St. John Bosco-Mater Dei success by winning titles in 2014 and 2015. Long Beach Poly used to be the public school everyone feared. Now private schools are taking away players from Long Beach.
"It's all about attracting people to your program," Lara said. "If your program is doing well, the good players are going to go to your program. Right now, St. John Bosco and Mater Dei are the two best programs."
After taking his licking on Friday night to Mater Dei, Centennial's coach wasn't ready to give in. He's plotting his next move using a "Star Wars" analogy.
"They're the Evil Empire," Logan said. "We're the rebel force trying to survive to fight another day."
Twitter: @latsondheimer
---
Get the latest on L.A.'s teams in the daily Sports Report newsletter.
You may occasionally receive promotional content from the Los Angeles Times.