Column: Diego Barahona hopes to turn his passion for soccer into a pro career
In a two-bedroom apartment in South Los Angeles, Diego Barahona lives with his mother, stepfather and four siblings. Four boys and one girl share a single bedroom with two sets of bunk beds and a queen bed. It's more than cozy — it's a reminder of the daily sacrifices made by families trying to succeed in life.
"What drives me is my mom," Barahona said. "I see her struggling with money. I just want her to not worry about that anymore and I strive to be better than I am."
Barahona, 15, is a sophomore soccer standout at L.A. Cathedral. On Friday nights this winter, he'd be playing pickup soccer games on a USC field until they turned off the lights. On weekends, he'd rise at 6 a.m. with an older brother and head to Playa Vista to train until 11 p.m.
"I just stay to train until I get tired and exhausted," he said.
It's no surprise that Barahona, who is 5 feet 9 and 140 pounds, sleeps with a soccer ball. It's all he thinks about and forms many of his dreams.
"I play for the passion of the sport because I love it," he said.
He scored an improbable goal from 35 yards out in a state regional playoff game last season against L.A. Loyola that tied the score before the Phantoms eventually lost 2-1.
"When I scored, honestly I didn't know what to do," he said. "Instead of celebrating, I ran backwards toward the goalie. I was just lost, all the emotions running through my head."
The goal was impressive, but passing is what Barahona does best.
"He has a lot of tools," coach Arturo Lopez said. "His vision is outstanding. We're excited for him."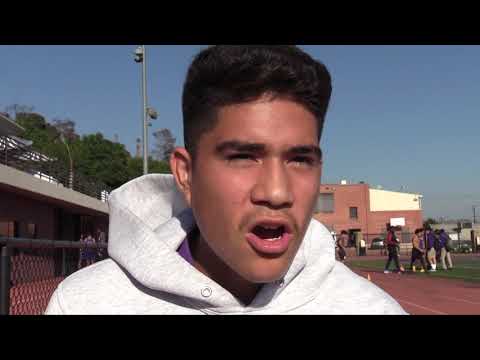 Cathedral sophomore expects to excel
Barahona had two goals on Friday in a 4-1 win over West Torrance, making the Phantoms 2-0 on the season.
Cathedral — with Barahona, Cal State Fullerton signee Dylan Robinson and Alex Lugo (24 goals last season) — should be a strong Southern Section Division 1 soccer contender.
Loyola has SMU signee Henry Smith-Hastie, plus returning goalie Nico Barr-Mira. Anaheim Servite has Brett Lux. Downey relies on Derick Roque and Cesar Ruvalcaba. Paramount and defending Division 1 champion Santa Barbara also return top players.
In the City Section, defending champion Woodland Hills El Camino Real picked up several players who left private Academy League teams sponsored by U.S. Soccer, including football kicker Brenden Segovia. City runner-up Sotomayor will be a contender. Birmingham is loaded with returnees and has gained two former Academy League players in Anthony Miron and Anthony Mercado. Sylmar has started impressively at 3-0-1 behind Chris Balderrama.
In City Section girls' soccer, Granada Hills has benefited from the return of its top player, junior Cordelia Cross, who played in a new developmental league last season. El Camino Real has CSUN signee Zoi Lerma.
The No. 1 player in Southern California is Isabella D'Aquila of San Juan Capistrano JSerra. She had 39 goals last season for the Division 1 champions and was named Gatorade national player of the year. She has been busy playing for the USA under-17 national team. Upland, the defending Division I regional champion, has 10 starters back, led by Alyssa Duke.
At Cathedral, Barahona is excited about showing what he has learned through the repetition of working out and playing.
"The more you practice, the better you'll get," he said. "You put into all the energy wanting to be great. That's what separates you."
In Southern California, there are many soccer players dreaming to be great like Barahona. The competition is intense and the passion runs deep.
"It's passed down from generation to generation," Lopez explained. "Usually it's handed down from our parents and we run with it. He's made it clear he wants to make it a career. We're going to help him."
Twitter: @latsondheimer
Get our high school sports newsletter
Prep Rally is devoted to the SoCal high school sports experience, bringing you scores, stories and a behind-the-scenes look at what makes prep sports so popular.
You may occasionally receive promotional content from the Los Angeles Times.