Column: Chino Hills' Onyeka Okongwu leads a crop of basketball stars who bucked the trend of transferring
Looking into the eyes of 6-foot-9 Onyeka Okongwu, it's difficult to detect his state of mind or the emotion he's feeling. Perhaps he's a little beat, having attended school all day, then having played all 32 minutes in a basketball game the same night.
Whatever the reason, those big, sleepy eyes can make one wonder how he keeps elevating himself as a player and as a person every year.
Okongwu was a 14-year-old freshman when he burst onto the high school basketball scene at Chino Hills, starting alongside Lonzo Ball on a team that would go 35-0. He was "the other" freshman. The freshman who received the most attention was Ball's brother LaMelo.
But Okongwu showed he was a player with immense skills. He blocked shots, rebounded with authority, made unselfish passes, hit 15-foot shots after perfectly executed pick-and-rolls with Lonzo. And he entertained with his dunks.
The big surprise is that Okongwu, headed to USC, stayed four years at Chino Hills while playing for three different head coaches. It was a safe bet he'd leave.
Why stay when the memories of his older brother's death in 2014 from a skateboarding accident still lingered? Why stay after the circus created by LaVar Ball left the Huskies in turmoil? Why stay when he was starring for the Compton Magic in summer ball and had friends on other teams? Why stay when he already had his state championship ring and nothing left to prove?
"I'm loyal to my school," he said recently, "loyal to my city. I couldn't leave."
There's something unusual and inspiring about this basketball season. Okongwu is part of a collection of elite senior players who stayed all four years at a single high school. It's very much against the trend of recent years. Last year's McDonald's All-American game rosters were filled with players who had attended multiple schools.
The class of 2019 has held strong in the Southland, and the players and their parents deserve praise for loyalty. They include Isaiah Mobley (Temecula Rancho Christian, headed to USC); Jake Kyman (Santa Margarita, UCLA); Max Agbonkpolo (Santa Margarita, USC); Jarod Lucas (Hacienda Heights Los Altos, Oregon State); Gianni Hunt (Torrance Bishop Montgomery, Oregon State); Ethan Anderson (Fairfax, UNLV); Julian Rishwain (Sherman Oaks Notre Dame, Boston College); Jaime Jaquez (Camarillo, UCLA); James Keefe (Loyola, Stanford); Julien Franklin (Villa Park, Oregon State); Drake London (Moorpark, USC).
All, like Okongwu, enrolled during their freshman year and stayed at their respective schools, through ups and downs, highs and lows, lobbying by friends, parents and club coaches.
There are always tough personal choices to make, weighing academics versus athletics; family obligations versus community loyalties; individual goals versus those of the team.
"I almost transferred," Okongwu said. "I went, 'Nah, I can't.' This is my house. I'm a Husky for life. I just had to stay in the Hills."
It's this kind of loyalty that makes Okongwu and the other four-year players even more appreciated by their future college coaches and admired in their communities, and perhaps sets an example for others, evidence that the grass isn't always greener elsewhere.
"I am strong mentally," he said, "so whatever the worst situation is, I always push through it."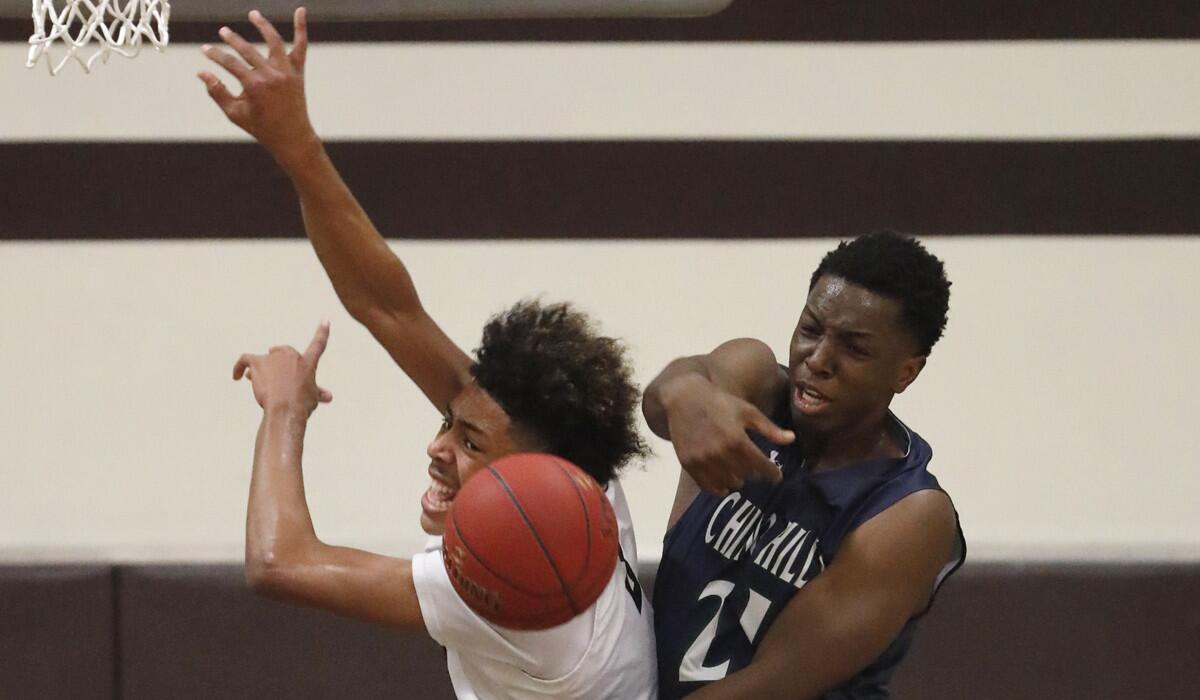 Okongwu and many of the others are playing this week at the Classic at Damien tournament in La Verne. The examples they've set will, with hope, inspire more to follow a path of sticking it out and competing instead of fleeing when the going gets tough.
Okongwu is finishing his high school career with his friends and classmates while looking toward the future. His face lights up when talking about watching Lonzo Ball playing for the Lakers.
"I want to be where he's at one day," he said.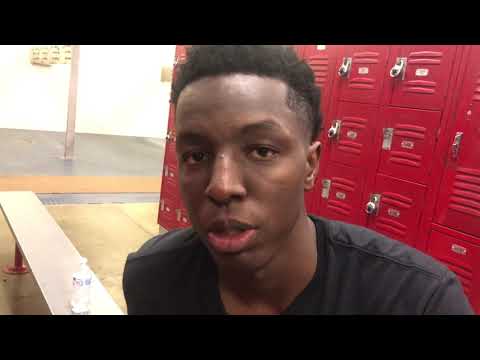 Center finishes out his prep career with Huskies
Twitter: @latsondheimer
Get our high school sports newsletter
Prep Rally is devoted to the SoCal high school sports experience, bringing you scores, stories and a behind-the-scenes look at what makes prep sports so popular.
You may occasionally receive promotional content from the Los Angeles Times.