Column: Camarillo will try to buck the trend in Southern Section basketball playoffs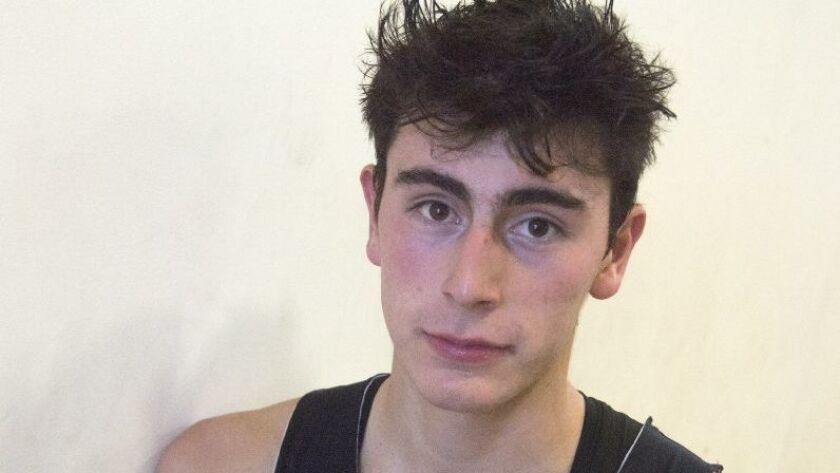 Chemistry. Togetherness. Toughness. Can those qualities overcome all-star teams created specifically to win a championship?
That's going to be one of the narratives in the high school basketball playoffs that begin this week. The Southern Section announced its pairings on Super Bowl Sunday, and one of the most intriguing boys' teams is Camarillo, seeded No. 1 in Division 2-AA.
The Scorpions (24-3) are about as homegrown as you can get in this era of transfers. Their star player, Jaime Jaquez, has stayed for four years to play with friends and teammates he has known since third grade. He's averaging 32.3 points.
"This is what we've been planning since we were little," said Jaquez, who signed with UCLA. "We wanted to win a CIF title."
Their example is the Scorpions' football team that went 15-1 in 2015 with neighborhood kids and qualified for the state bowl game.
"Coming in my freshman year and seeing the football team stick together and win, we want to do the exact same thing," Jaquez said.
There's no guarantee in 2-AA. It might be the most competitive among the 10 divisions with the likes of Orange Lutheran, Riverside Notre Dame, Valencia, Sherman Oaks Notre Dame, Cypress, Lakewood Mayfair, North Hills Heritage Christian and Beverly Hills set to do battle. It has that mix of public and private schools to produce plenty of drama and rooting interests.
Sign up for our daily sports newsletter »
Camarillo picked up a late-season win over Santa Ana Mater Dei, overcoming an 18-point deficit.
"We learned we can play with anybody in the state," Jaquez said. "We came into the second half with the mentality this is the last chance to do something special. Mater Dei is an historic team, one of the best in California, and we said it's our last chance as seniors to do something special."
A team of mostly seniors who've stuck together for four years with the hope of ending it all celebrating with a championship can offer a powerful counter to a team stacked with talented players brought together for a one-year run. They have community backing. They have complete trust in each other. What they lack in ability can be made up in unbreakable friendships on and off the court.
Open Division intrigue: The Open Division is the only division using pool play, and the matchups are staggering. The eight teams are broken up into four-team pools. The winners of the pool meet on Feb. 23 at Cal Baptist.
Top-seeded Temecula Rancho Christian is in a pool with No. 4 Moreno Valley Rancho Verde, No. 5 Etiwanda and No. 8 Torrance Bishop Montgomery. They all play each other once. The Eagles host Bishop Montgomery on Friday in their opener. No. 2 Chatsworth Sierra Canyon hosts No. 7 Mater Dei in a rematch of last year's final. No. 3 Corona Centennial and No. 6 Bellflower St. John Bosco round out Sierra Canyon's pool.
Another Chevalier: Sierra Canyon is 26-0 and seeded No. 1 in the Open Division girls' tournament.
One of the team's standout players is Ashley Chevalier, a junior guard. Her father, Andre, is the boys' coach. Her mother, Michelle, was a successful high school girls' coach. The parental influence shows up in many ways but most noticeably in her toughness and passion.
Sierra Canyon's pool includes No. 4 Bishop Montgomery, No. 5 Redondo and No. 8 Fullerton Troy. The other pool has No. 2 Etiwanda, No. 3 L.A. Windward, No. 6 Mater Dei and No. 7 Fullerton Rosary.
Twitter: @latsondheimer
---
Get the latest on L.A.'s teams in the daily Sports Report newsletter.
You may occasionally receive promotional content from the Los Angeles Times.