Column: The Sharts family stand committed to Simi Valley community through decades of baseball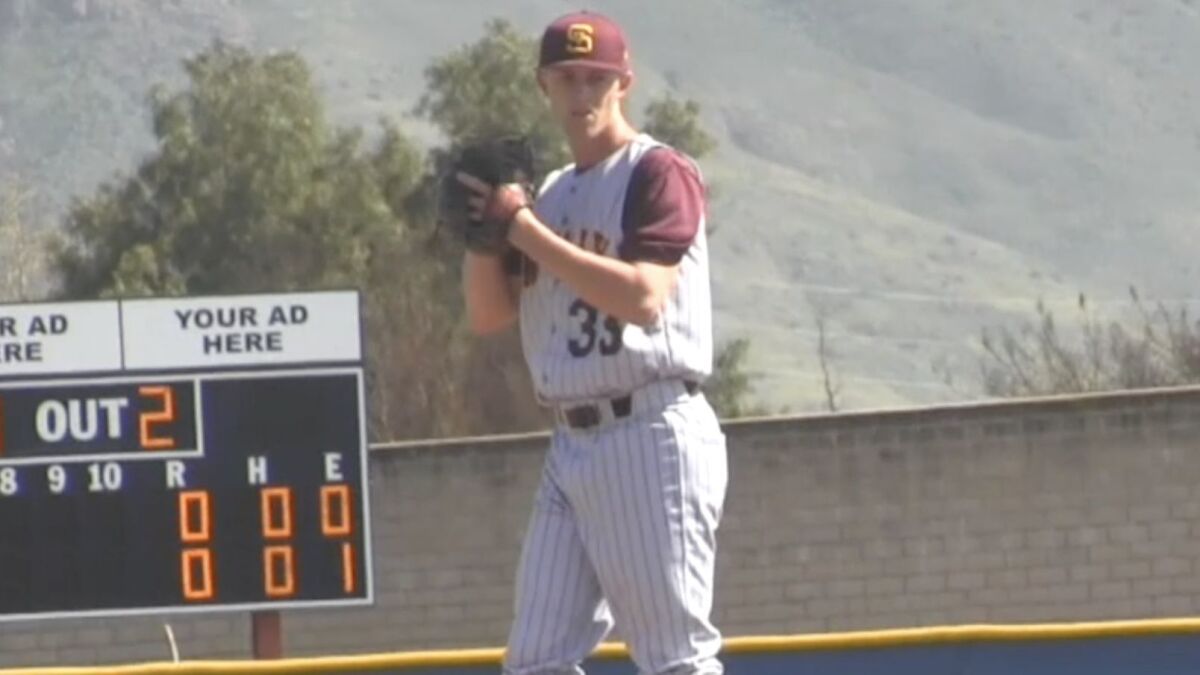 Thirty years ago, Scott Sharts set a Southern Section home run record at Simi Valley High with 32 for his career. His nephew, Owen, got a chance to pitch to Uncle Scott during the alumni baseball game in January.
Serving as the catcher was Brady Miles, whose mother, Shannon, is Sharts' sister. And watching from the sideline was pitcher Jack Hodgins, whose mother, Stacy, is another Sharts sister.
So there were Sharts family members on the mound, at the plate, at catcher and in the dugout. The historic moment did not go unnoticed.
"It was big talk for a long time," Owen said. "It was a big at-bat in the making. I wasn't allowed to throw him any off-speed pitches. He might have fallen over."
There were no repercussions for Owen striking out Scott.
"It was all fun and he's proud of me," Owen said.
Senior is 5-1 with 0.75 ERA
Said Scott: "It's pure enjoyment to watch and see family members coming through."
Owen Sharts, the son of Scott's twin brother, Stuart, has become one of the top pitchers in Southern California. A Nevada signee who's 6 feet 2, 185 pounds, Sharts is 5-1 with an 0.75 ERA. He has 56 strikeouts in 37 innings while giving up just 19 hits and walking seven.
He's throwing his fastball consistently in the low 90s, an improvement that has attracted the attention of pro scouts.
"That's part of me getting into the weight room, and strengthening the lower half,'' he said. "The development of my changeup is a real key."
His curveball is also effective, because he can throw it slow or hard for strikes.
Scott went on to hit 51 home runs and set a school record at Cal State Northridge. Oldest brother Steve was a standout pitcher for Simi Valley in 1982. The fact that the Sharts are so ingrained in the community decades later speaks to their commitment to Simi Valley and the friendships they've maintained.
"It's fun playing with your cousins," Owen said. "It's nice having my cousin behind the plate. It's an easy relationship to have."
The other day, former Simi Valley Coach Mike Scyphers showed up to a game against Camarillo. He coached Steve and Scott. He told the story of not knowing who Owen was, then watching a pitcher throw long toss.
"I went, 'Whoa,'" Scyphers said.
He immediately knew it was Owen Sharts.
There have been no consequences for Owen striking out Scott.
"It was just a good family day and fun to face somebody who has taught everything you know," Owen said.
But Scott warns to watch out for the rematch.
"I can still hit a little bit," he said.
Big days: Chazz Martinez of Corona del Mar hit three home runs against Costa Mesa.
Charlie Rocca of Verdugo Hills hit two home runs and finished with nine RBIs against North Hollywood. Rocca has 10 home runs for the season.
Andrew Lucas of Camarillo had home runs on Friday and Saturday, giving him eight on the season.
MVP: Montana is feeling good after future guard Eddy Egun from El Camino Real was named MVP of the Collision all-star basketball game on Saturday. He scored 20 points.
Twitter: @latsondheimer
---
Get our high school sports newsletter
Prep Rally is devoted to the SoCal high school sports experience, bringing you scores, stories and a behind-the-scenes look at what makes prep sports so popular.
You may occasionally receive promotional content from the Los Angeles Times.