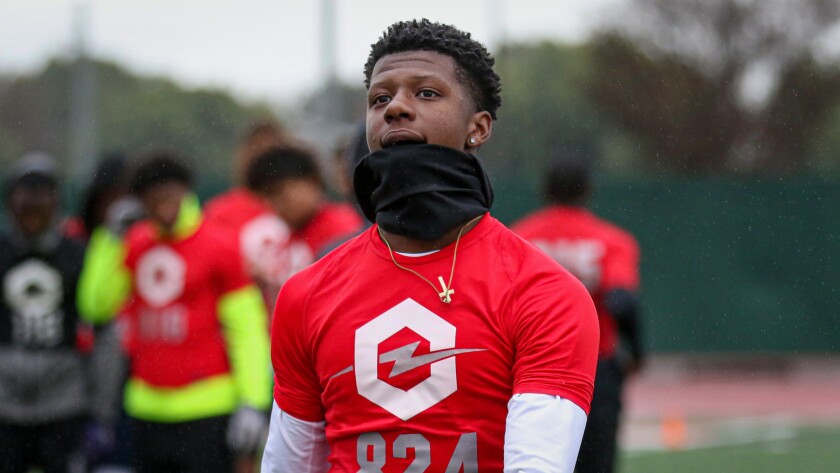 Jaylin Davies has a new role this year. The rising junior is now the veteran of the defensive secondary at Santa Ana Mater Dei High.
No longer is he taking his cues from Elias Ricks and Darion Green-Warren. Both have transferred, leaving Davies as the elder cornerback the other defensive backs are looking to for guidance.
"Last season I didn't really have such a big role," Davies said. "It was more so play my role, make sure I know what I got to do, but now I've got to make sure I know what they're doing, not just me. Make sure they're in the right coverage, make sure we're level and stuff like that because I know we got a lot of young DBs. I got to make sure their heads are right even if they get beat. They still got to guard people and come back from it."
Davies says his technique is what makes him stand out. A focus on that is something he's trying to impart to the younger players. That's where he thinks they can individually grow and where the Mater Dei secondary needs to improve if it wants to try to replicate the production of last year's group.
The dynamic defensive back duo is now Davies and rising sophomore Domani Jackson. Both have new responsibilities but are anxious to jump into full-time starting roles.
"We're both ready. We just prepared last year," Davies said. "Played a little bit. We just took the next-person-up [mentality]. We were waiting."
Taking off
College programs have been waiting as well. The 5-foot-11, 165-pound Davies showed good ball skills and the ability to stick to receivers in coverage last season. He came on particularly strong at the end of the season, collecting seven of his 10 pass deflections in the final three games. He finished the season with 25 tackles and one forced fumble.
Colleges wanted to see how he would continue to develop and how he would adapt to a leadership role. They've liked what they've seen from Davies in the offseason. He had a strong spring playing seven-on-seven for Ground Zero and has drawn lots of attention during Mater Dei's practices during the spring evaluation period.
His recruitment has gone from minimal to overload.
Scholarship offers have come in from all over the nation — Big Ten, Big 12, Southeastern, Atlantic Coast and many from the Pac-12 Conference. Davies picked up an offer from Alabama last week, which is one that stands out to the cornerback along with scholarship opportunities from Ohio State and USC and UCLA.
"I'm taking it slow," Davies said. "I'm not letting it get to me. I'm not really thinking about the offers, more so the school and stuff right now."
Getting on campus
Davies and eight family members took an unofficial visit to USC last week. He's taken excursions to Louisiana State and Georgia. He's also been to UCLA many times and has built a connection with Bruins defensive backs coach Paul Rhoads.
"I get to see with coach Rhoads how he runs his defense, what the DBs run and get accustomed to what they do," Davies said. "I was just seeing their playbook and how I can see myself in their system if I were to go there and just keep observing."
Sign up for our daily sports newsletter »
The four-star prospect is also out to prove himself. He's planning to attend one of USC's Elite Camps in June. He's also going to a summer camp at Clemson and possibly at California and Washington.
"Show them that I have the technique and a lot of people try to say that I'm not physical. Show them I'm more physical," Davies said. "I have technique and I'm pretty patient."
Davies is ranked the No. 123 overall prospect in the 2021 class by 247Sports and the No. 8 cornerback in his class.
---