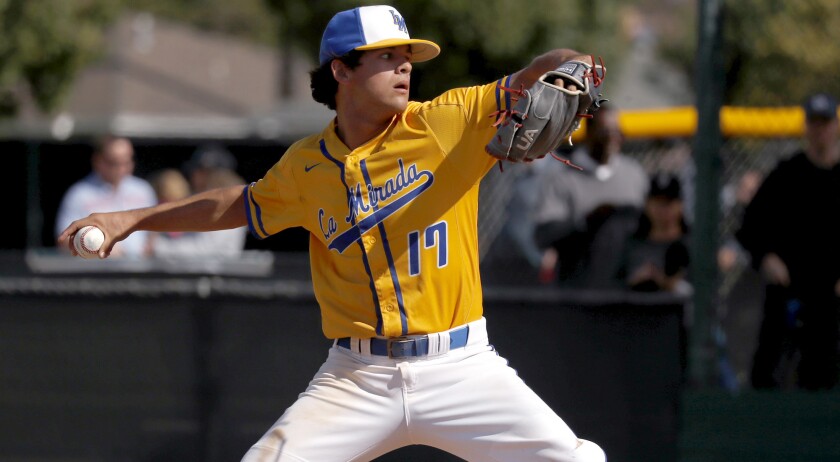 Jared Jones didn't believe the news that his fastball touched 99 mph in a playoff game. He thought people were joking. Then he saw video of the radar gun.
"I was kind of blown away," he said.
His dynamic right arm isn't the La Mirada High junior's only weapon on a baseball field. His hitting is equally impressive. He had a .468 batting average with three home runs and 44 hits for a team that reached the Southern Section Division 1 semifinals.
For his dual role as a pitcher and hitter, Jones has been selected The Times' baseball player of the year in Southland.
As a pitcher, the 6-foot-1, 180-pound Jones had a record of 7-1 with an 0.77 ERA. He struck out 94 in 64 innings while giving up just 24 hits.
He had a perfect game against Bellflower, and it was clear all season opposing teams felt fortunate to get any hits when he was on the mound.
"This is probably one of the greatest experiences I've had doing both," Jones said. "On the mound, I feel I can be anyone I want. For hitting, it takes a little more concentration. I feel like I'm the man. Home runs feel way better than strikeouts."
Sign up for our daily sports newsletter »
While pro scouts are excited to find a 17-year-old right-hander throwing 99 mph fastballs, it's Jones' other pitches that have been important to his success.
He has learned to change speeds on his change-up, and his slider is as good a pitch as you can find at the high school level.
"My slider, I feel, no one could hit all year," he said.
The summer ahead will be important as he prepares for his senior year. He's hoping to play in two national all-star games and make the USA 18U team that will compete in South Korea.
He's also aware many eyes will be focused on him and how he deals with scrutiny and attention. He said he signed more than 100 autographs for fans this season.
Pro scouts have identified him as a player to watch for the 2020 draft and beyond.
"I don't feel pressure when anyone's watching me," he said. "I try to keep it about playing baseball."
Twitter: @latsondheimer
---