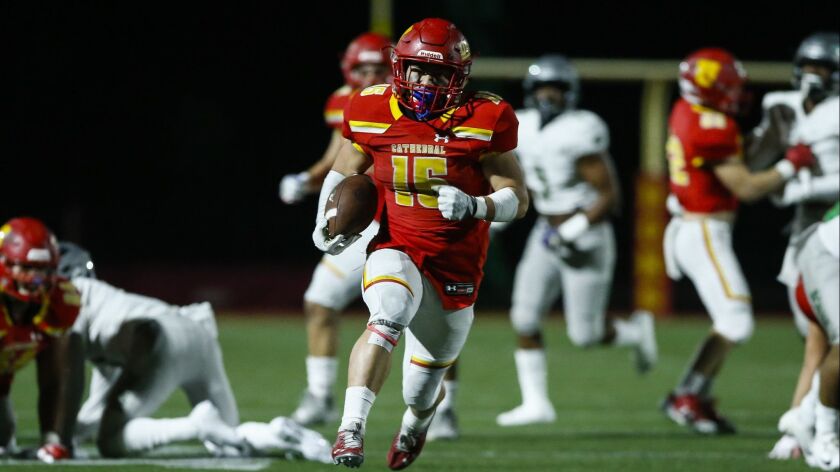 Down by three with 14 seconds left, Harbor City Narbonne had the ball on the 10-yard line trying to complete a remarkable comeback against San Diego Cathedral Catholic in the CIF state Division 1-AA Southern California Regional Bowl game on Friday night in San Diego.
Sophomore quarterback Jake Garcia had been brilliant, passing for 334 yards and two touchdowns. Garcia, in shotgun, tried to connect with Elijah Queen near the goal line. Except there was a miscommunication. Jalen Dye made the interception at the one-yard line with nine seconds left, and Cathedral held on for a 24-21 victory.
"I thought we had it," Narbonne coach Manuel Douglas said. "We were throwing for the end zone, and if we didn't get it, we'd go for the field goal. We battled back and to lose like this is not good."
Dean Janikowski of Cathedral came through with a 40-yard field goal with 1:42 left to break a 21-21 tie.
Narbonne's defense denied the big play and started to be more aggressive in taking on the Dons' offensive linemen in the second half after falling behind 21-7 at halftime. Twice Cathedral was stopped on fourth down deep in Narbonne territory, deciding to go for first downs instead of field goals. That helped the Gauchos launch their comeback.
First Garcia fired a 27-yard touchdown pass to Josh Jackson with 11:27 left to cut the Gauchos' deficit to 21-14. Then Brionne Penny scored on a one-yard touchdown plunge with 6:05 left to complete a 69-yard drive and tie the score.
With 3:35 left, the game was delayed when Jordan Berry of Narbonne went down with an injury. He apparently was in and out of consciousness but was able to move parts of his body. Paramedics were called and a stretcher brought onto the field. Both teams came onto the field to surround the ambulance as Barry was placed inside following about a 15-minute delay. Both teams were given five minutes to warm up after the delay.
The officials originally ruled that Narbonne had recovered a fumble at the 41-yard line. Then they reversed themselves, giving the Dons the ball and a third-and-six situation. Narbonne was immediately whistled for a facemask penalty, putting Cathedral in field goal position.
Shawn Poma, 5 feet 7, 190 pounds, looked like a human bowling ball as he twirled and powered his way forward in Cathedral Catholic's wing-T offense. Narbonne couldn't stop him two years ago when he ran for 175 yards and four touchdowns as a sophomore.
Poma was back at it, terrorizing the Gauchos once again. He had 164 yards rushing by halftime, and both of his touchdown runs of 33 and 80 yards left the Narbonne defense unable to catch him after being fooled. He finished with 246 yards rushing.
Narbonne had trouble with trap plays. The Dons scored on a 33-yard run from Poma in the first quarter on fourth down. Narbonne closed to 14-7 on a 29-yard touchdown pass from Garcia to Queen, but Poma broke loose on an 80-yard run.
Twitter: @latsondheimer
---