Narbonne's Jonah Tauanu'u brings agility to his blocking prowess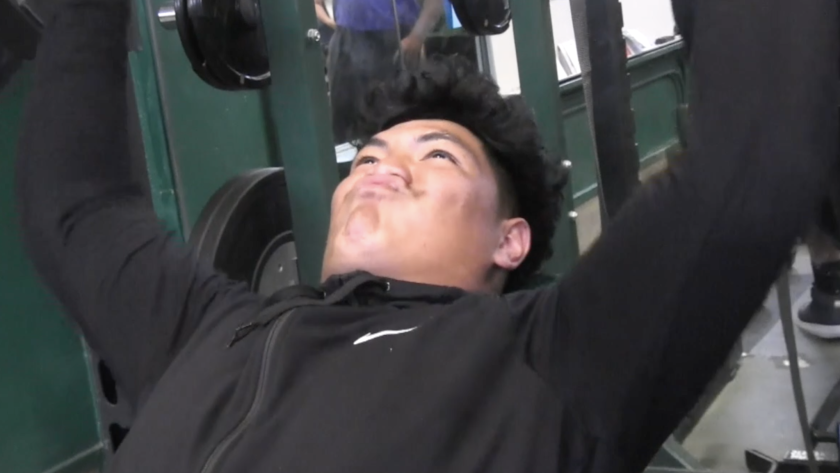 Massive is the definitive word to describe 6-foot-6, 315-pound Jonah Tauanu'u of Harbor City Narbonne.
He wears size 16 shoes and fills the doorway of the weight room. He's so big the Double-Double at In-N-Out Burger is too small for him. He orders the Four by Four off the "secret menu" — four beef patties and four pieces of cheese. It takes more than one Four by Four to satisfy his appetite. Then he's happy.
He's the starting All-City left tackle for Narbonne's offense. A year ago, he was pummeling those who got in his way, whether trying to rush the passer or go through him to make a tackle.
Considering his agility, athleticism and tenacity, it's not a very pleasant feeling to see him in the way.
"He's probably the most athletic lineman we've had," coach Manuel Douglas said. "We had Alex Akingbulu at UCLA. He was athletic but light in the frame. This kid has been always thick and can move."
Tauanu'u didn't play football until he reached high school. He was too big for youth football. He attended Garden Grove Rancho Alamitos as a freshman but rarely saw action on the freshman team. He does remember the moment football became fun.
"I got the running back, picked him up and threw him down," he said. "Everybody got hyped and I was like, 'I can do this.' "
He showed up at Narbonne thinking he was a tight end. Douglas saw how big he was but wanted him to figure out his future.
"I knew he was a left tackle immediately," Douglas said. "I let him live the tight end dream for a while. At some point, I had the conversation, 'You're kind of the outdated tight end.' He can do a lot of things but I just knew with his size his future was left tackle."
Asked if he has come to terms that he's a blocker first, Tauanu'u says, "Yes sir."
Offensive lineman is massive and productive
He has received more than 40 college scholarship offers. To see him pull on a sweep and lead a Narbonne running back down field is quite a sight.
"When you see that first person and you have a quick second to hit him before he hits you ... it's fun," he said with a big grin.
He's left-handed, so it makes it difficult for someone to rush from the end and get around him. He's very good about figuring out angles and using his strength.
"I don't base it on whether you're a big or little guy because there's little guys better than big dudes," he said.
In the weight room, he makes 25-pound weights look like rubber bands. He turns 17 this month, so there's more strength and more size to come. He still hasn't gotten totally out of his system the idea that he can be a tight end.
"I still feel I could be a tight end, but I'm a left tackle," he said.
He's hoping Douglas has a special play for him this season so he can show his catching or passing skills, so watch out for a trick play.
TOP OFFENSIVE LINEMEN TO WATCH THIS SEASON
Name; School; Ht.; Wt.; Yr.; Comment
Josh Carlin; Sierra Canyon; 6-5; 290; Sr.; Should be key blocker for Trailblazers
Jeminai Leuta-Ulu; Servite; 6-4; 295; Jr.; Ready to become standout
Drake Metcalf; St. John Bosco; 6-3; 265; Jr.; Has grades, agility, toughness
Myles Murao; Mater Dei; 6-3; 280; Jr.; Was terrific on 15-0 team last season
Jonah Tauanu'u; Narbonne; 6-6; 315; Sr.; A dominant blocker with agility
Sean Rhyan; San Juan Hills; 6-5; 300; Sr.; Setting the standard for excellence
Jason Rodriguez; Oak Hills; 6-6; 315; Sr.; USC commit is big, athletic and aggressive
Marist Talavou; St. John Bosco; 6-3; 305; Sr.; Offensive guard committed to Utah
Wyatt Terlaak; El Modena; 6-4; 325; Sr.; Much improved tackle
Dohnovan West; Alemany; 6-4; 290; Sr.; Top blocker from Mission League
Others
Alec Bank; Tesoro; 6-5; 270; Sr.; Ivy League wants him
Kyler Branim; SO Notre Dame; 6-4; 245; Sr.; Left tackle with good strength
Jake Cossavella; Orange Lutheran; 6-4; 260; Sr.; Smart, strong, agile
Andrew Ueli-Faatoalia; La Habra; 6-3; 295; Jr.; Young blocker with big potential
Sataoa Laumea; Eisenhower; 6-4; 310; Sr.; One of the stars of summer camps
Dorsett Manning; Arcadia; 6-5; 235; Sr.; Has strength for Pacific League favorites
Jacob Nunez; Lompoc; 6-4; 270; Jr.; A rising young blocker
Brandon Schillig; Santa Margarita; 6-5; 255; Sr.; Tackle plays with relentless attitude
Twitter: @latsondheimer
---
Get our high school sports newsletter
Prep Rally is devoted to the SoCal high school sports experience, bringing you scores, stories and a behind-the-scenes look at what makes prep sports so popular.
You may occasionally receive promotional content from the Los Angeles Times.