Column: Southern California honors its best and brightest prep student athletes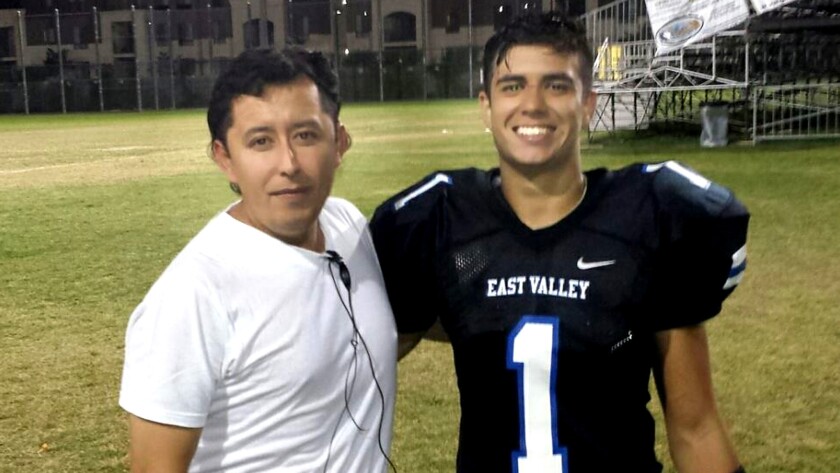 This is the week when local chapters of the National Football Foundation and College Hall of Fame honor high school scholar athlete award winners at banquets in Riverside, Orange County, Los Angeles, Pasadena and Studio City.
It's the moment when character trumps hype and grade-point average beats out campus fame.
The honorees are so distinguished for what they've accomplished on and off the field that asking for an autograph would be appropriate, because you never know who's going to be the next doctor, lawyer, soldier, fireman, scientist, engineer, politician, teacher, businessman or NFL player in the group.
Reading their resumes makes you forget that there is madness in the world.
There's Brandon Coll, a linebacker from Westlake Village Oaks Christian. He has been president of the school's Special Olympics/Project Unify Club since his freshman year. With a 4.2 GPA and headed to the University of Chicago, Coll has helped open the eyes of his fellow students to the magic of giving back.
He was introduced to volunteer work in eighth grade and plunged ahead with hour after hour of community service. This past year, he helped raise funds to sponsor a group of Cuban athletes for the World Games. This month, he organized the club's annual basketball/aquatics competition.
"I see what some of these kids have to go through and they have smiles on their face," he said. "It teaches me to become a better person and appreciate all the things I have in my life."
There's Noah Hoffmann, a linebacker from Thousand Oaks with a 4.38 GPA. His senior research project is to determine "whether rockfish that experience barotrauma can survive if properly released."
On weekends, he goes out on the ocean tagging fish as part of his research. He also makes time to play rugby, referee youth basketball and serve as a math tutor.
There's Mike Mapes, a linebacker from Studio City Harvard-Westlake. His coach, Scot Ruggles, said, "He just understands what leadership is. He's 5-9, 170 pounds soaking wet and started since freshman year. Kids would run through a wall for him."
Mapes went to Rwanda as a sophomore and helped produce an award-winning documentary on a survivor from the 1994 genocide.
There's receiver Eric Markes of Chatsworth Sierra Canyon. He's headed to the Ivy League to play for Pennsylvania. He has a 4.58 GPA and helped tutor students at a summer Bible camp.
"He's one of the most amazing kids," Coach Jon Ellinghouse said.
Los Angles Loyola has four honorees — David Long (Michigan), Kelly Blake (Stanford), Kevin Quisumbing (Tufts) and Noah Utley (Army). From being great students to great teammates, they set the example for what you want to get out of your high school experience.
The San Fernando Valley chapter has an award for most improved GPA. This year's recipient is running back Joseph Hernandez of North Hollywood East Valley. His GPA the first semester of his sophomore year was 1.8. Then he joined the football team as a junior. Last fall, his GPA was 4.0.
"Football taught me leadership, and I fell in love with the sport," he said. "I wanted to have this drastic change so I could give myself a chance to have some way to get into college."
At a time when some college coaches get fired even with 100% graduation rates, this is the week to truly appreciate "student athletes."
Twitter: @LATSondheimer
---
Get the latest on L.A.'s teams in the daily Sports Report newsletter.
You may occasionally receive promotional content from the Los Angeles Times.