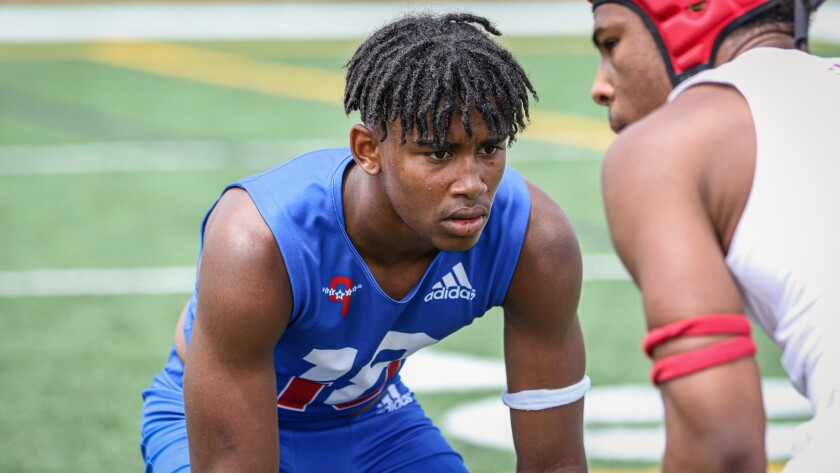 The road to significant playing time for Orange Lutheran receiver RJ Regan was going to be nearly impossible.
Entering last season, the sophomore was behind five-star senior wideout Kyle Ford, senior Jojo Hawkins, who is headed to Princeton, and junior four-star prospect Logan Loya. The Lancers also had a pair of four-star tight ends they could line up outside for mismatches.
But at cornerback, Regan had opportunities.
"Our receiver position was stacked," he said, "so I decided to go to corner since KJ [Trujillo] and DeShawn [Craig] were the two starters and if they got hurt, there wouldn't be anybody to step up, so I took the job."
Regan had never played the position but quickly took to it. He was learning on the job, but every repetition in practice was a chance to get better. He was facing off against a diverse set of athletes who were teaching him how to defend against top receivers, which is the task he'll face in the fall with Trujillo and Craig having graduated.
Ford was physical at the line of scrimmage, used his body to create space and could high-point the ball for a catch even if the coverage was good. Regan learned to play through the whistle and always anticipate a quarterback throwing the ball his way, even if he had good position.
Loya and Hawkins were explosive out of their breaks. Loya knew how to change speeds in the middle of a route to lull a defensive back to sleep. Regan had to be prepared to change directions and worked on flipping his hips to keep track of all their cuts.
"In practice, when I practice with them every day, like in one on ones and stuff, they helped me a lot," Regan said. "They prepared me for other receivers."
Regan's coverage skills quickly improved over the last year and his recruitment has taken off as he simultaneously had a growth spurt. He's surpassed 6 feet and is hoping he'll get to 6-2, an ideal size at cornerback.
Heading into the summer before his junior season, Regan already has six scholarship offers and likely will add more. He hasn't fully enveloped himself in the recruiting process, but he's begun to take some unofficial visits. He's made stops at Louisiana State, Utah, Utah State and Oregon and was extended a scholarship offer by each after meeting the coaching staffs. He's also been to Nevada Las Vegas and UCLA.
Oregon brings the hype
The trip to Oregon stood out to Regan because of the energy and hype exuded by the coaches and players. He was there for the Ducks' spring game and came away impressed.
"The atmosphere was really nice. It was really crowded too, and the coaches were hyped like every single play," Regan said. "All the players over there, they're all hyped every single second."
Sign up for our daily sports newsletter »
The coaching staff has recruited him differently than other out-of-state schools. Though he still has 1½ years before he can sign with a college, the Ducks are very active in recruiting him and doing it personally.
"It's not like the other schools in other states and how they recruit down here a lot," he said. "They actually want to interact with you a lot, so they come down here themselves and talk to you and help you visit Oregon."
Personal interaction has stood out to Regan when schools have visited Orange Lutheran and when he's been on the road. On his visits, he's looking to learn about the schools' academic programs, but also how the football coaches interact in person and how they value their players.
"How do they treat their players overall? Like how they feed them or take care of them financially 'cause some schools give you a stipend," Regan said.
---