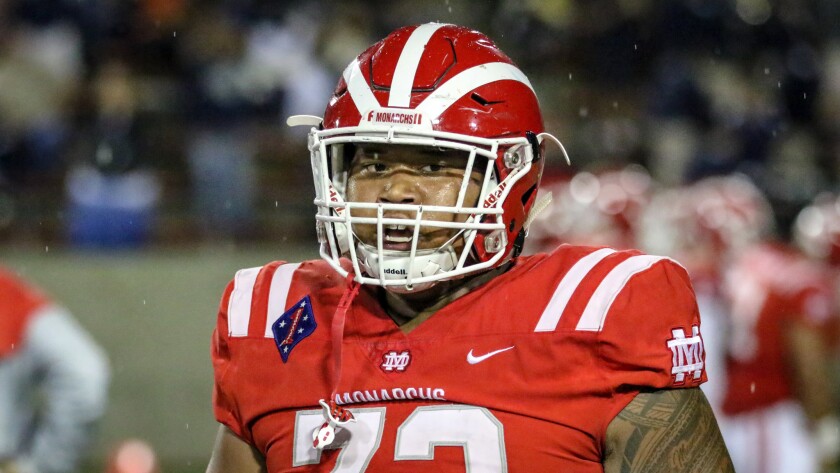 Santa Ana Mater Dei High has produced numerous college offensive linemen over the last five years. At least nine Monarchs have continued their football careers at the next level during that time.
Tai Marks hopes to be the next and if his performance Saturday at the Opening Oakland regional was any indication, he's well on his way. Marks was selected as the camp's offensive lineman MVP.
"It's actually, surprisingly my first MVP in all my years playing o-line at camps, so it feels good for the first time," Marks said. "All the work we put in. Early mornings, late nights. It went good and I had a good day, so I feel good."
Marks earned the honor with his ability to stay low while still displaying power from the interior lineman positions. He felt he was able to keep his hands and feet in unison throughout the day while participating in drills at center and guard.
The 6-foot-3 lineman, who said he weighed in at 289 pounds on Saturday, is being recruited at both spots. Some schools see him snapping the ball while others think he's best suited to be a road-grading guard leading the way on run plays. Marks has no problem playing both. Some coaches think he has the versatility to be moved around as needed.
He has picked up scholarship offers from five schools. Four of those have been from Mountain West programs, including offers on Thursday from Utah State and Wyoming.
The offer from Utah State is one of two that stand out for Marks. The Aggies caught his attention when offensive coordinator Mike Sanford told him there's a chance Marks could play as a freshman.
"It kind of hit me hard," Marks said. "He was basically saying I have a chance to play, if I work for it freshman year. Ever since then, they've been in the back of my mind."
Nevada Las Vegas is the other offer that holds extra weight for Marks. He had a big smile on his face after receiving the offer following his attendance at the Polynesian Bowl combine in Las Vegas.
Working for more
"I think the offers are good, but it's humbling," Marks said. "It's for sure pushing me to get more. I want to get SEC. I want to start moving. I want to open up Pac-12. Not in a cocky way, just in a more of like I'm hungry; I'm ready to work."
To attract the attention of Power Five programs, Marks said he needs to showcase his athleticism.
"Coaches in the South want to see more bend," he said. "That's what they said. More bend in the knees, more pulling from center, from guard and from tackle, so they want to see that. Then I had dropped weight for them. That's something they wanted to see and I did that."
Marks said his plan is to make a commitment before his senior season this fall. Otherwise, he said he'll wait until the end of the recruiting cycle leading up to national signing day.
Murao returns
Marks moved from the interior to left tackle at the end of the regular season and helped protect the blindside of five-star quarterback Bryce Young throughout Mater Dei's run to a CIF Open Division state championship. The move was precipitated by a severe lower leg injury to Myles Murao on Oct. 19.
Murao, a four-star prospect ranked No. 59 in the 2020 recruiting class, per 247Sports' composite rankings, returned to the field Saturday for his first action in a camp setting.
"He's back now and he's going to be better than ever, I promise," Marks said of Murao. "He's hungry. People call him mean, but he's a dog and every second he's going to be in your face. And I like that. I love playing next to him. You just don't want to play across from him."
---