Harvard-Westlake duo of Drew Bowser, Pete Crow-Armstrong make impact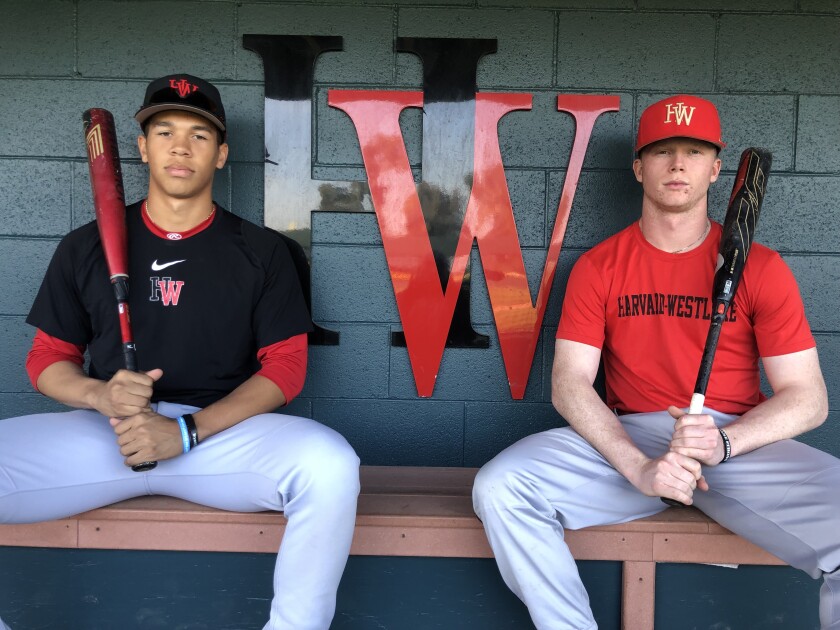 Harvard-Westlake is expected to score lots of runs in baseball this season, and the Wolverines' 11-3 season-opening, six-inning win over Mira Costa on Thursday was a reminder how productive they might be.
Leadoff hitter Pete Crow-Armstrong contributed two doubles and No. 3 hitter Drew Bowser hit a three-run home run to help the Wolverines come back from a 3-1 deficit. Mira Costa received a two-run home run from Nick Bacura and a solo home run from Dylan Knowles. But Harvard-Westlake's firepower was just starting, and Mira Costa didn't help matters by committing five errors.
Jack Hassett threw 3 2/3 innings of scoreless relief for the Wolverines, allowing one hit to pick up the victory.
Thousand Oaks 6, El Camino Real 1: The Lancers (3-0) advanced to the semifinals of the Easton tournament. Michael Weilakala had two hits and three RBIs and Scott Ellis added two hits. Ellis threw a complete game, striking out five while allowing three hits.
Cleveland 2, Quartz Hill 0: Braden Lowe struck out five in 5 1/3 innings and Malakai Correll got the save to help the Cavaliers improve to 3-0. Esteban Perez and Bobby Velasco each had two hits.
Hart 5, Camarillo 4: Matt Quintanar had two hits and helped ignite a two-out, two-run rally for the Indians (3-0), scoring the winning run on a walk-off passed ball. Quintanar is seven for 13 in three games. The Easton tournament semifinals on Saturday will have Hart at Cleveland and Thousand Oaks at Sierra Canyon.
Sierra Canyon 7, Dos Pueblos 1: The Trailblazers (3-0) received two hits apiece from Zach Freeman, Jaden Noot, Ryan Mittleman and Luca Rubin.
Loyola 8, Gahr 0: Derek Yoo struck out nine and walked none in six innings. Kevin Parada had three RBIs.
Newbury Park 6, Grace Brethren 2: Jake Read struck out five in 6 1/3 innings for the Panthers.
Oaks Christian 11, Simi Valley 6: Finley Buckner contributed three hits for the Lions. Sebastian Sarabia was four for four to lead Simi Valley.
Mission Viejo 7, Esperanza 3: Clay McCorgary and Will Burns each had two hits for Mission Viejo.
Chatsworth 1, Calabasas 0: Sophomore Jose Ruedas threw the shutout and Aaron Ruvalcaba had the game-winning RBI.
Kennedy 3, Alemany 0: Bruno De Leon threw six shutout innings. Manolo Tafolla, Jonathan Gonzalez and Alex Olevera finished with two hits each.
Damien 3, King 2: Armando Pena had the walk-off hit in the eighth for Damien.
JSerra 4, Corona 0: Gabe D'Arcy hit a home run, Cody Schrier had two hits and four pitchers combined on a one-hitter for the Lions (3-0).
Crespi 11, Saugus 8: Nico Azpilcueta had three RBIs for the Celts.
Granada Hills 3, St. Bonaventure 2: Zach Perez threw two shutout innings of relief to pick up the win.
Laguna Beach 10, Brea Olinda 0: Jackson Yelland allowed two hits in six innings and struck out four.
Huntington Beach 6, Temecula Valley 3: Thomas Babineau threw four shutout innings, striking out four.
Bishop Amat 5, Temecula Valley 3: Adrian Verduzco finished with three hits and two RBIs.
Summit 3, Etiwanda 0: Cristian Enriquez struck out six in five innings and went three for three to lead Summit.
Trabuco Hills 14, Paramount 5: Marcus Weinzimer had a grand slam and Jake Naso went three for three.
St. Francis 10, La Canada 4: Sophomore Kiko Robles had three hits and two RBIs.
Cerritos 8, Northwood 3: Jacob DeLaRosa hit a three-run home run for Cerritos.
Mary Star 15, Dominguez 0: Marco Ibarra hit a two-run home run.
Birmingham 5, Poly 2: Chris Romero struck out 11 for the Patriots.
Chaminade 5, Oxnard 0: Sophomore pitcher Aric Berg threw the shutout with eight strikeouts. Maddox Latta had three hits and three RBIs.
Valencia 6, Agoura 4: Steven Gonzalez hit a walk-off two-run home run.
Palm Desert 4, Mater Dei 3: The Monarchs lost in 12 innings. Andrew Chorbagian went three for five.
Viewpoint 15, Monroe 2: Will Lashever struck out eight.
---
Get our high school sports newsletter
Prep Rally is devoted to the SoCal high school sports experience, bringing you scores, stories and a behind-the-scenes look at what makes prep sports so popular.
You may occasionally receive promotional content from the Los Angeles Times.