Girls' basketball: Ontario Christian's Chloe Briggs breaks Cheryl Miller's career points record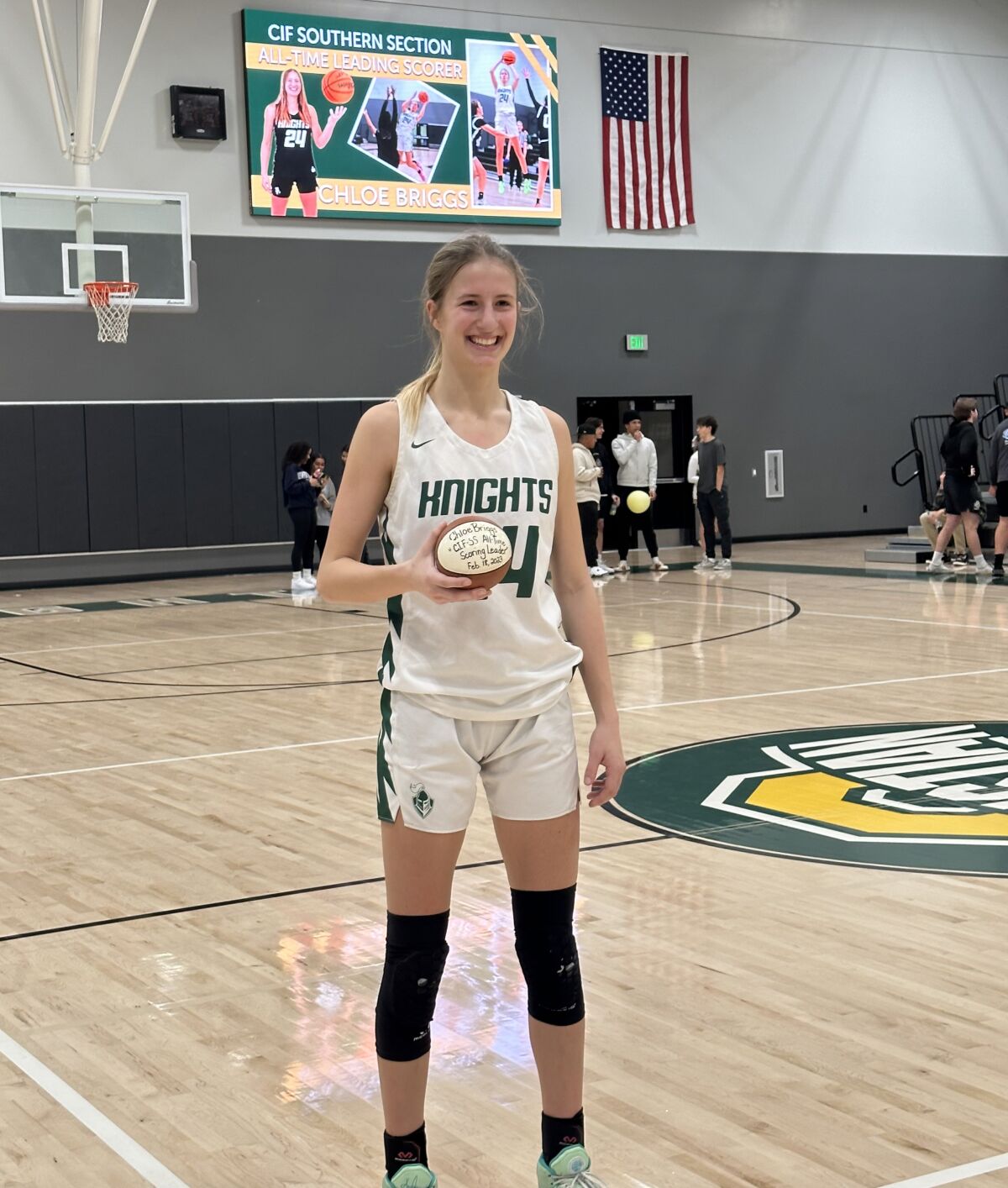 A perfect storm led here, to one night in Ontario in front of a small crowd, a high school girl wearing a hoodie and a dazed smile sitting an hour after the layup that wrote her name into history.
Southern California has produced some of the greatest girls' basketball talent the world has seen. Think of Inglewood Morningside's Lisa Leslie or Chino Don Lugo's Diana Taurasi. The gold standard is former Riverside Poly and USC great Cheryl Miller, who set a Southern Section record for most points in a career that had yet to be broken for 40 years.
Until Friday night at Ontario Christian. Until four-year senior and Washington commit Chloe Briggs grabbed a fourth-quarter rebound in a tight game against Torrance Bishop Montgomery, heard her student section chanting "His-to-ry," and decided now was the time.
"I'm like, 'I'm going to get a bucket,'" Briggs said postgame. "'This is it.'"
From the left wing above the three-point arc, the left-hander dipped into her bag for a James Harden-type isolation play, hypnotically crossing between her legs before snatching the ball back in a left-right cross, gathering in the lane and lofting a floater off glass that bounced around the rim. As it dropped, coach Matt Tumambing raised his arms in celebration and called timeout, Briggs' teammates mobbing her at half-court.
With that make and 42 points in a 74-70 win Saturday night, Briggs eclipsed Miller's record of 3,446 points, pulling ahead to 3,458 points and counting.
"I don't think anyone's going to come close to it for a while," Tumambing said. "I think it takes a lot of longevity, a lot of playoff games."
And therein lies the perfect storm, the moment that's special for not just Briggs but high school sports in general. She arrived at a school of 400 kids as a singularly great talent, averaging 33.8 points per game as a freshman on an Ontario Christian team that played in Division 4AA.
In today's landscape, that player might transfer elsewhere. Briggs stayed, and for four years took her team up a playoff level each year in the Southern Section until they reached the Open Division this season.
"Before Chloe Briggs, no one knew who Ontario Christian was," Tumambing said. "Generations to come are going to want to come here because of what she's done."
High school girls' basketball: Southern Section semifinal results and championship schedule.
The coach has been more invested in Briggs' record chase than she has, he admitted, and has been tracking her progress all season. She came into Saturday's matchup with Bishop Montgomery 31 points away, squarely within reach but in need of a strong game.
Briggs was actively trying to avoid thinking about it. They just needed a win. Yet Tumambing talked with the coaching staff about running a few extra sets for her early, and she got going with 14 points and a string of three-point plays in the first quarter. By that point, Briggs knew.
The celebration planned, Briggs said postgame, was simple: her teammates were all coming over to her house that night to sleep over. A program cornerstone, through and through.
"It was a special moment," Briggs said, "that'll be in my head forever."
Championships on the line
Anyone paying attention to girls' basketball in the Southern Section was waiting for Chatsworth Sierra Canyon and Etiwanda to advance to a rematch in the Open Division final this Saturday. After Sierra Canyon dispatched Newport Beach Sage Hill and Etiwanda outlasted Santa Ana Mater Dei last Saturday night, they'll meet again in a scintillating private-vs-public school matchup this weekend at Honda Center.
Two other championship games of note:
—L.A. Marlborough (22-8) is in the Southern Section Division 1 finals for the first time in program history, a fact that had head coach Sixx Johnson rubbing his eyes with disbelief as soon as he woke up Sunday morning. Sisters Bella and Lauren Munoz share the backcourt in support of senior center Autumn Hill, a 6-foot-3 force in the middle who rejected eight shots in a semifinal win over Fullerton Rosary. The Mustangs will play Orange Lutheran for the title Friday or Saturday at Honda Center at a time to be determined Monday.
High school basketball: City semifinal results and championship schedule.
In the City Section, Sun Valley Poly (22-5) advanced to the Division I final behind twins Hannah and Heart Lising. The two grew up in the Philippines, and came to America for high school as most of their extended family remains in their home country; now, they're on a unique journey to pursue college hoops. The Parrots will play LACES in the title game on a date (Thursday-Saturday) and time to be determined Monday.
Get our high school sports newsletter
Prep Rally is devoted to the SoCal high school sports experience, bringing you scores, stories and a behind-the-scenes look at what makes prep sports so popular.
You may occasionally receive promotional content from the Los Angeles Times.