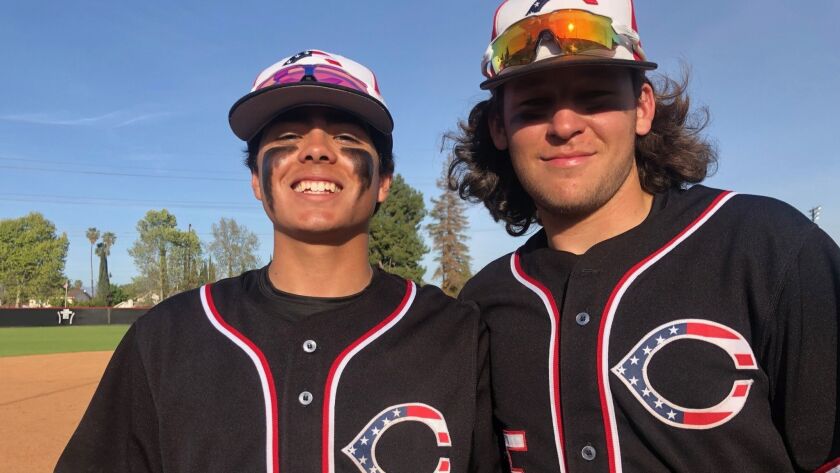 Junior center fielder Adrian Gonzalez of Reseda Cleveland showed this week he's not only going to be an All-City player but could be much more.
"If that kid keeps playing like that, he should be the MVP of the league," Birmingham coach Matt Mowry said.
Cleveland (9-6, 2-0) put together a near flawless two-game performance to start West Valley League play and completed a sweep of the Patriots with a 6-0 victory on Friday at Cleveland.
Gonzalez, the fastest player on the team, went five for six at the plate over the two games and caught eight fly balls on Friday. Mowry had seen enough after Gonzalez hit a double and single. He ordered him intentionally walked in his final two at-bats.
Third baseman Alec Garcia was as impressive defensively as Gonzalez. He had three spectacular assists on ground balls and also contributed two singles and a double to support stellar relief pitching from freshman Braden Lowe, who limited Birmingham to three hits and no runs in 5 2/3 innings.
"I don't know if we played bad or they're just a very good team," Mowry said.
Credit Cleveland coach Sid Lopez for the Cavaliers showing their real team this week. For the opening month, Lopez insisted he was experimenting with lineups and pitching rotations. Last season the Cavaliers started 3-8 and won the league. So ignore the early losses to not so great teams. This week, it was go time, and the Cavaliers delivered. Their entire hitting lineup is made up of juniors.
"We fully trust each other," Gonzalez said.
"We got each other's backs," Garcia said.
Freshman Chris Romero didn't pitch poorly for Birmingham, but the Patriots struggled executing at the plate. Lopez thought Lowe and his curveballs could be effective, and he was right. Birmingham kept hitting balls at perfectly positioned fielders. Birmingham (8-6, 0-2) is in a slump that might not end soon. The Patriots face Thousand Oaks on Saturday and then open play in the National Classic next week in Orange County.
As for Gonzalez, he's batting .375 and loving every opportunity to use his speed in center field.
"They kept hitting the ball right to me," he said.
That's an automatic out the way he's playing.
Sign up for our daily sports newsletter »
---