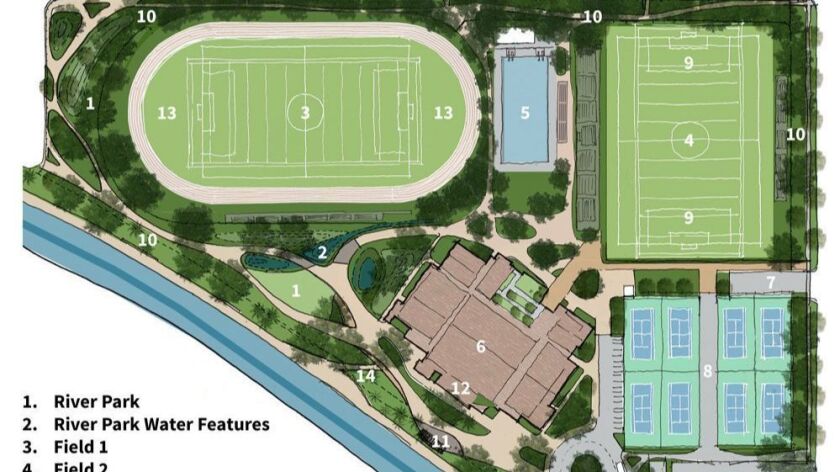 Harvard-Westlake has released its first draft plan for new athletic facilities on a 16-acre site bounded by Whitsett Avenue and the Los Angeles River in Studio City. The school purchased the site in 2017 for a little more than $40 million. It currently hosts the Weddington Golf & Tennis facility.
Named River Park and down the street from the main campus on Coldwater Canyon, the site will include two lighted all-weather playing fields, a main gym, locker rooms, swimming pool, tennis courts, underground parking, six acres of public plazas, a walking and jogging trail. There is no golf area in the first draft.
The purchase two years ago came after the school dropped controversial plans to build a new parking structure across from its main campus. It faced strong community opposition. The new proposed facilities are not designed to solve campus parking issues, according to school spokesman Ari Engelberg.
"This is entirely about increasing the capacity of our athletic facilities so we can get kids home earlier,'' Engelberg said.
As for parking on campus, the school has increased use of school buses and subsidies while also charging more for school parking in an attempt to decrease demand.
The school will use shuttle buses in the afternoon when the new facilities open but it won't be used for students to park in the morning.
The school will continue to meet with community members for feedback, Engelberg said. The school is hoping construction can begin in two years.
Sign up for our daily sports newsletter »
---