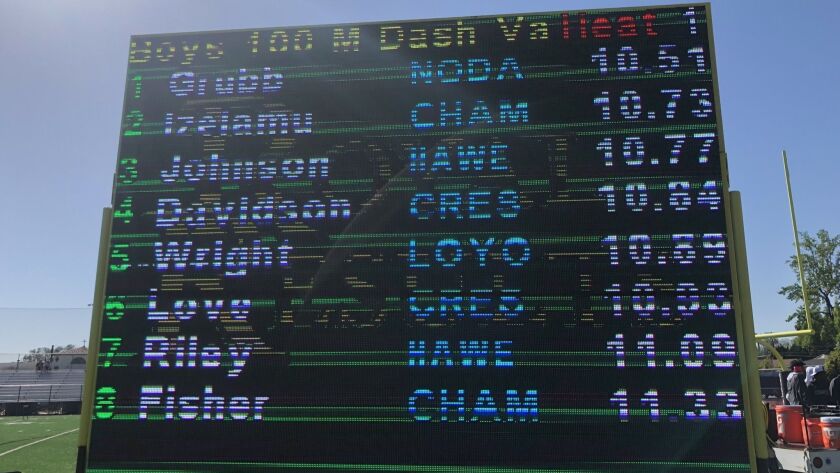 "Fast."
That was the word of the day for Sherman Oaks Notre Dame coach Joe McNab when asked what time he thought 100-meter runner Christian Grubb might run on Wednesday at the Mission League track and field finals.
"Fast" ended up as the word to describe the entire 100-meter race. Six athletes broke 11 seconds, led by state 100 favorite Grubb, who cruised to a time of 10.51 seconds. In second place was Chaminade freshman PJ Ize-Iyamu, who ran 10.73 and showed he might be the heir apparent to Grubb. Another freshman, Evan Davidson of Crespi, ran 10.84. Sophomore Ceyair Wright of Loyola was fifth at 10.89.
It shows the present and future is bright in the Mission League, where Grubb is so fast that he said afterward, "I pushed myself, but I know I could have gone faster."
Grubb also won the 200 in 21.21 seconds and went 47-8 in the triple jump.
Brayden Borquez of Harvard-Westlake was another double winner. He took the 400 in 47.57 and placed first in the 300 hurdles in 39.07. He also ran a leg on the winning 400 relay team.
Quintin Lyons of Notre Dame set a personal best in the shotput with a mark of 61-1½, the first time he has surpassed 60 feet. The all-league football lineman trains under Nick Garcia, who's had six consecutive seasons of Mission League champions in the shotput. "It means I'm ready to move on and get where I needed to be," Lyons said.
Matthew Molina of St. Francis continued his domination in the 110 hurdles, repeating as champion with a time of 14.87 seconds. He also cleared 6-5 to win the high jump. Loyola's Anthony Stone took the 1,600 in 4:19.48.
In the girls' ranks, Harvard-Westlake has a rising sister duo in Natalia and Daniela Quintero. They finished one-two in the 1,600. Natalia won in 5:13.29 and Daniela ran 5:14.06. "We want to help each other win," Daniela said.
Bailey Umans of Chaminade ran 56.89 to win the Sunshine League 400. Junior Jazmin Jackson of Chaminade won the 100 hurdles in 14.91 seconds, more than three seconds faster than the second-place finisher.
Sophomore Madison Dietz of Notre Dame won the 200 in 25.18.
Qualifiers will advance to the Southern Section prelims in two weeks.
Sign up for our daily sports newsletter »
Sophomore WR-DB Ceyair Wright of Loyola says he's running track to prove people about his speed. He just ran 10.89 100 meters. Without much practice. Beware. pic.twitter.com/1bUfU3zJWe

— eric sondheimer (@latsondheimer) April 17, 2019
---