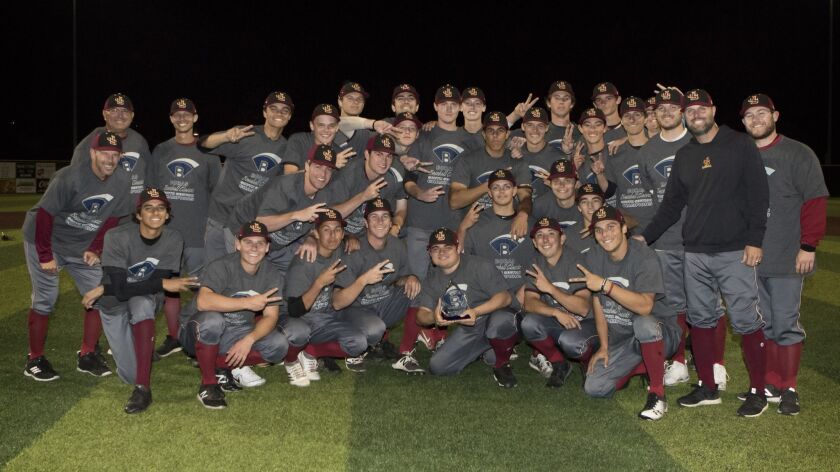 After going 0-5 during a road trip in Alabama in early March, JSerra baseball coach Brett Kay decided his team needed to get back to working on fundamentals.
The Lions have gone 9-3 since, and they came away on Friday with their second consecutive South division championship in the Boras Classic with an 8-1 victory over La Mirada at JSerra.
In winning four straight tournament games against quality opponents, JSerra continued to display its exceptional pitching depth. Gage Jump started and threw two shutout innings, followed by two shutout innings from Ryan Sveningson. Jared Glenn also performed well in relief. La Mirada was limited to two hits.
Offensively, Blake Klassen, Jake Taylor and Colby Canales each had two hits for the Lions (13-8).
JSerra will play the North Division champion next month to decide the overall Boras Classic champion.
Orange Lutheran 1, Cypress 0: The Lancers won the consolation title. Four pitchers combined on a one-hitter. Orange Lutheran scored the game's only run on an error in the bottom of the sixth.
Corona 2, Rancho Bernardo 1: Ramsses Fierro had a pair of two-out RBI singles to lift Corona. Damian Torres, DJ Wolfe and Josiah Garcia combined to give up one run.
Ayala 8, Mira Costa 2: Dylan Cook went four for four and Cole Koniarsky, Luke Solis, Sean McLeod and John Pappas each had two hits to lead Ayala. Nick Carpino and Dylan Dennis finished with three hits each for Mira Costa.
Huntington Beach 3, Etiwanda 1: Jake Vogel had three hits for the Oilers.
Simi Valley 3, Maranatha 1: Justin Campbell struck out seven and allowed two hits in a complete game.
Yucaipa 8, Sherman Oaks Notre Dame 7: Julian Alvarez and Danny Garcia each had three RBIs for Yucaipa. Diego Baqueiro homered for Notre Dame.
Mater Dei 13, Great Oak 5: Skye Selinsky hit two home runs and Grady Birmingham and Alonzo Tredwell also homered in Mater Dei's victory.
Marina 4, Corona del Mar 0: Cory Lewis threw the shutout and pinch-hitter Chase Hennessy delivered a walk-off grand slam in the seventh.
Muir 5, Arcadia 4: After 15 consecutive victories, the Apaches suffered their first defeat in a Pacific League game. Brandon Nguyen hit a three-run home run to cut a 5-0 deficit.
Pasadena 6, Burroughs 1: Christian Zambrano had two hits and three RBIs. Justin Gutierrez struck out 10 in six innings.
Crescenta Valley 16, Hoover 0: Noah Maddox and Colby Larin combined on a five-inning no-hitter. Colby Rees had three hits and three RBIs.
St. Bonaventure 12, Foothill Tech 2: Dylan Gray contributed four hits and three RBIs and Jake Saum added two hits and three RBIs.
Laguna Beach 10, Newport Harbor 7: Charles Pillsbury finished with two hits and three RBIs.
Los Alamitos 6, Edison 2: The Griffins scored five unearned runs in the first inning and made it hold up. Blake Morton had a two-run home run for Edison.
Damien 4, Upland 2: The Spartans got a three-game sweep of Upland to increase their winning streak to nine games. Jason Flores had two hits and two RBIs.
Aliso Niguel 10, Servite 7: David LeBoida and Evan Fitterer each had three hits for Aliso Niguel. Mikey Santos went three for three to lead Servite.
Capistrano Valley 2, Dana Hills 1: Tim Scarlett threw a complete game with five strikeouts and no walks.
Newbury Park 4, Thousand Oaks 2: The Panthers handed Thousand Oaks its first Marmonte League defeat. Myles Weiss threw a complete game and Gavin Williams, Max Flame and Nick Leehey each had two hits.
Oaks Christian 9, Westlake 2: Brandon Madrigal allowed four hits in six innings and Rhylan Thomas went three for three.
Trabuco Hills 12, San Juan Hills 6: Ryan Ball had four hits for Trabuco Hills.
St. Francis 8, Crespi 3: Tommy Italia hit a two-run home run for St. Francis. Jake Smith added two RBIs.
Harvard-Westlake 10, Chaminade 8: Drew Bowser had a home run and four RBIs for Harvard-Westlake. Maddox Latta had four RBIs for Chaminade.
Loyola 14, Alemany 3: Connor Roggero had four hits and three RBIs and Brendan Nolta finished four for five to lead the Cubs in the Mission League game.
Valencia 4, Hart 0: The Vikings improved to 9-1 in the Foothill League. Mitchell Torres threw five shutout innings and also had two hits.
Canyon 4, Saugus 1: Charles Harrison pitched the Cowboys to victory.
Gardena Serra 7, La Salle 2: Kelvin Bender struck out 15 for the Cavaliers.
Sun Valley Poly 10, Grant 0: Thomas Alcala threw five scoreless innings in the East Valley League game.
Quartz Hill 18, Antelope Valley 0: The Rebels are 6-0 in the Golden League. Ryan Reddemann hit a grand slam to lead a 17-hit attack.
---