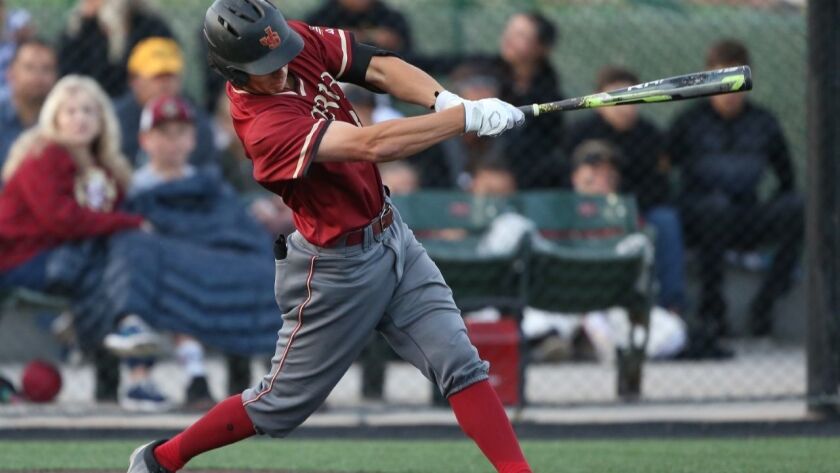 You would never see what happened this past week in high school baseball happen in football or basketball. Nine of The Times' top 10 teams lost games. Only No. 6 JSerra made it through the week unscathed.
It shows that when one top pitcher faces another, you can throw out the rankings, because anything can happen.
JSerra showed it has perhaps the best pitching depth en route to winning the South division of the Boras Classic, but look back to Tuesday's first-round games when it was ace against ace. The teams that won that day — Sherman Oaks Notre Dame, La Mirada, Yucaipa, Ayala, Corona, JSerra, Mira Costa — they're the ones to pay particular attention to. They used their No. 1 pitchers and won.
Orange Lutheran gets an asterisk. It won the consolation title but didn't use its ace, Max Rajcic, until game No. 2. The Lancers won't be holding back for the Division 1 playoffs, so add them to the mix.
Harvard-Westlake is a team that's leaving many to guess what's going on. The Wolverines can hit but their pitching staff has been anything but impressive. They lost a game to Chaminade. Maybe that's a good thing. The Wolverines peaked too early last season and were beaten in the opening round of the Division 1 playoffs. But they're going to face a healthy Lucas Gordon of Notre Dame on April 22 with the Mission League title on the line. Things better be improved by then.
In the City Section, perception has changed thanks to Cleveland opening West Valley League play with a two-game sweep of two-time defending City champion Birmingham. It wasn't even close. The Cavaliers were the much better team. There's still time for Birmingham to reverse its current woes, but the Patriots begin play in the National Classic on Monday, a tough challenge.
Beware of El Camino Real. The Conquistadores picked up a terrific new bat in their lineup when junior Andy Ambriz, a transfer from Chatsworth, became eligible on Saturday. He hit a grand slam in his first at-bat. He was considered the best sophomore hitter in the City Section last year. The Conquistadores have the type of one-two pitching punch, in Cole Kitchen and Adam Christopher, to win a City title.
San Pedro continues to roll with a 14-1 record. If the playoff brackets came out tomorrow, the Pirates would be the No. 1 seed. But there's a long ways to go, and San Pedro faces a big two-game challenge this coming week in the Marine League from rival Banning.
---