Angels react to bizarre sequence that ended Steven Souza Jr.'s season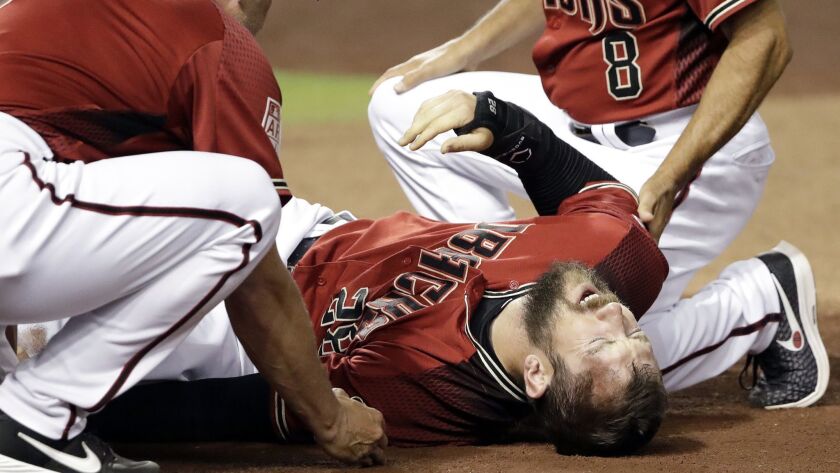 Mike Trout emerged from a video room in Dodger Stadium on Tuesday shaking his head. The Angels star could not believe what he just saw.
No, Trout had not watched a replay of Kirk Gibson's dramatic 1988 World Series walk-off homer with announcer Jack Buck's famous call.
It was a replay of Steven Souza Jr.'s bizarre slip-and-slide across home plate that led to a gruesome knee injury that would sideline the Arizona outfielder for the entire season.
Souza, on second base in Monday night's exhibition game against the Chicago White Sox at Chase Field in Phoenix, cruised home — he scored standing up — on Ketel Marte's double to right-center field.
It's a play that happens dozens of times without incident each night throughout baseball's monthlong exhibition season and 162-game regular season.
But this time, Souza's left foot skidded across the plate, his leg buckled, and he tumbled through the air, clutching his left knee as he hit the ground.
Souza was diagnosed on Tuesday with tears of his anterior cruciate and lateral collateral ligaments and partial tears of his posterior cruciate ligament and posterior lateral capsule, a blowout of the knee that seemed more likely for an NFL player or downhill ski racer.
While his Arizona teammates will open the 2019 season in Dodger Stadium on Thursday, Souza, who hit .220 with five homers and 29 RBIs for the Diamondbacks during an injury-plagued 2018 season in which he played only 72 games, will undergo season-ending surgery to rebuild his knee.
"That's crazy," Trout said after watching the play. "That's incredible. The plate had to have been wet. There wasn't even a play. He was just touching the plate. It's a scary thing, these freak accidents."
Arizona manager Torey Lovullo told reporters the plate did not seem slick. He did wonder if Souza's plastic spikes — most players wear metal spikes — may have contributed to the incident.
Sign up for our daily sports newsletter »
Could such a serious injury incurred on such a routine play stick in the back of a player's mind as he's cruising into home to score standing up?
"No, no, that's the last thing you want to think about," Angels outfielder Peter Bourjos said. "Sometimes you'll slip on the plate a little bit and go, 'Oh boy, I hope it's not that bad.' I've had it happen where I've slipped on a base when there's a little dew on it. You really can't take it for granted."
Bourjos saw the Souza play and was stunned at the extent of the injury.
"Holy cow, that's insane," Bourjos said. "It's crazy. I don't know what the solution is. The plates are not soft. I don't know if you can put a softer plate in or if that would even make a difference. And those bases can be pretty hard, too."
---
Get the latest on L.A.'s teams in the daily Sports Report newsletter.
You may occasionally receive promotional content from the Los Angeles Times.