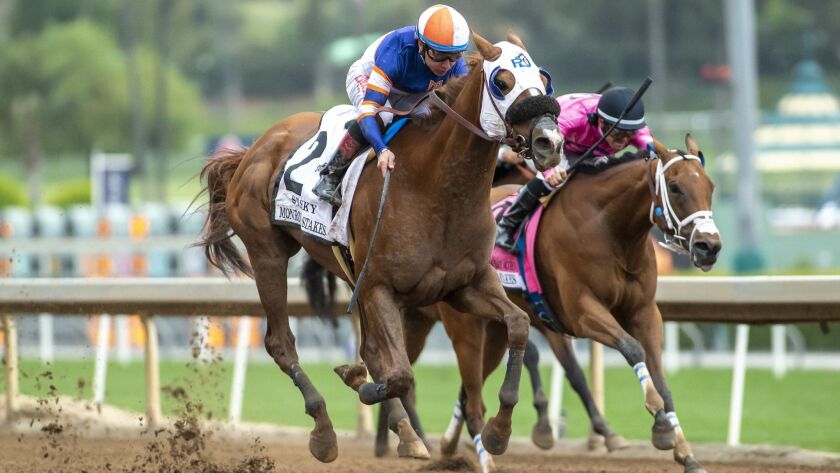 Nick Alexander's most important role this year might have been as chairman of the Thoroughbred Owners of California, helping Santa Anita work its way through the horse deaths and safety issues.
Despite all the highs and lows, it's likely his top memory will have come in his 1,460th start as an individual owner since 2000, when he got his first Grade 2 stakes victory Sunday.
It didn't look easy, except when he replayed it in his mind after S Y Sky battled through the stretch and won the $200,000 Monrovia Stakes by three-quarters of a length over favored Belvoir Bay.
"We almost imagined the race that way based on the way she ran her last race at Golden Gate," Alexander said of the horse's victory in the Camilla Urso Stakes. "She laid back a couple of lengths and on the turn she went to the outside and all of a sudden had this huge turn of foot and she's in the race and went past the leaders.
"I've had Grade 3s and a lot of allowance races and a lot of Cal-bred stakes winners. If I live long enough, maybe I'll get a Grade 1."
It was Alexander's fourth stakes victory. He has owned horses for nearly four decades. His other victories were in Grade 3: Grazen in the Affirmed Handicap (2009), Pee Wee Reese in the American Stakes (2017) and Enola Gray in the Wilshire Stakes (2017).
The Monrovia Stakes was originally scheduled to be 6-1/2 furlongs down the hill. But that course was closed to sprints March 31 after Arms Runner was the 23rd death of the season at Santa Anita.
The Monrovia was switched to five furlongs on the turf and finally Sunday morning it was switched off the grass to the dirt because of a wet surface. The four one-mile grass races were left on the turf.
"I think when they are going at a real fast sprint, going five [furlongs] on the grass there can be a tendency to slip a little bit more," winning trainer Phil D'Amato said. "It was just to be safe."
Racing secretary Steve Lym did not respond to a message from The Times for an explanation.
S Y Sky paid $6.20, $2.60 and $2.10. Lady Suebee was third. Drayden Van Dyke was the winning jockey.
In Sunday's other stakes race, My Majestic Rose moved ahead at the end by half a length to win the Grade 2 $200,000 Summertime Oaks for 3-year-old fillies going 1-1/16 miles on the dirt. The filly shipped in from Kentucky for the race along with trainer Rodolphe Brisset, who used to be an assistant for Bill Mott.
"It wasn't really a gamble to bring her out here, not to me," Brisset said. "It was small field [of five] and at the end of the day if we ran third, it's still black type. So, it was more difficult to find a way here than it was to make the decision."
Sign up for our horse racing newsletter »
Black type is the designation for good performances in the stallion books.
My Majestic Rose paid $13.80, $4.60 and $2.80. Sneaking Out was second and Colonial Greed was third. Flavien Prat was the winning rider.
Santa Anita has the best card for the remainder of the season Monday with three Grade 1 stakes races, each worth $500,000. There is the Gold Cup, for older horses going 1-1/4 miles; the Gamely Stakes for fillies and mares going 1-1/8 miles on the turf, and the Shoemaker Mile for turf horses.
Click here (or type in this url: lat.ms/2wVt90g) to sign up for our free horse racing newsletter.
---