Warriors' Stephen Curry on pace for another MVP award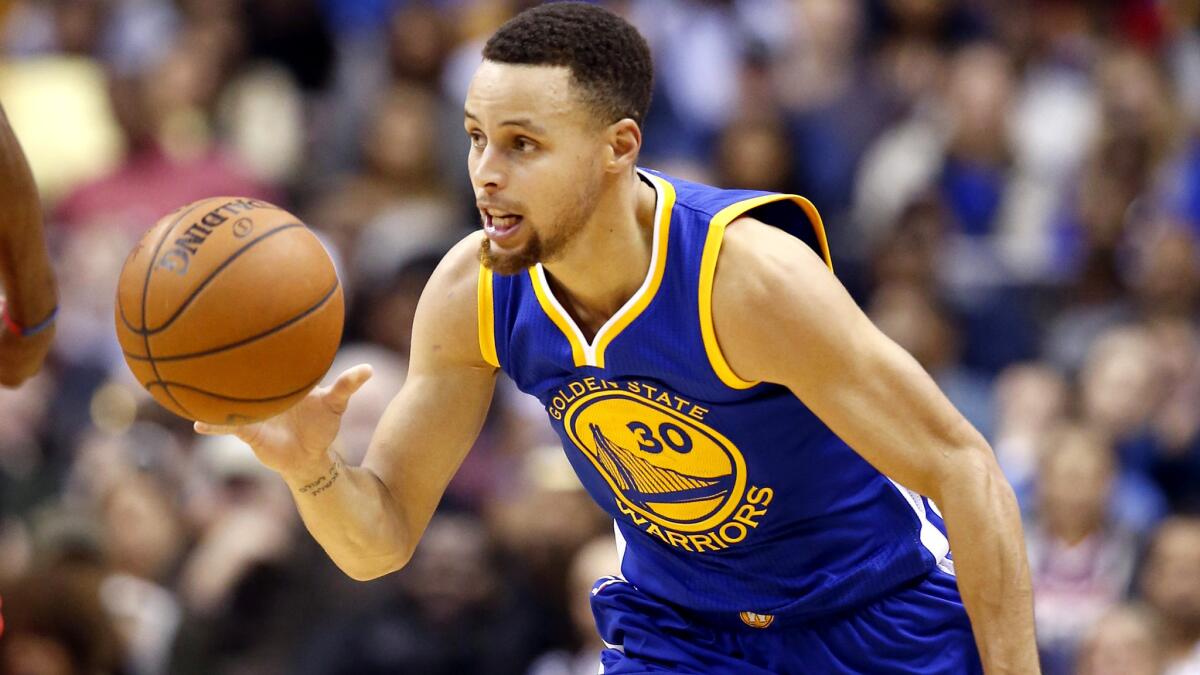 It's almost time for the All-Star break — so let's take a look some of the key awards in the league and who deserves them a little past the halfway mark of the regular season.
Golden State Warriors guard Stephen Curry is trending toward being universally viewed as the best player on the planet.
Of course, some still anoint LeBron James (a four-time league most valuable player) as the top dog in the NBA.
But Curry's otherworldly shooting has revolutionized the game, similar to the way Magic Johnson, Michael Jordan, Shaquille O'Neal and James transcended the game.
And because Curry has reached the pinnacle of his profession, he stood at the top when it came time to give out the NBA's top awards a little past the halfway mark of the regular season.
MVP
Curry is the easy choice to win a second consecutive MVP award.
He is the best player in the NBA playing on the best team — the Warriors were an NBA-best 45-4 before Saturday night — and he is perhaps the best shooter the league has ever seen. Before Saturday night's games, Curry led the NBA in scoring (29.8), six points (23.8) more than he averaged last season, and his player efficiency rating (32.20) is higher than his 28.06 PER from last season.
His 6.4 assists average this season is lower than last season (7.7), but his rebounding (5.3) is higher than last season (4.3).
Then there is Curry's shooting ability from seemingly anywhere on the court. He's making 51.1% of his field goals compared to 48.7% last season and 45.8% of his three-pointers, up from 44.4% last season.
Curry has put up his blistering stats, even while sitting out 14 fourth quarters. He has seven 20-point quarters, an NBA-best eight games in which he scored 40 points or more and has made 232 three-pointers, which is on pace to shatter his record of 286 set last season.
Cleveland's James, Oklahoma City's Russell Westbrook and Kevin Durant, Houston's James Harden and San Antonio's Kawhi Leonard are all having terrific seasons, but they are way behind Curry in the MVP race.
Rookie of the year
It's a race between two big men: Minnesota's Karl-Anthony Towns and New York's Kristaps Porzingis.
Towns and Porzingis have each won three consecutive rookie-of-the-month awards in their respective conferences.
Last summer, Knicks fans ripped New York when Porzingis was picked fourth overall in the draft, but they now have fallen in love with the 7-3 forward from Latvia.
But Towns, the No. 1 overall pick in the draft, is having a more consistent season, making him the midseason rookie of the year.
The seven-foot Towns was 10th in rebounding (9.9) and was averaging 16.5 points a game before Saturday night. He leads all rookies in double-doubles with 27, tying him for sixth in the NBA, and is ninth in the NBA in blocked shots (1.78).
Porzingis has perhaps had a more flashy season, with his tip dunks, blocks and three-pointers.
He's third on the Knicks in scoring (13.7), second in rebounds (7.6) and first in blocked shots (1.84).
Sixth man
The most impressive reserves have been Orlando's Victor Oladipo, New Orleans' Ryan Anderson and Denver's Will Barton.
But the early choice is Anderson.
Anderson was second on the Pelicans in scoring (17.2) and rebounding (6.1), entering the weekend. His three-point shooting (39.4%) is a big weapon for the 6-10 forward.
Meanwhile, Barton, a second-round draft pick, has blossomed in his fourth season. He is second on the Nuggets in scoring (15.5) and tied for second in rebounding (6.0).
And though the Magic has been struggling, in the 20 games Oladipo he has come off the bench, the 6-4 guard has averaged 12.1 points and 4.2 assists.
Most improved
Warriors All-Star forward Draymond Green, who leads the NBA in triple-doubles with 10, would seem to be an obvious candidate.
But the choice here is Portland Trail Blazers third-year guard C.J. McCollum.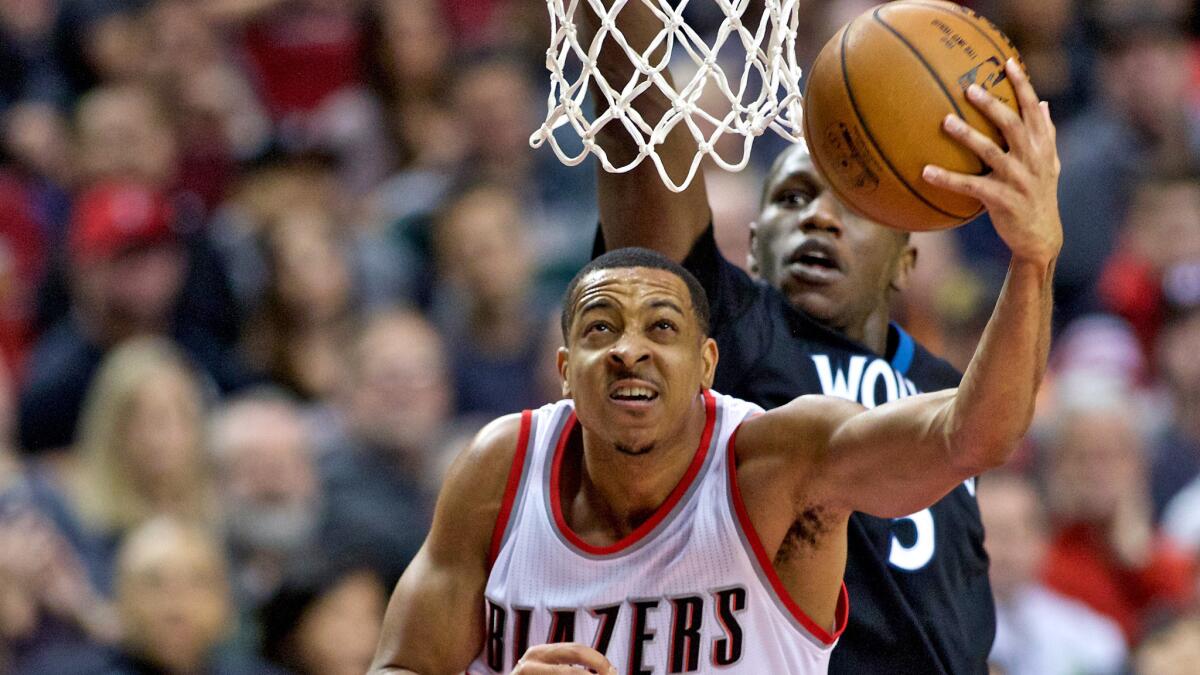 McCollum's improved play has allowed point guard Damian Lillard to have a running mate who makes them one of the best young backcourts in the NBA, and has Portland vying for a playoff spot in the West despite losing four starters from last year's team.
McCollum's scoring has jumped to 20.9 points a game compared to 6.8 points last season. He's averaging more assists than last season (4.3 to 1.5) and is shooting better from the field (44.4% to 43.6%). Despite playing more minutes, he's also making 39.6% of his three-pointers, the same as last season.
Comeback player
This has to be the easiest pick of them all — Indiana's Paul George.
The forward played in only six games last season after suffering a broken leg.
But George, who was averaging a career-best 23.3 points a game before Saturday, was voted as a starter on the East All-Star team.
Get our high school sports newsletter
Prep Rally is devoted to the SoCal high school sports experience, bringing you scores, stories and a behind-the-scenes look at what makes prep sports so popular.
You may occasionally receive promotional content from the Los Angeles Times.