Prep Rally: It's championship weekend for high school basketball, soccer and wrestling
Hi, and welcome to another edition of Prep Rally. My name is Eric Sondheimer. It's championship weekend for winter sports in Southern California. Get your car gassed up or charged up, bring your cellphone to purchase a ticket on GoFan.co and prepare to enjoy the thrill of victory or the agony of defeat in the sports of basketball, soccer and wrestling.
Big basketball games
There are four Southern Section championship basketball games in the Open Division and Division 1 boys and girls Saturday at the Honda Center, where general admission tickets will cost $22 ($12 for students) and parking costs $20.
Corona Centennial is set to play St. John Bosco at 8 p.m. in Open Division boys, with unbeaten Sierra Canyon playing Etiwanda at 6 p.m. in Open Division girls. The Division 1 games are Etiwanda vs. Mater Dei in boys and Orange Lutheran vs. Marlborough in girls.
The rest of the championship schedule will be announced Monday, with Edison, Colony and Mira Costa serving as championship sites (general admission tickets cost $15 and $5 for students).
In the City Section, the Open Division boys and girls finals will be held on Saturday at Pasadena City College. Taft will play Fairfax for the boys title at 7 p.m. Granada Hills will face Westchester for the girls title at 5:30 p.m. There also will be games at noon and 2 p.m. General admission is $12 and students $10. Parking is $2.
Here's the Southern Section matchups for girls and for boys.
Here's the City Section matchups for boys and girls.
Get our high school sports newsletter
Prep Rally is devoted to the SoCal high school sports experience, bringing you scores, stories and a behind-the-scenes look at what makes prep sports so popular.
You may occasionally receive promotional content from the Los Angeles Times.
Basketball rewind
There was no surprise that Corona Centennial went 3-0 to win its pool in Open Division boys. The surprise came in the other pool, where St. John Bosco rallied from six points down to stun Harvard-Westlake and then won the three-way tiebreaker because of that victory. Here's a report.
In Southern Section Division 1, Mater Dei came back from a 17-point halftime deficit to defeat Mira Costa in the semifinal and earn a spot against Etiwanda in the final. Here's the report.
Sage Hill made it to the 4A final. Here's a report.
In the City Section, Taft defeated Westchester and Fairfax held off Birmingham in the semifinals. Here's the report.
For girls, Saturday's semifinals produced the matchups of No. 1 vs. No. 2 that everyone expected. Here's the report.
Hart has reached the 2AA final behind the duo of Laney Grider and Morgan Mack. Mack scored 30 points and Grider 19 in a semifinal win over San Juan Hills.
Chlole Briggs of Ontario Christian became the all-time scoring leader in Southern Section history when she passed former Riverside Poly star Cheryl Miller. Here's a report on Briggs' accomplishment.
Soccer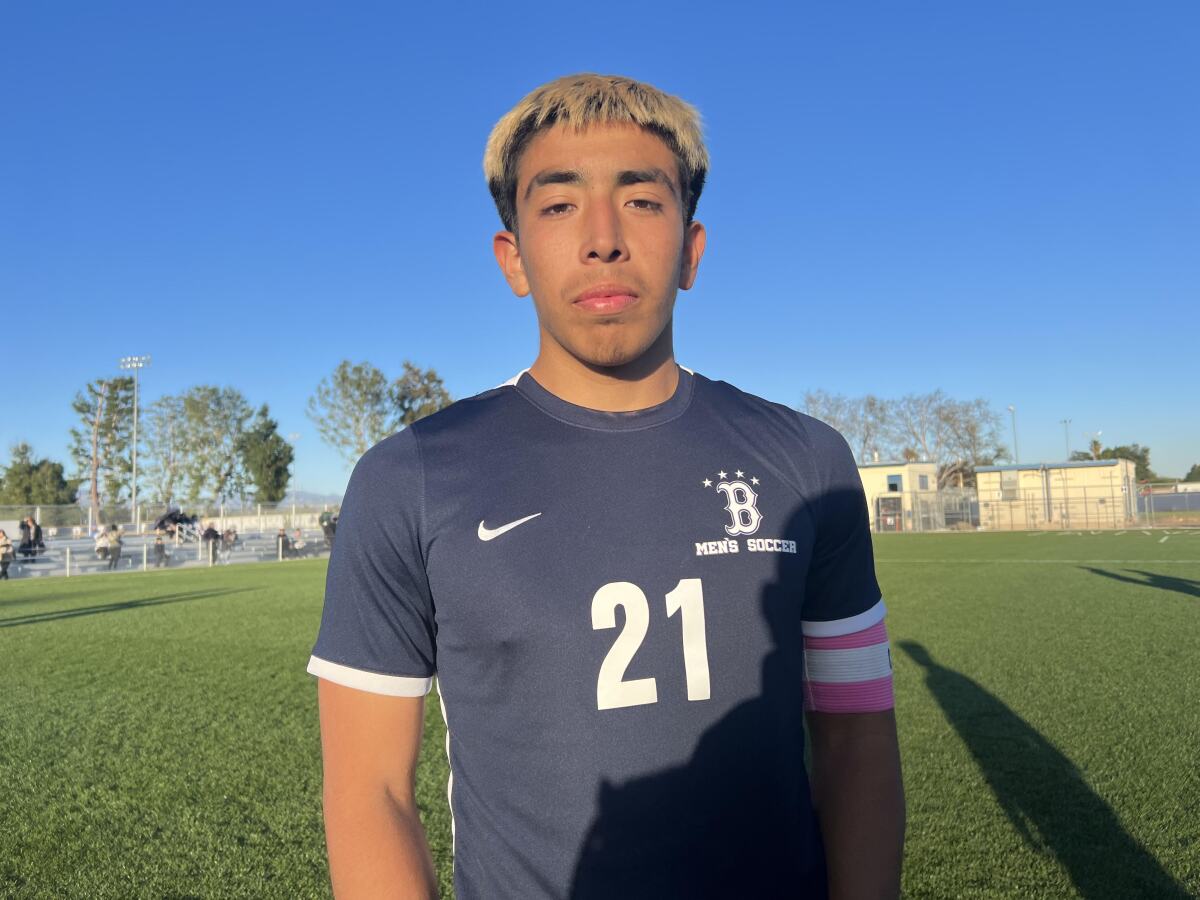 The City Section is holding its soccer semifinals Tuesday and Wednesday. Top-seeded Birmingham is playing host to Taft on Wednesday and Palisades is at El Camino Real. The championships are Friday and Saturday at Valley College. Here's a report on Birmingham avenging a loss in last year's final.
Long Beach Veterans Stadium will host championships this weekend for the Southern Section. In Division 1 boys, JSerra will play Sunny Hills. In Division 1 girls, Santa Margarita will take on Los Alamitos.
Mater Dei hires coach
After weeks of interviews, Mater Dei finally named its replacement for Bruce Rollinson as football coach. It's Frank McManus, who has been coaching for 16 years, the last seven coaching defensive backs.
The school is supposed to make McManus available for interviews this week.
Here's the report.
Troy Thomas has new job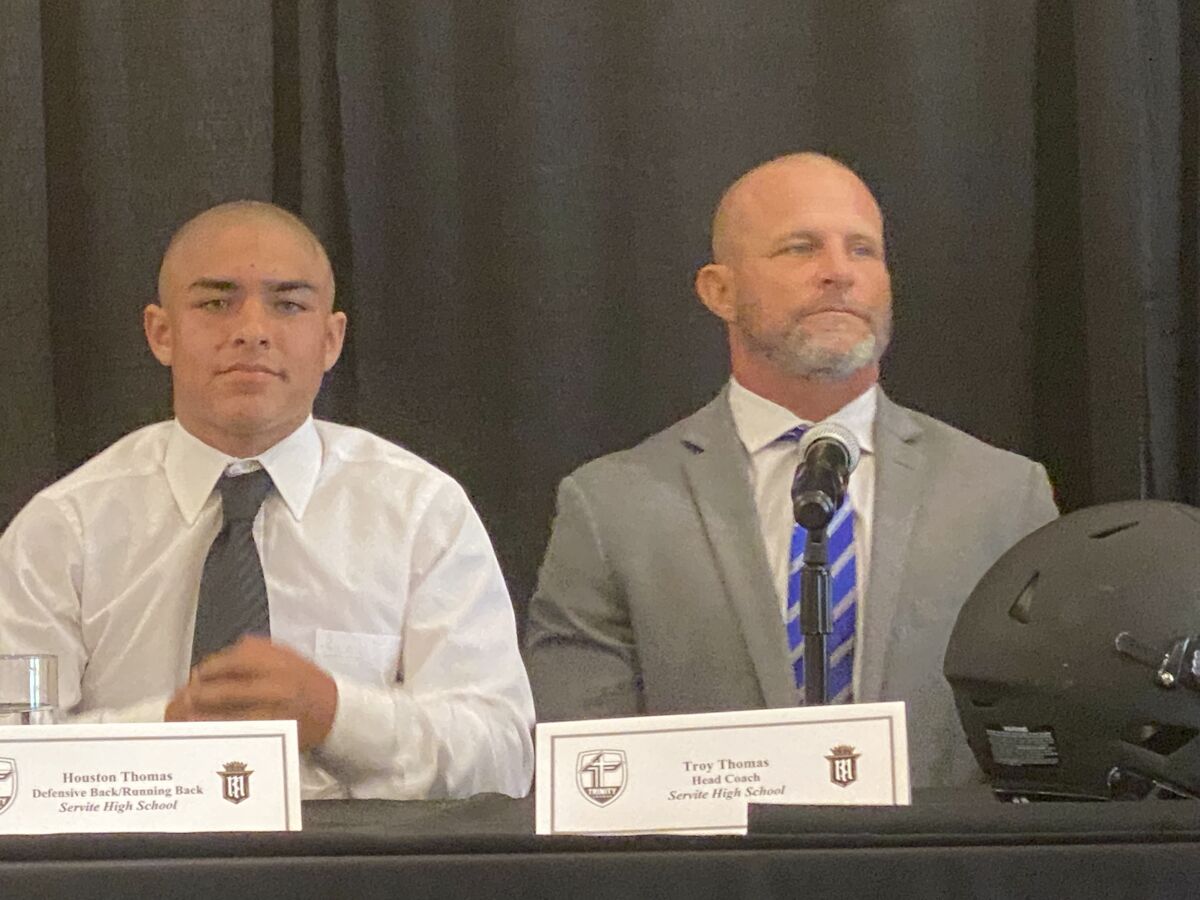 "I'm a Charger."
After coaching football for 30 years at Servite, Crespi and Westlake high schools while achieving great success, Troy Thomas seems at ease with a new career while being a father, cheering on his children — son Maddox and daughter Harlee — who are attending Huntington Beach Edison and playing sports. Another daughter, Preslee, arrives in the fall at Edison. All are three-sport athletes.
"As of right now, I'm retired," Thomas said Friday.
Here's a report on Thomas' future plans.
Track begins
Superman is back for his senior track season.
Rodrick Pleasant of Gardena Serra set the state record last season in the 100 meters running 10.14 seconds. He's healthier and hungrier than ever for his final high school season before leaving for Oregon to play cornerback for the Ducks in the fall.
A look at Pleasant's spring plans and the top athletes returning in track and field.
Elite volleyball prospect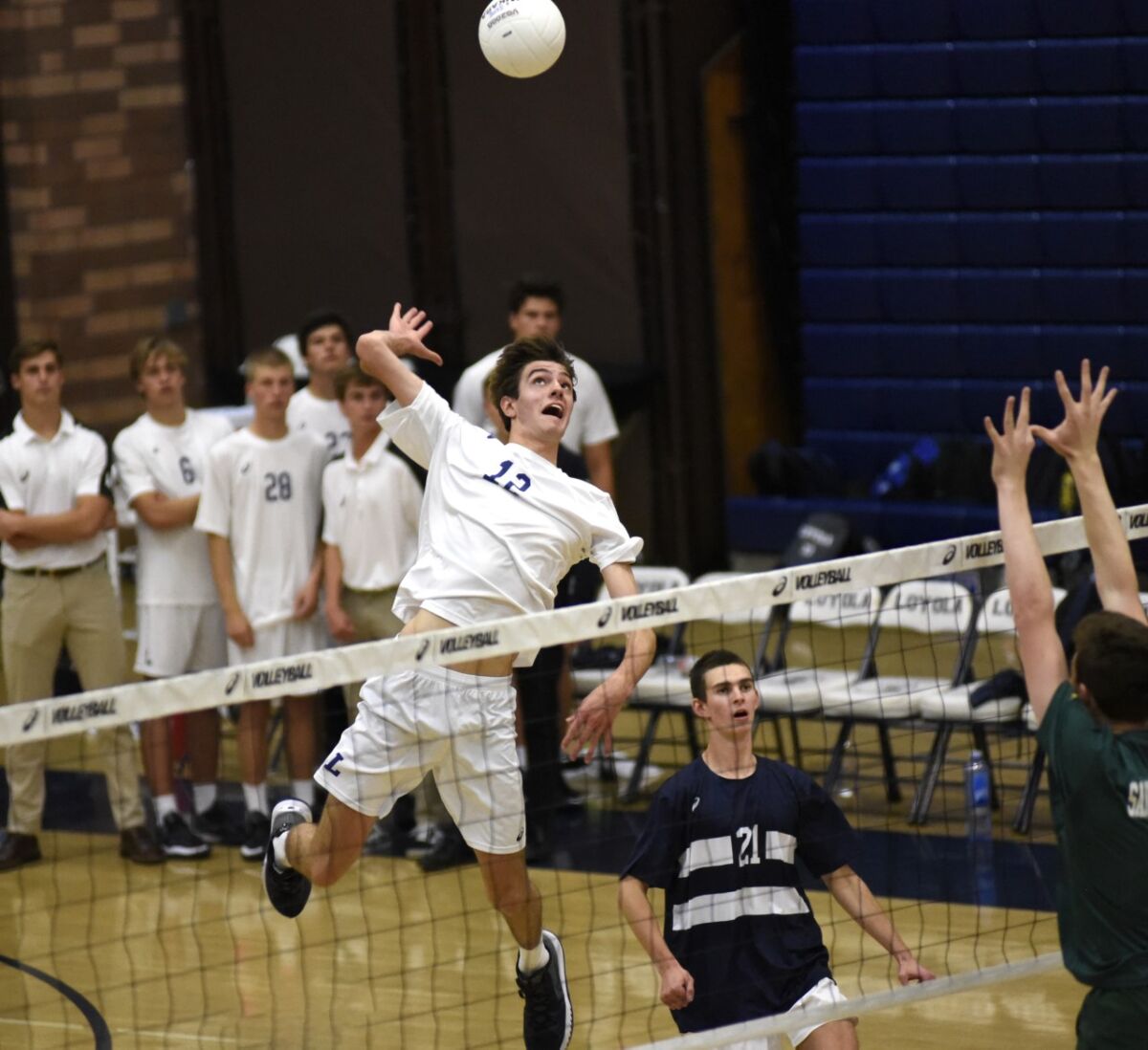 America's best and most humble 17-year-old high school volleyball player, 6-foot-7 Sean Kelly of Loyola High, is sitting on a bleacher in the campus gym trying to explain why he doesn't go around with his chest sticking out telling everyone he's the best.
"I know there's room to get better," he says. "You should never say you're too good unless you're literally the best."
Kelly certainly earned bragging rights last summer when he helped the U19 national team win the gold medal at the Pan-American Cup in Colorado Springs and was named tournament MVP and First Best Spiker.
Now he's trying to lead Loyola to prominence in high school volleyball. Here's a look at Kelly and other top players.
Lacrosse
The lacrosse season began last week, and Riley Padian of Palos Verdes is back to doing what she does best: score. She scored her 100th career goal.
Only a junior, she has helped Palos Verdes to a 3-0 start. She was the only sophomore to make the All-CIF Division 1 team. She committed to October to Towson State.
Here's the Southern Section girls' lacrosse rankings.
Here's the Southern Section preseason boys watch list.
Girls' water polo
Orange Lutheran won the Southern Section Division 1 girls' water polo championship with an 11-8 win over Foothill.
The Lancers are also the No. 1 seed for the Southern California regionals that begin Tuesday.
Here's the link to pairings.
Ticket issue for elders
High schools have gone to using GoFan for online ticketing purchases, requiring use of a cellphone or computer and credit card. That's not exactly easy for senior citizens with flip phones and no computer.
The CIF recognizes there could be some challenges in the changing environment that was sped up when COVID-19 restrictions resulted in turning to online ticketing over buying tickets at the door with cash.
Here's a report on the issue.
Baseball
It was a big week in baseball for Gahr (3-0) and Birmingham (4-0). Gahr pitchers threw shutouts in wins over Norco and Etiwanda and now get to face Orange Lutheran on Tuesday.
Birmingham picked up an extra-winning win over Hart behind pitcher Mike Figueroa, who had a no-hitter for 6 2/3 innings. Then the Patriots got a walk-off win over Oaks Christian.
Birmingham will play Crespi for the Easton tournament championship on Tuesday at 6 p.m. at Birmingham.
Here's the first top 25 baseball rankings from The Times after two weeks of games.
Softball
Villa Park won the Cypress tournament championship behind pitcher Auddrey Lira, a sophomore who was named tournament MVP.
Here's this week's top 20 high school softball rankings.
Crescenta Valley also won a tournament championship, taking the Bonita tournament.
Super Bowl star
It was just a few seconds, quick enough that an ill-timed bite of a pizza slice or handful of chips would've distracted, and yet the texts still flooded Laguna Beach's Bella Rasmussen's phone at halftime of the Super Bowl.
"Did I just see you in a Super Bowl commercial?"
For a month, Rasmussen had been sitting on a secret. After a local story in October became national, Rasmussen becoming the first girl in state history to score two touchdowns in a game, her life has become an unexpected roller coaster. In December, she checked off another milestone, the first girl football player to earn NIL representation. And in January, she was invited to film a Super Bowl commercial sponsored by the NFL on the growth of girls' flag football, popping in frame to run alongside Diana Flores, the quarterback of the Mexican national flag team
One problem: Rasmussen had to sign an NDA. And when the commercial aired, she was herself at the Super Bowl in Arizona, without any service. When she got a few bars, she was overwhelmed.
"It's just such a crazy thing to me that that was seen by people literally all across the globe," Rasmussen said.
The growth of the women's game has been explosive, punctuated by a CIF vote to approve girls' flag as a spring sport, and Rasmussen has been at the forefront in Southern California. But the delightful story line of the commercial – Flores, and later Rasmussen, sprinting away to evade the tackles of a mass of people – is, more darkly, fitting.
From the time she was 6 years old and starting to play football, Rasmussen said in a call Sunday morning, she had adult men yelling at her. Cursing her out. Telling her she shouldn't be on the field.
Even over the phone, she speaks with a certain eloquence, a self-assuredness, present in few high schoolers.
"I felt like I grew up really early," Rasmussen said. "Because a lot of the time, when I walked out on the football field, it was genuinely just me who wanted me to be there."
Her experience at Laguna Beach, Rasmussen said, was revolutionary. For the first time, she felt like she had 10 others on her side to fight with rather than against. And ever since the day before the Super Bowl, when her agent previewed her the commercial as the two sat at a Starbucks, she's reflected on the perseverance of that six-year-old girl.
Now running with a football in her hand on the screens of millions.
"It's not just a big deal for me, but it really is a big deal for girls in football in general," Rasmussen said.
—Luca Evans
Notes . . .
The state wrestling championships are set for Friday and Saturday in Bakersfield. Pairings come out Monday. . . .
Josh Knight is the new football coach at Don Lugo. . . .
Steve Eshleman has resigned as girls' basketball coach at Van Nuys. . . .
JSerra water polo player Ryder Dodd has joined the senior national team. . . .
Sophomore outfielder Travis Friend from La Mirada has committed to UCLA. He's the third sophomore from La Mirada's team to be committed to the Bruins, joining Maverek Russell and Aiden Aguayo. . . .
Senior pitcher Thomas McGuire of Villa Park has committed to Cal State Fullerton. . . .
Huntington Beach infielder Brian Trujillo has committed to Utah. . . .
Tony Peralta is out as football coach after 22 years at Elsinore. . . .
Former Birmingham swimming coach Nick Rodionoff died last week, Birmingham athletic director Rick Prizant reported. Rodionoff won 10 City championships and also coached for 36 years at Pepperdine.
From the archives: Cam Shelton
Cam Shelton has become one of the standouts in college basketball this season at Loyola Marymount.
Shelton was a sophomore reserve on Chino Hills' 2016 championship team that went 35-0 behind the Ball brothers. In 2017, he transferred to Damien. He set school scoring records, averaging 26 points his senior season.
In 2018-19, he enrolled at Northern Arizona. He became an All-Big Sky player, then transferred to LMU in 2021 for his final two seasons. He's averaging 20.9 points and has led the Lions to victories over Gonzaga and St. Mary's. On Saturday night, he scored 40 points against Cal Poly.
Here's a story from 2018 on Shelton's development at Damien.
Recommendations
From the Seattle Times, a story on girls' flag football in Washington.
From King5.com, a story on former Louisville softball pitcher Grace Luderer.
From Prospectiveinsight.com, a look at Long Beach Poly sophomore basketball player Jovani Ruff.
From Olympics.NBCsports.com, a story on former Vista Murrieta 400-meter runner Michael Norman switching to the 100 meters.
Tweets you might have missed
Until next time...
Have a question, comment or something you'd like to see in a future Prep Rally newsletter? Email me at eric.sondheimer@latimes.com, and follow me on Twitter at @latsondheimer.

Did you get this newsletter forwarded to you? To sign up and get it in your inbox, click here.
Get our high school sports newsletter
Prep Rally is devoted to the SoCal high school sports experience, bringing you scores, stories and a behind-the-scenes look at what makes prep sports so popular.
You may occasionally receive promotional content from the Los Angeles Times.