The Sports Report: Why haven't the Lakers traded for Anthony Davis yet?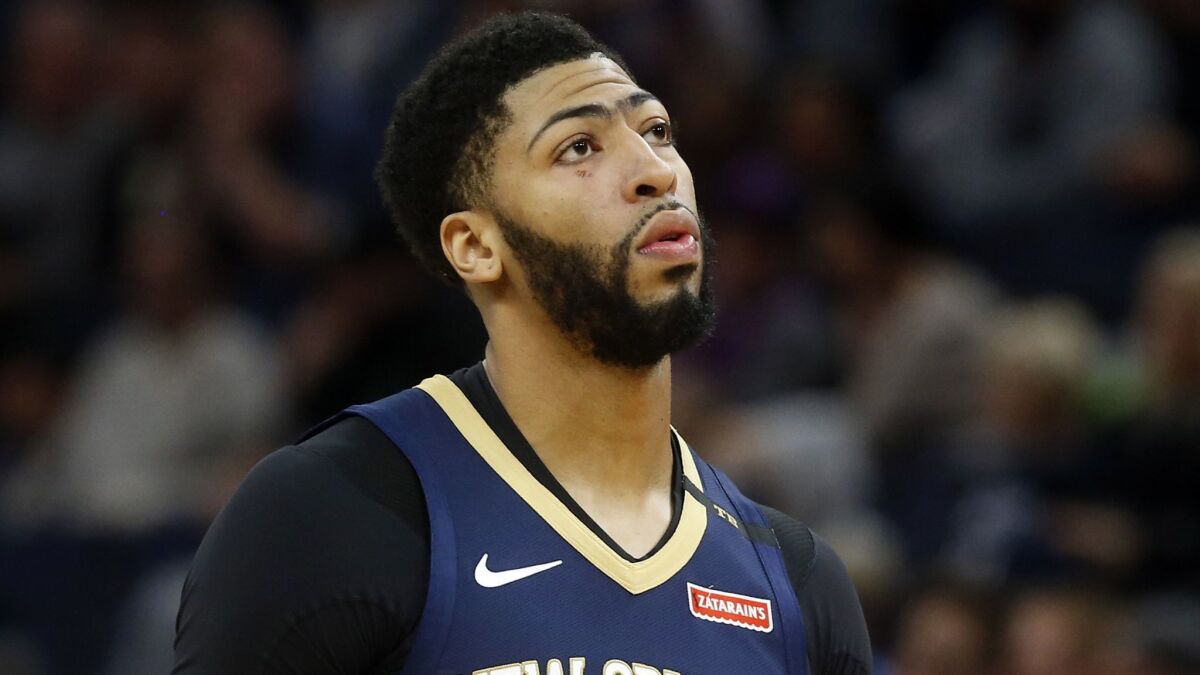 Howdy everyone, and welcome to the Tuesday edition of the Los Angeles Times daily sports newsletter. My name is Houston Mitchell and I'm your host for the festivities. Subscribe to this newsletter by clicking here.
Let's get to it.
Lakers
We take a rare detour from leading the newsletter with the Rams during Super Bowl week to bring you this breaking news: Anthony Davis wants to be traded! Anthony Davis wants to be traded! Anthony Davis wants to be traded! And there's a chance that possibly, maybe, perhaps, it could be that the Lakers could acquire him.
If they are willing to trade half the team that is.
On Monday it was learned that Davis, the New Orleans Pelicans superstar, said he wasn't going to sign a contract extension and requested that the Pelicans send him to a contender. The Lakers fan universe went supernova with excitement. Just imagine, Davis, LeBron James, Rajon Rondo, Kyle Kuzma, etc. all on the same team. Except for this.
According to sources unauthorized to speak publicly, a Lakers offer for Davis would have to start with Lonzo Ball, Kuzma, Ivica Zubac and a first-round draft pick. And the Lakers may have to include Kentavious Caldwell-Pope in the deal just to make the salaries balance out.
Davis is averaging 29.3 points, 13.3 rebounds and 4.4 assists per game.
Would such a deal be worth it? On one hand, you basically have parted with all the young players you had (including D'Angelo Russell and Julius Randle) to get a new team led by James and Davis. Then you would hope that enough veteran free agents would want to play for L.A. to help them get a title. The Lakers did this quite well during the Kobe Bryant years.
The difference there is that the Lakers were led by a homegrown player: Kobe. During the Showtime years, they were led by a homegrown player: Magic Johnson. Kobe and Magic were helped, a lot, by acquired talent such as Shaquille O'Neal, Pau Gasol and Kareem Abdul-Jabbar, but the heart of the team was homegrown. Would it feel the same to win without that?
I don't know, but it would be fun to find out.
You can read Bill Plaschke's take on the whole thing by clicking here.
Clippers
Trae Young scored 26 points as the Atlanta Hawks defeated the Clippers, 123-118, for the first time in nearly three years.
Atlanta had lost five in a row to the Clippers dating to March 5, 2016. The Hawks earned their first win against a Pacific Division opponent this season after dropping their first five.
Best basketball movies
We are determining what the greatest sports movie of all time is by asking The Sports Report subscribers to vote for their choices, first divided by sport. Up next are the five best basketball movies of all time. You can vote by clicking here or by emailing me at houston.mitchell@latimes.com. Here are the nominees:
Above the Rim (1994), starring Tupac Shakur
Air Bud (1997), starring Air Buddy
The Air Up There (1994), starring Kevin Bacon
BASEketball (1998), starring Trey Parker and Matt Stone
The Basketball Diaries, starring Leonardo DiCaprio
Blue Chips (1994), starring Nick Nolte
Celtic Pride (1996), starring Damon Wayans
Coach Carter (2005), starring Samuel L. Jackson
Eddie (1996), starring Whoopi Goldberg
Fast Break (1979), starring Gabe Kaplan
The Fish That Saved Pittsburgh (1979), starring Julius Erving
Glory Road (2006), starring Josh Lucas
He Got Game (1998), starring Denzel Washington
Hoop Dreams (1994), documentary featuring William Gates and Arthur Agee
Hoosiers (1986), starring Gene Hackman
Just Wright (2010), starring Queen Latifah
Juwanna Mann (2002), starring Miguel Nunez Jr.
Like Mike (2002), starring Lil Bow Wow
Love & Basketball (2000), starring Omar Epps and Sanaa Lathan
One on One (1977), starring Robby Benson
Rebound (1996), starring Don Cheadle
Rebound (2005), starring Martin Lawrence
Semi-Pro (2008), starring Will Ferrell
The Sixth Man (1997), starring Kadeem Hardison
Space Jam (1996), starring Michael Jordan
Sunset Park (1996), starring Rhea Perlman
Uncle Drew (2018), starring Kyrie Irving
White Men Can't Jump (1992), starring Wesley Snipes and Woody Harrelson
Again, you can vote by clicking here or by emailing me at houston.mitchell@latimes.com. Remember to vote for five.
Rams
It seems that most of America, which takes great glee in hating Tom Brady and the New England Patriots, are rooting for the Rams in Sunday's Super Bowl. People in the New England are are obviously rooting for the Patriots, but there's one other major city where most are rooting for the evil empire: St. Louis.
Most people in the former home of the Rams aren't really angry about things, they just feel sort of empty. It has become more of a Kansas City Chiefs town now. When the Rams made the Super Bowl, "St. Louis was in a collective depression," Bob Wallace, a former Rams executive who is now an attorney in the city, told the Times' Andy McCullough. "The Patriots were probably the city's least-favorite team, prior to the Rams leaving," Wallace said. "The Rams are now the least-favorite team."
Meanwhile, Rams coach Sean McVay was trying to survive Super Bowl media day on Monday.
"This is exhausting already. The magnitude of this event, I don't think until you get here you can really feel it," McVay said. "You want players and coaches to certainly enjoy this because it is a blessing to be here.
"But after this our focus goes back to the Patriots and figuring out a way to continue to put together a good plan and sharpen ourselves for the rest of the week so Sunday we can peak at the right time."
And don't miss the first of our five-part series on Super Bowl strategy. Up first, How can the Rams contain Rob Gronkowski?
When is the Super Bowl?
It will be on Sunday at 3:30 p.m. on CBS.
Who will win?
Who will win the Super Bowl? Click here to vote. We'll announce the results on game day.
Dodgers
A.J. Pollock, signed by the Dodgers to play center field this season, has missed a lot of time the last few years because of various broken bones. A sign of things to come? Pollock doesn't think so.
"I felt like a lot of them were impact injuries, kind of freak stuff," Pollock said. "I feel like I do a really good job keeping my body in shape. And I just got to keep trusting the process. I feel like some things haven't gone my way as far as injuries. But absolutely I think a lot of my injuries, they weren't really overuse. It was kind of freak stuff."
Pollock also talks about what led him to sign with L.A. in this story by Jorge Castillo.
This date in sports history
1936: Ty Cobb, Babe Ruth, Christy Mathewson, Honus Wagner and Walter Johnson are the first members elected to the Baseball Hall of Fame.
1963: Jim Thorpe, Red Grange and George Halas are the first inductees into the Pro Football Hall of Fame.
1964: NBC-TV pays $36 million for the rights to broadcast AFL games from 1965-69.
1966: Peggy Fleming wins the U.S. women's figure skating title.
1967: Branch Rickey and Lloyd Waner are elected to the Baseball Hall of Fame.
1988: Kirk Gibson signs a three-year, $4.5-million deal with the Dodgers.
1995: The San Francisco 49ers defeat the San Diego Chargers, 49-26, in Super Bowl XXIX.
Notable births on this date
1918: Former Angels manager Bill Rigney.
1960: Olympic diver Greg Louganis.
1960: Dodgers second baseman Steve Sax.
1965: NHL goalie Dominik Hasek.
And finally
That concludes the newsletter for today. If you have any feedback, ideas for improvement or things you'd like to see, please email me here. If you want to subscribe, click here.
---
Get our high school sports newsletter
Prep Rally is devoted to the SoCal high school sports experience, bringing you scores, stories and a behind-the-scenes look at what makes prep sports so popular.
You may occasionally receive promotional content from the Los Angeles Times.