The Sports Report: UCLA gymnastics falls short of national title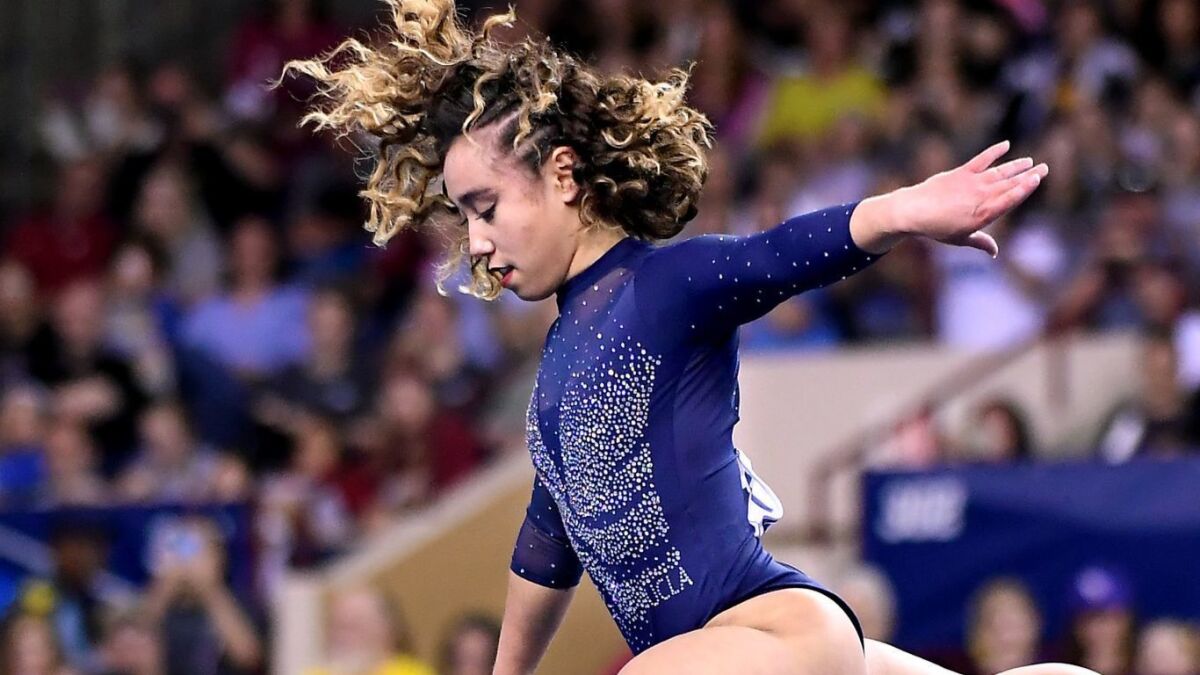 Hello, one and all, my name is John Cherwa, and I'm guest-hosting this here newsletter for a couple of weeks while Houston Mitchell goes in search of all the different colored hens that can create all the different colored Easter eggs.
One thing that we have in common is we all love a great ending. The story that is almost too good to be true. The endings that bring tears of joy.
UCLA's women's gymnastics team had all those elements working for them, headed by the last hurrah of coach Valorie Kondos Field. The stars were aligning for all those storylines to become true. And then reality hit. Damn that reality.
UCLA finished third in the NCAA Championships. It was still a terrific year, but short of where the Bruins wanted to be. Our own Helene Elliott was there to chronicle the last day as coach for Kondos Field.
"She dabbed at her eyes more than once, but this wasn't a time for sorrow. There were hugs to be doled out and people to thank, words of comfort and encouragement to be whispered before she could think of herself.
"And there was music playing. Not a victory song, but rhythms that compelled Valorie Kondos Field to give herself up to the beat, to smile and sway and remember how right her mentor, John Wooden, had been when he told her success isn't always predicated on winning. She knew that, on some level, but she never felt that as deeply as she did Saturday night.
"And so Kondos Field spent her final moments as coach of the UCLA women's gymnastics team the way she had spent most of her 29 years on the Bruins staff: bestowing love and support and dancing her high heels off for the sheer love of movement and expression. Her gymnasts danced with her and around her, a different kind of victory she will remember affectionately even though the Bruins did not win the NCAA title.
" 'We're a sport based on perfection, and so when you're not perfect it's easy to get down on yourself,' Kondos Field said. " 'And I always tell them that the only thing you need to strive for perfectly is the intention.'"
Dodgers
The Dodgers six-game winning streak came to an end on Saturday. So, any dreams of winning out the rest of the season ended with it. Just kidding.
But it does bring to mind to mind how many "playing the percentages" moves Dave Roberts might make between now and the end of the season. It's kind of like guessing how many jellybeans are in one of those large clear containers. Those are the kind of numbers you're looking at.
But, for now, let's just look at the relevant moments for Saturday's game, courtesy of beat writer Jorge Castillo.
"The Dodgers were done watching Christian Yelich torment them so they intentionally walked the Milwaukee Brewers' sizzling slugger with a runner at second base and first base open during the seventh inning Saturday. It didn't matter that they had a left-hander, Caleb Ferguson, on the mound to face the left-handed-hitting Yelich with Ryan Braun, a right-handed batter, on deck.
"They preferred to face Braun, who was three for his last 37, than give Yelich another chance to play home run derby after launching two already in the game.
"Boos rained at Miller Park when Yelich was issued the free pass without seeing a pitch. Moments later, they were replaced by roars reverberating inside the domed building after the Dodgers' strategy backfired and Braun smashed a 94-mph fastball from Ferguson for a three-run home run to seal the Dodgers' 5-0 loss.
"The blast was Braun's first home run since April 6 and the final blow to end the Dodgers' six-game winning streak. The Dodgers (14-9) managed just two hits and were shut out for the second time this season."
And speaking of Dodgers
Don't know about you, but I don't think about Frank McCourt that often. It came up this past week when ex-wife Jamie was on TV as U.S. ambassador to France talking about the fire at Notre Dame.
But Frank is also in France as the owner of Olympique de Marseille, a soccer team. We would like to say that Kevin Baxter caught up with McCourt but that didn't happen. But, what did happen is this story, which is worth a read.
"For the last 2½ years, the jewel of French soccer has belonged to Frank McCourt, who, a decade ago, turned the Dodgers into a private piggy bank before driving it into bankruptcy, according to Major League Baseball.
"There are plenty of parallels between the Dodgers and Marseille. Both are iconic clubs with deep histories and passionate fan bases that had fallen on hard times before McCourt bought them at deeply discounted prices — the Dodgers for $430 million in 2004, the soccer club for about $50 million 12 years later.
"The future plans are similar too. When McCourt bought the Dodgers, he intended to use land near the stadium for a dining and sports center featuring shops, restaurants and a museum. In Marseille, he wants to use the soccer team as the foundation for an elaborate project that would dominate the center of France's second-largest city.
"Four months ago, McCourt took over day-to-day management of the team's publicly owned stadium, the Orange Velodrome, the largest club soccer venue in France. By the end of the year, he hopes to win the right to redevelop the 42-acre Parc Chanot, which abuts the stadium, into a sports and entertainment complex far larger than the one he wanted to build at Chavez Ravine.
"McCourt denied requests to be interviewed for this article but allowed his executives to speak about his plans to develop the club and pursue other projects in the city.
" 'He's developing a vision,' Colette said. "He always says to us, 'Look at the long view.''"
Clippers
As we sit on the cusp of the game that could make the Clippers time in the NBA playoffs awfully uncomfortable, it seemed like a good time to look at a Clippers player, who is along for the ride with no chance of playing. And doing great at it.
Andrew Greif catches up with Rodney McGruder. Here's what he had to say as the Clippers get ready for a crucial Game 4 against Golden State.
"After the Clippers claimed Rodney McGruder off waivers April 9, the second-to-last day of the regular season, coach Doc Rivers presented some of the team's leaders with a choice.
"The 27-year-old guard had been added to the roster yet could be kept away from an already tight-knit group as it began its first-round playoff series against Golden State. Or McGruder, ineligible to play in the postseason because he was waived after March 1, could join the team in San Francisco and be incorporated into the Clippers' day-to-day flow.
" 'Bring his ass in,' guard Patrick Beverley said. 'He's part of the team.'
"Beverley didn't know McGruder that well. With the exception of Sindarius Thornwell, who'd met McGruder at a summer camp hosted by Kevin Durant while in high school and played for the same college coach, no one did.
"Nonetheless, Beverley came to the same conclusion as the executives who had claimed McGruder. The 6-foot-4 guard, who'd played in Hungary and the NBA's developmental league before sticking with Miami in 2016, fit the team's scrapping, blue-collar identity.
"'You play against people, they leave an impression,' Beverley said. 'The impression he left on us is he plays extremely hard.'"
Clippers playoff schedule
All times Pacific
Game 1: Warriors 121, Clippers 104
Game 2: Clippers 135, Warriors 131
Game 3: Warriors 132, Clippers 105
Today, 12:30 p.m., at Clippers, Channel 7
Wednesday, April 24, 7:30 p.m. at Golden State, TBA
*Friday, April 26, at Clippers, TBA
*Sunday, April 28, at Golden State, TBA
* if necessary.
Saturday's NBA playoff scores
Philadelphia 112, Brooklyn 108 (76ers lead series, 3-1)
Denver 117, San Antonio 103 (Series tied, 2-2)
Milwaukee 119, Detroit 103 (Bucks lead series, 3-0)
Houston 104, Utah 101 (Rockets lead series, 3-0)
Today's schedule
(All times Pacific)
Golden State at Clippers, 12:30 p.m., Channel 7 (Warriors lead series, 2-1)
Boston at Indiana, 10 a.m. Channel 7 (Celtics lead series, 3-0)
Toronto at Orlando, 4 p.m. TNT (Raptors lead series, 2-1)
Portland at Oklahoma City, 6:30 p.m. TNT (Trail Blazers lead series, 2-1)
NHL playoffs
Saturday's scores (read game stories here)
Dallas 5, Nashville 3 (Stars lead series, 3-2)
St. Louis 3, Winnipeg 2 (Blues win series, 4-2)
Washington 6, Carolina 0 (Capitals lead series, 3-2)
Today's schedule
(All times Pacific)
Boston at Toronto, noon Channel 4 (Maple Leafs lead series, 3-2)
San Jose at Las Vegas, 4 p.m. NBCSN (Golden Knights lead series 3-2)
Odds and ends
Angels lose sixth straight on night Albert Pujols tops Babe Ruth on Elias RBI list. … Mt. SAC Relays' road show ends with some top marks, including Michael Norman's 400 win. … Danny Garcia dominates Adrian Granados for seven rounds in knockout victory. … Carlos Vela represents the renegade image that LAFC has embraced. … Terence Crawford wins by TKO when Amir Khan can't continue after low blow. … Defense dominates UCLA spring football game.
Today's local major sport schedule
(All times Pacific)
Golden State at Clippers, 12:30 p.m., ABC
Dodgers at Milwaukee, 11 a.m., Sportsnet LA, AM 570
Seattle at Angels, 1 p.m., FSW, KLAA 830
Seattle at LAFC, 4 p.m., FS1, 710 ESPN
Born on this date
1957: Former Dodger Jesse Orosco
1963: Baseball player Ken Caminiti
1965: NHL Player Ed Belfour
1965: NBA player Gary Grant
Died on this date
1996: Sports oddsmaker Jimmy "The Greek" Snyder
And finally
That concludes the newsletter for today. If you have any feedback, ideas for improvement or things you'd like to see, please email us here. If you want to subscribe, click here.
---
Get our high school sports newsletter
Prep Rally is devoted to the SoCal high school sports experience, bringing you scores, stories and a behind-the-scenes look at what makes prep sports so popular.
You may occasionally receive promotional content from the Los Angeles Times.