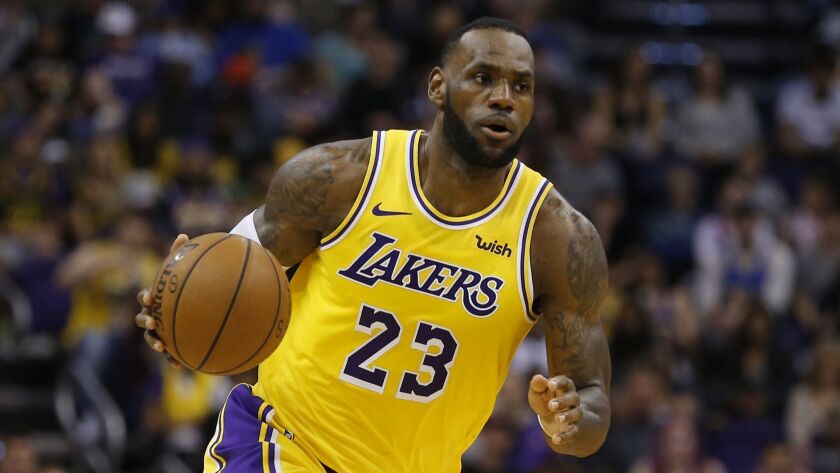 Hello everyone. My name is Houston Mitchell, and Mike Scioscia looks a lot different in the Angels dugout this season. Did he get a new haircut or something?
Lakers
Arash Markazi writes about LeBron James: "Magic Johnson's lack of communication on his way out obviously was disappointing to James, who felt he had a better relationship with Johnson. If James cares about having a better relationship with Lakers fans and his new city, he should learn from Johnson's mistake.
"Lakers fans wanted to hear from James after he was shut down for the season. They wanted to know what he thought after Johnson resigned. They wanted to see how he felt after the team parted ways with Luke Walton as coach.
"They got to see and hear from every Lakers player after the season except for the face of the franchise. If Mike Muscala can give his state of the Lakers, why couldn't James?
"They wanted something, anything from him. They would have even settled for, "Hey fans, it's LeBron. Kiss my … . I'm gone for the summer." They didn't even get that.
"This isn't about James' relationship with the media. Sure, he signed with the Lakers in July and didn't hold a news conference until the start of training camp almost three months later, but he always made himself available during the season when he was healthy. He even regularly spoke to reporters before games at shootaround, which many players don't do.
"He doesn't owe the media anything more than the NBA requires him to do, but he needs to do a better job of connecting with Los Angeles and Lakers fans. The relationship got off to a rocky start when he failed to show up to a pizza party many fans thought he was having in Culver City after he signed. It continued when someone vandalized murals of him around town.
"James still feels like an outsider in a city full of transplants who call L.A. home but don't really represent the city. Maybe that doesn't mean anything to him. Maybe he just views his time with the Lakers as nothing more than a pit stop and convenient place to play basketball and make movies.
"If that's the case, that's fine. He can continue sipping red wine while talking to celebrity friends on his show. If he wants something more, however, he's going to need to work harder. It won't be easy but he can do it. Forget the media, maybe throw a pizza party, actually show up and answer questions from fans. That's a start."
Chargers
Chargers quarterback Philip Rivers, 37 and in the final season of a four-year, $83.25-million extension, said he's open to allowing his deal to expire and then revisiting negotiations in early 2019.
"I'm just fine right where we are, you know," he said. "I got this year left and under no immediate stress or urgency to get anything done.
"If it means playing it out, that will be just fine. It really will. We got a good group here and a good thing going. At this point, just focus on one year at a time and take it from there.
"I'm certainly thankful for that, if that opportunity comes," Rivers said of re-upping with the Chargers. "I really have no goal or see it playing a certain way. I really don't. I'm very at peace with where it is right now."
General manager Tom Telesco has indicated the team plans on re-signing Rivers but offered no timetable. Rivers signed his current extension in August 2015.
Horse racing
John Cherwa on the continuing Kentucky Derby saga: "Gary West, the owner of disqualified Kentucky Derby horse Maximum Security, upped the ante on the post-race rhetoric Monday by calling Churchill Downs "greedy" and saying he would appeal the decision — only to find out later that appeals are not allowed.
"Appearing on NBC's "Today" show, West challenged the standard 20-horse Kentucky Derby field, saying it was risky to horses and jockeys, then declared Maximum Security out of the Preakness.
"There is no Triple Crown on the line for us," West said, "and there is no reason to run a horse back in two weeks when you don't have to."
"The appeal he filed with the Kentucky Horse Racing Commission was denied because disqualifications are exempt from the appeal process.
"The stewards unanimously disqualified Maximum Security following two objections lodged immediately after the 145th running of the Kentucky Derby and after a thorough review of a race replay," said John L. Forgy, general counsel of the Kentucky Horse Racing Commission, in a letter to Maximum Security's connections. "That determination is not subject to an appeal."
"In the interview on NBC, speaking well before daybreak from his Rancho Santa Fe, Calif., home, West took strong issue with the decision and the racetrack.
"It was literally like the old TV show ["Wide World of Sports"]: the thrill of victory and the agony of defeat all within a 22-minute period of time," West said. "Winning it was probably the most euphoric thing [my wife] Mary and I have ever had in our lives, and then disappointment when they took him down for the first time in history. We were stunned, shocked and in total disbelief."
"West's strongest words were directed at Churchill Downs. The Kentucky Derby is the only major U.S. race that allows 20 starters. (Because of a scratch, there were 19 on Saturday.) Most major races in the nation are capped at 14 starters, either because of the width of the track or for the manageability of the race.
"Churchill Downs, because they are a greedy organization, [doesn't run] 14 [in the Kentucky Derby] like you have in the Kentucky Oaks, Breeders' Cup and just about every other race in America," West said. "Just because they can make more money, they are willing to risk horses' lives and peoples' lives to do that. I'm not a fan of that. I think they ought to have 14 like every other race."
"Only one horse has ever died as a result of running in the Kentucky Derby — Eight Belles in 2008.
"We understand that the Wests are disappointed that the Kentucky Horse Racing Commission stewards disqualified Maximum Security," said Kevin Flanery, president of Churchill Downs. "However, the stewards are responsible for regulating and enforcing the rules of racing in the Commonwealth of Kentucky and we respect and support their decision. The infraction committed by Maximum Security has nothing to do with the number of horses in the race, which has been a consistent number for many years, and there is no evidence to the contrary."
West could seek civil litigation, although that would be a long process.
"There are so many questions," said Darrell Vienna, a former trainer who is an attorney specializing in equine law. "Was the horse clear? Did the horse swerve? The real issue is, did it alter the finish? How do you argue against the discretion of the stewards? For the amount of money at stake, it's an interesting case."
Other newsletters
People ask me why the Dodgers get such little coverage in this newsletter. Well, it's mainly because I write a Dodgers newsletter you can subscribe to, for free. In fact, in today's newsletter we talk about Kenley Jansen. In fact, we have five other newsletters you can subscribe too, and will be adding more soon.
The newsletters are free, are emailed to you and we don't sell your name to other companies, so no spam from us. They are:
Our Dodgers newsletter, written by me. Subscribe here.
Lakers newsletter, written by Tania Ganguli. Subscribe here.
Horse racing newsletter, written by John Cherwa. Subscribe here.
Boxing/MMA newsletter, written by Lance Pugmire. Subscribe here.
Soccer newsletter, written by Kevin Baxter. Subscribe here.
NBA playoffs
Monday's NBA scores
Milwaukee 113, at Boston 101 (Bucks lead series, 3-1)
at Houston 112, Golden State 108 (Series tied, 2-2)
Today's NBA schedule
All times Pacific
Philadelphia at Toronto, 5 p.m., TNT (Series tied, 2-2)
Portland at Denver, 7:30 p.m., TNT (Series tied 2-2)
NHL playoffs
Monday's NHL scores
Boston 3, at Columbus 0 (Bruins win series, 4-2)
at Colorado 4, San Jose 3 (Series tied, 3-3)
Today's schedule
(All times Pacific)
Dallas at St. Louis, 5 p.m., NBCSN (Series tied, 3-3)
Odds and ends
Julio Urias gets the save as Dodgers defeat the Atlanta Braves, 5-3…. Dodgers' Chris Taylor has opportunity as extent of A.J. Pollock's injury gains clarity…. How Brad Ausmus used advanced data to spur Justin Verlander's career resurgence…. Rams re-sign linebacker Bryce Hager to a one-year contract…. Dan Patrick's new game plan in fight against illness includes alternative medicines…. Slain football prodigy dreamed of playing in L.A. for the Rams or Chargers…. Former USC quarterback Matt Fink joining Illinois as a grad transfer.
Today's local major sports schedule
(All times Pacific)
Atlanta at Dodgers, 7 p.m., Spectrum Sportsnet, AM 570
Angels at Detroit, 4 p.m., FSW, KLAA 830
Born on this date
1929: Baseball manager Dick Williams
1933: NFL player Johnny Unitas
1957: Volleyball player Sinjin Smith
Died on this date
2002: Race horse Seattle Slew
And finally
Watch Duke Snider take on Hank Aaron on "Home Run Derby." Click here to watch.
That concludes the newsletter for today. If you have any feedback, ideas for improvement or things you'd like to see, please email us here. If you want to subscribe, click here.
---