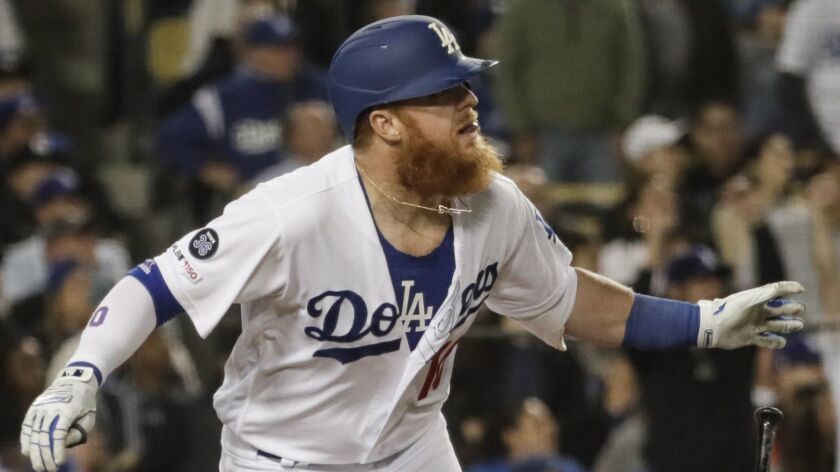 Hello everyone. My name is Houston Mitchell, and I'm announcing that my horse also will not run in the Preakness.
Dodgers
Justin Turner hit three home runs in support of an outstanding effort by Hyun-Jin Ryu as the Dodgers defeated the Atlanta Braves, 9-0, on Tuesday.
Ryu's shutout was the second of his career. He did it with 93 pitches and had aperfect game for five innings. He gave up three hits and struck out five. He hasn't walked a batter at Dodger Stadium since Aug. 26 — a span of 65 innings and nine starts. He contributed a bloop single to top it off.
Turner started the season in a bit of a power slump, causing many to wonder what was wrong. The problem was it was April. Now it's May. He hates April. A look at Turner's home runs (and slugging percentage) each month in his career:
March/April: 3 (.378)
May: 14 (.435)
June: 25 (.511)
July: 14 (.461)
August: 24 (.484)
September/October: 17 (.487)
So, as you can see, April is his arch-enemy.
Pro football
There is another new football team in town, joining the Rams and Chargers! What, you say, I haven't heard about an NFL team moving here. Is it an expansion franchise?
No, it's the XFL. Bill Plaschke attended the news conference introducing the coach, Winston Moss. Plaschke writes,
"With the audacity of one of league owner Vince McMahon's wrestlers, the yet-unnamed Los Angeles team will kick off at Carson's Dignity Health Sports Park as one of eight squads in a 10-game season that will begin in 2020 and run from February through April.
"Yeah, crazy, huh? The XFL came to town once before, in 2001, in a rowdy venture that featured Coliseum end zone hot tubs filled with strippers. There were wrestling sideshows. There were dirty dancing cheerleaders. The fights in the stands were legendary. The games were voted as one of the worst shows in TV history. The nightmare lasted one season and folded.
"Vince realizes they made some terrible mistakes back in 2001," said XFL Commissioner Oliver Luck, a longtime respected sports executive and father of Indianapolis Colts quarterback Andrew Luck. "You don't need more bravado in football. The testosterone is already sky high. You don't need more."
"So this new league will be cleaned up. No more scantily clad cheerleaders. No more cheerleaders, period, which seems like a bit of an overcorrection, but can you blame them?
"This is a completely different product," said Jeffrey Pollack, XFL president and former Chargers consultant. "We are focused on the fundamentals."
"This new league will also be fundamentally sound, backed by McMahon's millions — he's pledged $500 million — and broadcast on ESPN/ABC and Fox.
"But that doesn't change the fundamentals of history.
"Spring football doesn't work. Scrub football doesn't draw. The money doesn't last. The initial interest dies. Look no further than this spring, when the Alliance of American Football began with great reviews and lasted less than two months before going bankrupt.
"Then there is the issue of pro football in Los Angeles, which barely works. The Rams were in the Super Bowl and they're still struggling for fans. The Chargers have been here two years and people still think they play in San Diego.
"Finally, there is the competition for the spring sports dollar around town. There are two NBA teams, two major league baseball teams, and two NHL teams fighting for wallets. A game with anonymous prospects wearing helmets is going to have a hard time winning that fight."
Angels
Shohei Ohtani returned to the Angels' lineup on Tuesday. Mike DiGiovanna was on the scene and reports,
"As lofty as the expectations are for Shohei Ohtani, the Angels did their best to temper them — for one night, at least — before the slugger's highly anticipated 2019 debut Tuesday.
"I think he'll bring the tools we've all seen — the power, the speed, the plate discipline," general manager Billy Eppler said of Ohtani, who is returning from Tommy John surgery. "But he's basically finishing spring training, and it can take guys a little time to get into the flow and comfort of their routines."
"True to Eppler's word, Ohtani looked like a player who hadn't faced major league pitching in more than seven months, going hitless in four at-bats with two strikeouts, an RBI groundout and a walk in a 5-2 victory over the Detroit Tigers before 14,169 in Comerica Park.
"The 2018 American League rookie of the year was upstaged by this season's highly touted rookie. Griffin Canning, making his second big league start, gave up two runs and four hits in 5 1/3 innings, striking out seven — most with his slider — and walking one for his first win."
Other newsletters
People ask me why the Dodgers get such little coverage in this newsletter. Well, it's mainly because I write a Dodgers newsletter you can subscribe to, for free. They are emailed to you and we don't sell your name to other companies, so no spam from us. They are:
Our Dodgers newsletter, written by me. Subscribe here.
Lakers newsletter, written by Tania Ganguli. Subscribe here.
Horse racing newsletter, written by John Cherwa. Subscribe here.
Boxing/MMA newsletter, written by Lance Pugmire. Subscribe here.
Soccer newsletter, written by Kevin Baxter. Subscribe here.
NBA playoffs
Tuesday's NBA scores
at Toronto 125, Philadelphia 89 (Raptors lead series, 3-2)
at Denver 124, Portland 98 (Nuggets lead series, 3-2)
Today's NBA schedule
All times Pacific
Boston at Milwaukee, 5 p.m., TNT (Bucks lead series, 3-1)
Houston at Golden State, 7:30 p.m., TNT (Series tied, 2-2)
NHL playoffs
Tuesday's NHL scores
at St. Louis 2, Dallas 1 (Blues win series, 4-3)
Today's schedule
(All times Pacific)
Colorado at San Jose, 6 p.m., NBCSN (Series tied, 3-3)
Odds and ends
Donna Heinel's indictment complicates Mick Haley's USC arbitration complaint…. Country House will join Maximum Security in sitting out Preakness…. Guillermo Barros Schelotto's Columbus homecoming could be a tense affair…. Jared Karros of Mira Costa shows his family has more than hitters…. Alex Cora's White House snub consistent with his stance on Puerto Rico.
Today's local major sports schedule
(All times Pacific)
Atlanta at Dodgers, 7 p.m., Spectrum Sportsnet, AM 570
Angels at Detroit, 4 p.m., FSW, KLAA 830
Born on this date
1893: Golfer Francis Ouimet
1932: Boxer Sonny Liston
1959: NFL player Ronnie Lott
1974: NFL player Korey Stringer
1976: NHL player Oleg Tverdovsky
Died on this date
1975: IOC president Avery Brundage
1982: Race car driver Gilles Villeneuve
And finally
Vin Scully calls Kirk Gibson's Game 1 homer in the 1988 World Series. Watch it here.
That concludes the newsletter for today. If you have any feedback, ideas for improvement or things you'd like to see, please email us here. If you want to subscribe, click here.
---