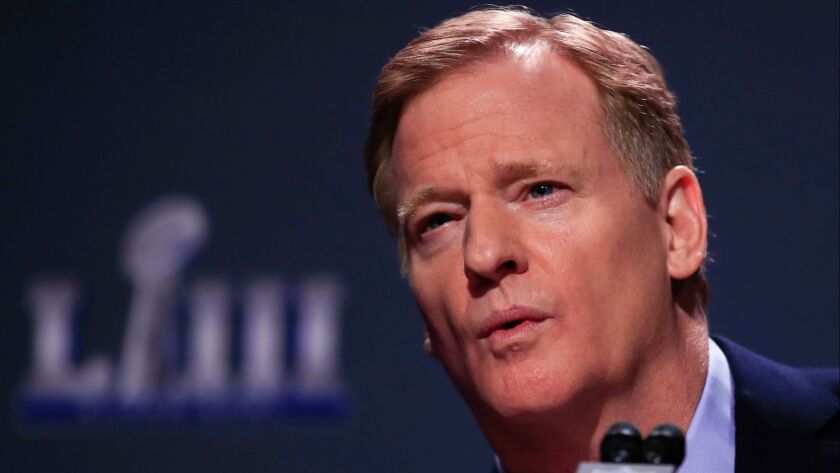 Roger Goodell said Wednesday he's talked to New Orleans Saints players and coaches in the aftermath of the controversial non-call during the NFC championship game that may have cost the team a trip to the Super Bowl.
That was news to some Saints players.
Former Saints defensive lineman Zach Strief said Wednesday "every player I've talked to" — including veteran quarterback Drew Brees and tight end Ben Watson, who had reached out to the commissioner via Twitter to break his silence on the matter — had not heard from Goodell on the issue.
Wide receiver Michael Thomas tweeted that Goodell "ain't talk to us."
All of this would seem to conflict with what Goodell said during his news conference Wednesday in Atlanta.
"We understand the frustration of the fans," he said. "I've talked to [Saints coach Sean] Payton, the team, the players. We understand the frustration they feel right now, and we certainly want to address that."
With the score tied late in the NFC championship game, Rams defensive back Nickell Robey-Coleman collided with Saints wide receiver Tommylee Lewis without ever looking back at a ball thrown by Brees on third down.
Had a penalty flag been thrown, the Saints would have had the ball in field-goal range with a first down and in position to conceivably run down the clock before attempting a game-winning field goal.
Instead, the Saints had to attempt the field goal on the following play, giving the Rams enough time to tie the game, send it into overtime and eventually win to advance to the Super Bowl.
The NFL has since fined Robey-Coleman for the play and acknowledged in a legal document that "one or more penalties for pass interference or illegal helmet-to-helmet contact were mistakenly not called" on the play.
Wednesday marked Goodell's first public comments on the matter, and Strief wasn't buying at least some of what the commissioner was saying.
"So the man literally stands up on a podium and just lies. It's mind-blowing," Strief said on WWL Radio in New Orleans. "He is the commissioner of the biggest sports league in the country and it is totally cool with all the people who employ him, all 32 owners, that he stands up on a podium and lies to everybody. "
Sign up for our daily sports newsletter »
Twitter: @chewkiii
---